Pale Ale
| Theresianer HTS 1892 Spa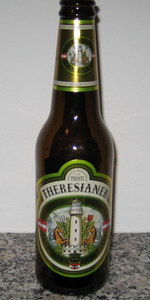 BEER INFO
Brewed by:
Theresianer HTS 1892 Spa
Italy
theresianer.it
Style:
English Pale Ale
Alcohol by volume (ABV):
6.50%
Availability:
Year-round
Notes / Commercial Description:
No notes at this time.
Added by Suds on 08-18-2007
Reviews: 6 | Ratings: 15

2.65
/5
rDev
+4.3%
look: 2 | smell: 2 | taste: 3 | feel: 3 | overall: 2.75
I still don't know why I took this beer. There were so many good options in the shop (in Italy) and I decided to take an unknown italian craft ale for the same price of a belgian master.
Well, this beer is not at all nice to see. Transparent golden/light orange color and a tiny foam at least leaves a small lace.
Smell is also disappointing.. some caramel, some hops and some condiments.. too much sweet for a pale ale and not pleasant.
Taste is ok actually, sweet with notes of malt and caramel, but there's not a strong character here.
Body, carbonation and bitterness are somewhat balanced.. but do not give a true pleasant feel.
633 characters

3.23
/5
rDev
+27.2%
look: 3.5 | smell: 3 | taste: 3.5 | feel: 3 | overall: 3
330ml bottle served in a Duvel tulip glass.
A: Pours a dark orange color forming a solid creamy yellow head. Clear. Good retention and lots of spotty lacings left in the glass. A very thin layer remains for long time on the top
S: Sweet, grainy and fruity. Strong notes of caramel and crystal malts. Quite fruity too with notes of orange and peaches. Nice touch of flowery hops and some spices like vanilla and nuts
T: Sweet upfront. An authentic ale. Again, a very malty and fruity beer. Notes of spices and nuts. Caramel and crystal malts, sweet bread, vanilla followed by a mild hoppy bitter end
M: Medium bodied and medium carbonated beer. Sweet, malty and fruity aftertaste
O: Good drinkability. Very underrated beer. Quite smooth and easydrinking
757 characters

2.24
/5
rDev
-11.8%
look: 3.5 | smell: 2 | taste: 2 | feel: 3.5 | overall: 2
A 330ml bottle with a BB of June 2013. Picked up a little while back from an Italian deli in York. The label mentions that it won a silver medal at the Chicago World Beer Championship 2011.
Poured into a tulip pint glass. A clear amber hue with medium carbonation. Forms a large head of creamy white foam that lasts for a few minutes before reducing to a surface layer. Aroma of grainy malt with hints of wet grain, faint herbs and a whisper of stewed hops. Slightly sweet and exceptionally bland.
Tastes of weak caramel malt and stewed grain with a dry finish. Notes of grain, fruity yeast esters, faint herbs and fleeting stewed hops. Slightly sweet, with a mild harshness in the background. No real bitterness to speak of. Mouthfeel is smooth, dry and tingly, with a light body that matches the style. Aftertaste of grain and faint ale yeast.
Not very nice - simply a badly conceived beer. Seriously lacking in flavour and character, and afflicted by excessive sweetness, harsh undertones and off-notes. Where are the hops, not to mention some sort of bitterness? A pity - this is the first small Italian brewer that I've had a bad beer from. These guys need to up their game. Not recommended for your consumption.
PS - I have no idea how this won a silver medal in Chicago, unless it was the only pale ale and the judges decided it couldn't have gold....
1,362 characters

1.34
/5
rDev
-47.2%
look: 3 | smell: 1.5 | taste: 1 | feel: 2 | overall: 1
Light amber pour with quickly fading head and no lacing. Somewhat unusual scent with hints of black licorice and lots of malt. Dark fruit taste with that same hint of black licorice that was present in the nose. Too sweet for me. Definitely not a pale ale. The Italians have a ways to go with their beer making skills. Had to pour it out before I finished it. Stay away!
370 characters

2.66
/5
rDev
+4.7%
look: 3.5 | smell: 2.5 | taste: 2.5 | feel: 3.5 | overall: 2.5
This beer is a respectable pale amber color with a nice, foamy white head. The aroma is fruity, with just a hint of hop character. Unfortunately, it's a very subtle and mild aroma...it could easily be cranked up a notch or two. The taste is overly sweet...this is not a well balanced beer, which really interferes with the drinkability. Hop presence is very light in the flavor, with just a little bitterness. This one is okay, but not quite good.
447 characters
2.26
/5
rDev
-11%
look: 3.5 | smell: 2.5 | taste: 2 | feel: 2.5 | overall: 2
official version:
"It is a typical Victorian Pale Ale with an auburn-yellow colour and a persistent froth. Full-bodied distinguished by the fruity scent of its superior fermented yeast. As tradition has it the Theresianer Pale Ale is well balanced and ideal with fresh and persistent flavours."
this brew has a taste somewhere between lager and an ale ... the bitterness however is not very pleasant ...
407 characters
Pale Ale from Theresianer HTS 1892 Spa
2.54
out of
5
based on
15
ratings.