English-Style Old Ale
| Bristol Brewing Company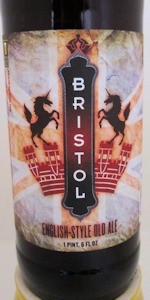 BEER INFO
Brewed by:
Bristol Brewing Company
Colorado
,
United States
bristolbrewing.com
Style:
Old Ale
Alcohol by volume (ABV):
6.00%
Availability:
Rotating
Notes / Commercial Description:
No notes at this time.
Added by beergoot on 01-12-2012
Reviews: 5 | Ratings: 14
Reviews by nsabo:
1.93
/5
rDev
-43.1%
look: 3 | smell: 2.5 | taste: 2 | feel: 1.5 | overall: 1
Split a bomber with a friend. "Tastes like a newcastle" he said after his first and only sip. I was more dilligent, but halfway through the bottle I couldn't find anything I was looking for. Malts are barely here and the mouthfeel is thin: two huge misgivings (for me) of a so-called Old Ale.
If this was labeled an "English Brown" or even an "English Pale" I wouldn't be slamming it so hard (I also wouldn't have boughten it).
The $5 tag lured me in, made me think I had found a hidden gem; nope.
498 characters
More User Reviews:
3.58
/5
rDev
+5.6%
look: 4 | smell: 3.5 | taste: 3.5 | feel: 4 | overall: 3.5
Deep mahogany with 1 finger of white head that recedes quickly.
Smells like what I think of when I think of beer. Very malty, but not necessarily caramel malts, almost grainy but deeply so, like smelling a big bag of malted barley. A little bit of English yeast fruitiness but very mild compared to the malt character. Some spicy/vegetal hop notes but again they are hidden under the mountain of malt.
Again the malt character dominates, it is nicely balanced and complexed but not impressively so.
The mouthfeel was very full, though I would like to try it with less carbonation.
Overall, glad I got to try this one but I probably won't buy it again. If you really like malt subtleties it may be worth a try.
713 characters

3.94
/5
rDev
+16.2%
look: 4 | smell: 3.75 | taste: 4 | feel: 4 | overall: 4

3.15
/5
rDev
-7.1%
look: 3.5 | smell: 3.5 | taste: 3 | feel: 3 | overall: 3
Bottle conditioned 22oz bomber poured into a snifter.
Pours a dark amber body with touches of ruby under an off white head that is a bit rocky with large bubbles forming underneath.
Smells of rich, sticky, caramel-drizzled malts and a good dose of hops. Overall the aroma is complex and rich, and displays a subtle hint of the classic "aged" notes that are common in the English versions of this style, most notably toffee and a touch of dried dark fruits.
The flavor isn't quite all that was promised by the nose, but it is still pretty good. Leafy, almost astringent hops show themselves with a little more abrasiveness than I expected, but are countered by some complex malts that seem to range from pale to the darker versions of crystal and maybe even brown.
The mouthfeel feels a bit over bubbly to me, but that might just be my preference for cask-style serving with this style.
Conclusion: I love this brewery and the way they are involved in the community. They often turn out great beer, so I am sad when I come across one that doesn't turn out awesome. Maybe it is the bottle, but this just doesn't taste very rich and reminds me of some of my failed homebrew batches. There is also a metallic flavor that reminds me of dental work that I have come across in beers from other breweries. All things considered it is still ok, but not my favorite.
1,365 characters
3.76
/5
rDev
+10.9%
look: 4 | smell: 3 | taste: 4 | feel: 4 | overall: 4
Just released today (January 12, 2012), this latest from Bristol pours a golden, cloudy amber color. The carbonation is very active and the head is very thick. Malts and ripe fruit tickle the nose. The taste brings out light bread and apricots and peach flavors with a nice, tame bitterness in the finish. Kind of sweet and chewy throughout. A bit of alcohol warmth at the extreme end.
I like this beer. It's not over-the-top in any one area and is unique in its own way. I'll have to see about scaring up another bottle of this before it goes away.
550 characters
3.5
/5
rDev
+3.2%
look: 3.5 | smell: 3.5 | taste: 3.5 | feel: 3.5 | overall: 3.5

4.1
/5
rDev
+20.9%
look: 4 | smell: 4 | taste: 4 | feel: 4 | overall: 4.5
not what i consider to be an old ale in the deep dark traditional sense. pours a cloudy mahogany color with a lively tan head, thick and tall. smells like sweet english malts, caramel, and the canned cranberry sauce you eat on thanksgiving, similar tannic profile. flavor is holiday-like as well, big malts up front and there is that cranberry in the finish again. really interesting complex beer, one of bristol's best, and a hell of a value at $4.99 a bomber. feel is nice, mildly carbonated with a fuller medium body. very drinkable, but cant even venture a guess as to the abv? could be huge or sessionable, anybodys guess. buy this
636 characters

English-Style Old Ale from Bristol Brewing Company
3.39
out of
5
based on
14
ratings.