Imperial IPA
| Bristol Brewing Company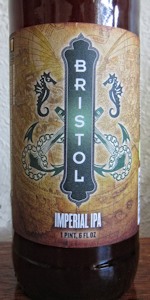 BEER INFO
Brewed by:
Bristol Brewing Company
Colorado
,
United States
bristolbrewing.com
Style:
American Double / Imperial IPA
Alcohol by volume (ABV):
not listed
Availability:
Rotating
Notes / Commercial Description:
No notes at this time.
Added by vande on 06-02-2012
Reviews: 9 | Ratings: 25

4.11
/5
rDev
+13.2%
look: 3.75 | smell: 4 | taste: 4.25 | feel: 4.25 | overall: 4
APPEARANCE: Bright orange with some floaties remaining in suspension. The head is stark white and leaves some pretty, cathedral-like lacing on the back of the glass.
SMELL: Orange peel and a big, dank bitterness hit the nose right away. Some tropical fruits and a little grapefruit creep in around the edges as well. This is going to be a hop bomb.
TASTE: Dank and bitter up front. There are clearly a ton of hops in this beer…I like it a lot. The grapefruit is more pronounced on the palate than it was on the nose, with a pleasant orange peel behind it. Again, some mild tropical notes drop in, mid sip along with some pine.
MOUTHFEEL: A touch of sweet malt starts this out, but it dries out quick and remains that way until the finish. The body is medium to light with a light sparkle.
OVERALL: This might sound a little weird for a beer from Colorado Springs, but it actually reminds me of Stone Ruination; just enough malt to prevent it from ripping your palate to shreds, but bitter from start to finish. It's really a nicely done Double IPA. Hopefully I can get my hands on another bomber before it is out of season this year.
1,157 characters
3.2
/5
rDev
-11.8%
look: 4 | smell: 3.25 | taste: 3 | feel: 2.75 | overall: 3.5
Pours with a small off-white head. Hue is a brilliant dark orange. Piney, resinous aroma. Tastes of pine, bitter hops on the finish. Mouthfeel is somewhat syrupy, with a thin body. Drinks much lighter than its ABV would suggest, but a little strange.
250 characters
4.56
/5
rDev
+25.6%
look: 3 | smell: 4.5 | taste: 5 | feel: 4 | overall: 4.5
Amazing beer!
Let me please note.. I have many IPAs under my belt... including younger & elder. (on tap at RR) This is a clean, crisp IPA. Loved it from the first sip. The only thing I don't really get is the thick head. This beer is close to perfect, but the the head is thick and frothy. Taste that lingers? Reminds me of traveling from N Cal to Reno with the absolute most freshest hops you can find. Yes... I've been there... done that. All in all , amazing beer. Work on this some more and figure out the head issue (why so frothy) and this would be a world class beer!
Edit: Lil cloudy too! Filtration would be a plus for future renders.
646 characters
3.67
/5
rDev
+1.1%
look: 3.5 | smell: 4 | taste: 3.5 | feel: 4 | overall: 3.5
a really different big ipa. i swear it has rye or spelt or some other weird grain in it, as the malt profile and finish it totally unfamiliar to me, but its cool with the huge hop load here. the nose is the funny malt, slightly spicy, maybe a little off, but i like it. and huge citrusy hops, orange and grapefruit dominant. the flavor is the huge resinous hops up front, not quite bitter, but oily and dank, and then a sweeter spicy malt that i just cannot wqite place. im not sure id love it in another beer, but in this imperial ipa i think it is a nice compliment. good mouthfeel, enough carbonation and a full body. a nice fall ipa, and whatever the alcohol is, its pretty high, but its not too powerful in the taste,. i liked this quite a bit, especially for under 7 bucks a bomber.
788 characters
2.73
/5
rDev
-24.8%
look: 3.5 | smell: 3 | taste: 2.5 | feel: 3 | overall: 2.5
This was one of the first beers I chose to open after a shopping spree in Colorado Springs, Summer 2012.
A- Apple Juice in color with a white large rising head aprox one inch. Tone of carbonation and large bubbles.
S- Orange and band aid mostly but some spice.
T- what a bummer. Cardboard and bitter hops. Should I finish this glass after opening the bomber? I was hoping for so much more.
M- Good for the DIPA style but the taste makes the mouthfeel less as it lingers on the back of the tongue.
D- I popped this one as my first Co springs beers after coming in from "the field" on military orders. So disappointing. I'm not even fully out of my uniform and this is my start to a weekend. Good thing I didn't wait until I got home.
737 characters
2.94
/5
rDev
-19%
look: 4 | smell: 2.5 | taste: 3 | feel: 4 | overall: 2.5
22oz bottle $6.99. I picked this up against my better judgment because I know if its not West Coast it ain't shit, oh well. I think this was a different beer than the Edge City DIPA from a couple years back but it has been a couple years so I can't be 100% sure. Amber-orange color, good head, looks good enough. Smells like aspirin, no joke. Flavor is aspirin and bitter hops. Not a lot of citrus, pine, or tropical fruits, mostly just bitterness and a hefty flavor of alcohol. Overall, a disappointment and not something I would purchase again but I should have known better in the first place.
596 characters
4.42
/5
rDev
+21.8%
look: 4 | smell: 4.5 | taste: 4.5 | feel: 4 | overall: 4.5
A- From a bomber, pours a slightly hazy light golden with a velvety two-fingers of thick white head, decent lacing on the glass
S- Strong pine and green hop aroma, orange zest is detectable as well
T- Bitter hops strong and apparent throughout, pine and green floral flavors have a heavy presence in the first half, light malt presence at first but comes out more towards the end, malt is slightly sweet with a light bready character, aftertaste is moderately bitter and green
M- Moderate body, very light carbonation, watery-smooth but not a bad thing, kind of reminiscent of something on cask
O- I really like the flavor of this brew, strong and distinct hop flavors and bitterness without being overbearing. Other aspects are solid as well, definitely worth giving a try if in the area
792 characters
3.87
/5
rDev
+6.6%
look: 3.5 | smell: 4 | taste: 4 | feel: 3 | overall: 4
Poured out a faintly cloudy dark amber with a very good, thick white head. Very strong citrus and pine hop aroma, spicy, resiny, and heady. Light malt scent...
A somewhat robust carbonation gives a rather soft mouthfeel with sweet malt sugars providing some added oomph. Rather subdued biscuit and caramel malt flavors with a good dose of hop bitterness dance around the mouth.
All in all, a pretty decent DIPA. Hop aroma and bitterness triumph over the malt characteristics, but that's what I'd expect for a double IPA. Perhaps not top of the line for the style, but a darn good representation all the same.
610 characters
4
/5
rDev
+10.2%
look: 4 | smell: 4 | taste: 4 | feel: 4 | overall: 4
a - pours out a nice golden sandy color with a thin, clean half finger white head that quickly disappears
s/t - a balanced blend of hops and malt, not one overpowering the other though... bit dry, yet bitter...little piney? carmel?
m - smooth with a bit of a dry finish. Not sure of the abv - but if its high, its hidden..
0 - first beer from this brewery, one just released recently and received from BigAlTemple through MLB BIF.. Pretty good Imperial IPA - not as "imperial" as I would have expected, but easily drinkable none the less.
548 characters
Imperial IPA from Bristol Brewing Company
3.63
out of
5
based on
25
ratings.