Dismiss Notice
Thoroughbred
| Daniel Thwaites Brewery PLC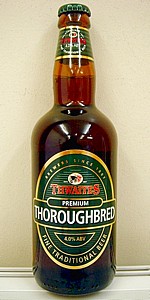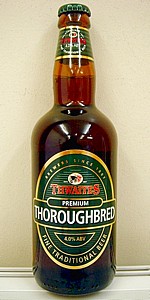 BEER INFO
Brewed by:
Daniel Thwaites Brewery PLC
England
,
United Kingdom
thwaites.co.uk
Style:
English Pale Ale
Alcohol by volume (ABV):
4.00%
Availability:
Year-round
Notes / Commercial Description:
No notes at this time.
Added by cypressbob on 11-20-2004
HISTOGRAM
Ratings: 5 | Reviews: 5
Reviews by kmacphail:

3.48
/5
rDev
+1.2%
look: 4 | smell: 3.5 | taste: 3.5 | feel: 4 | overall: 3
Sampled as part of my case from the CAMRA beer club. Similar to the one sampled by Blackhaddock, mine was the Gold Thoroughbred in a clear bottle.
The beer poured a golden amber colour with a white head. This settled to a 2mm film, but it did show good sign of retention and some lacing.
The beer had a sweet, slightly malty note to it, some citrus and a bit of hops, quite pleasant but none of these were too dominant.
An initial bite of hops is then followed by a lingering sweet taste of malts. This surprised me a little as for a light beer I did not expect it to be so sweet. The overall mouthfeel was a little bit of sweetness and an aftertaste that became rather bitter and hoppy.
An above medium mouthfeel made this a nice surprise. I am not a fan of light beers, however I could easily drink this on a night out. The lingering aftertastes are a bit strong to take too many of these, but definitely worth a try.
923 characters
More User Reviews:
2.97
/5
rDev
-13.7%
look: 2.5 | smell: 3 | taste: 3 | feel: 3 | overall: 3
Is this the same beer (GOLD Thoroughbred)? It is a little lighter than I remember the original thoroughbred and the bottle is now clear, the labelling different too.
Anyway, 500ml bottle, still 4.0% ABV, best before 12th June 2008, drank mid November 2007.
Poured into a Bateman's pint sleeve glass.
It is the same beer once you get into it (I think), might be a few slight changes, but I can't really tell or comment on any. So I shall review it as if it was my first time.
Pale amber colour, the head which started off as a white thick coating soon left leaving a thin scummy, wispy nothingy top.
Aroma of hops and a little yeast, malts also, but nothing strong.
Nothing offensive in the taste, but nothing worth mentioning either, a bog standard Pale Ale and a long way from being a 'Thoroughbred' IMHO.
I might have had this beer to cold because as it warmed the flavours (fruitiness and hops) started to appear, but it was too little to late. The mouthfeel was watery and thin.
Not overly impressed, maybe a cask one would change my mind, but I'll not be having another bottle be it a 'Thoroughbred' or a 'Thoroughbred Gold'.
It would seem after the first 6 reviews of this beer my scores are the highest and the lowest? Shows how these reviews can be so subjective instead of objective.
1,301 characters
3.38
/5
rDev
-1.7%
look: 3.5 | smell: 3 | taste: 3.5 | feel: 3.5 | overall: 3.5
Cask conditioned at the NI CAMRA fest.
Pours with a light amber body, some head, some retention and a little lacing
Smell, a little off, slight chemically whiff of sulphur, but the majority of the aroma is full of fresh hops
Taste, slightly biscuity, some nice fresh hop flavour
A pretty average ale, let down by a fair few off flavours and aromas
359 characters
4.17
/5
rDev
+21.2%
look: 4 | smell: 4.5 | taste: 4 | feel: 3.5 | overall: 4.5
The person who brewed this beer definately loves their horse racing the beer comes in a clear see thru bottle with gold and black labeling with a horse on the picture and a big spiel on the back on how a winning thoroughbred is bred from the best combination which leads me to this beer,it pours a pale see thru amber colour with average carbonation that leaves a fast vanishing one finger head with nice lacing everywhere,it has a very strong dominant spicey,fresh cut grass,malty hop aroma to it which is very nice,it has an average mouthfeel which is just right for the style and has a very fresh,grassy hop taste to it which finishes quite malty with a spicey hop finish,i love the look of this beer,its label,its aroma and its taste so definately would recommend this beer to anyone who likes a good EPA.
809 characters
3.2
/5
rDev
-7%
look: 3 | smell: 3 | taste: 3.5 | feel: 3 | overall: 3
It seems the brewery has changed the package for this beer - now it's changed from the original brown bottle to the current clear one!! Gosh, I can't understand why the brewery does this, if not only to lure lager drinkers with this beer's golden hue... The name has been amended slightly, too; now it's "Thoroughbred Gold" - how appropriate. Despite the total different appearance from the previous version, the beer label has an almost identical description in terms of its ingredients (though there's no mention of "dry hops" this time), so I presume this CAN BE the same beer as the old Thoroughbred. Let's see... BB 26/02/08, served cool in a straight imperial pint glass.
A: golden, with a white puffy head settling down to a thin sheet, on top of rather lively carbonation.
S: a mild flow of sticky-sugary note as of pasteurisation runs upfront, added with some creamy malts and sweet citric hops; a lightly stinky edge of Fuggles stays on the side. Medium-plus bodied on the aroma, and quite refreshing.
T: floral and citric hops come with a light touch of spiciness, followed by mildly-flavoured biscuity maltiness and a slowly intensifying wave of hop-dryness... the aftertaste sees more dryish impacts and lingering malt aroma, with a tad herbal on the bitterness.
M&D: quite, not TOO, fizzy and light- to med-bodied; despite the same length of bitterness, the overall taste and balance are somewhat different from those of the old brown-bottled Thoroughbred I've had several months ago. This can be due to the inconsistency with packaging, brewing, or even my taste-buds. But I can duly report that the new clear-bottle packaging certainly fails to lift up its profile for me.
1,694 characters
Thoroughbred from Daniel Thwaites Brewery PLC
Beer rating:
3.44
out of
5
with
5
ratings