Old Dan
| Daniel Thwaites Brewery PLC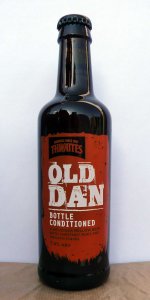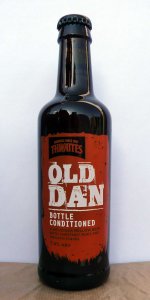 BEER INFO
Brewed by:
Daniel Thwaites Brewery PLC
England
,
United Kingdom
thwaites.co.uk
Style:
English Old Ale
Alcohol by volume (ABV):
7.40%
Availability:
Year-round
Notes / Commercial Description:
No notes at this time.
Added by jazzyjeff13 on 07-25-2011
HISTOGRAM
Ratings: 15 | Reviews: 8

3.36
/5
rDev
-7.2%
look: 3.25 | smell: 3.5 | taste: 3.25 | feel: 3.25 | overall: 3.5
Appearance: good clarity, medium copper with off white foamy, thick head;
Aroma: nutty and dark fruit aroma, mellow aroma overall, no noticeable hop aromas or yeast byproducts
Taste: Similar to aroma, nutty and fruity, like a fresh fruitcake, mellow notes of bready malt, soft finish
Mouthfeel: Moderately thick and slightly chewy mouthfeel, moderately low carbonation (bottle-conditioned), medium finish
Overall Impression: A mellow but moderately thick drinking ale with noticeable fruit and nut character. An easier drinking Old Ale than most because it is not aged, no noticable aged flavors present.
608 characters
3.1
/5
rDev
-14.4%
look: 3.5 | smell: 3.5 | taste: 3 | feel: 3.5 | overall: 2.5
Deep caramel colour with a off-white to brown foamy head that has average retention and is about a thumbs width tall.
Strong malts off this one to begin along with a good amount of alcohol too.It is quite a sweet smelling beer with some dark fruits with some plum and perhaps a touch of burnt sugar.
Sweet tasting and with a strong malt presence to go with it. There is a lot of alcohol in the taste but it isn't off-putting and I also detect the plum and other fruits from the nose along with a definite licorice taste.
Medium bodied and very smooth and sweet to drink with an excessive alcohol taste.
A pleasant drink but one that has to be savoured without a rush, it was quite warming and rich although probably not a beer I'd have again.
1001 Beers Blog:
http://abarwithnoname.wordpress.com
801 characters

3.7
/5
rDev
+2.2%
look: 3.5 | smell: 3.5 | taste: 4 | feel: 3.5 | overall: 3.5
Okay
now I had found memories of this beer and when saw it bottle conditioned I bought it and was disappointed
I'm giving it another chance letting it cellar for a month
poured a plum coloured body with good for a bottle white head
aromas of molasses and port
Nice old ale taste with dry sweetness, a little like sherry, fruitiness drives through and dissipates into a bitter tang
the over whelming yeastiness that I encountered before has not appeared but it isn't as big a taste hitter as it had been.
Good mouthfeel but slightly over lively carbonation
I give it my seal of approval till I get some Old Tom on cask.
627 characters
3.78
/5
rDev
+4.4%
look: 4 | smell: 3.5 | taste: 4 | feel: 4 | overall: 3.5
Had whilst relaxing in a deep bath whilst listening to North Norfolk Digital; Norf... NORTH Norfolk's best music mix. Smells good, not quite as good as, say, Lynx Africa or a Tommy Hilfinger cologne, but nice in a sweet, barleywine-ish way. Tastes like 2 pounds of mashed-up Dundee cake and the mouth feel is just right. Slight sour note in the finish- much like my last meeting with BBC Commissioning Editor Tony Hayres. Needless to say- I had the last laugh.
460 characters
3.88
/5
rDev
+7.2%
look: 4 | smell: 3.5 | taste: 4 | feel: 4 | overall: 4
Brown 33cl bottle, same as the picture, best before 07 Apr 2011: bottle conditioned.
Poured carefully into a 'Palm' badged stemmed tulip glass: looked impressive, bright, clear and a good chestnut reddy brown colour, on top a huge crown of off-white foaming bubbles. Those foaming bubbles fade to a full collar and wispy islands as the tasting progressses, but it did look very good initially.
The smell was of yeast and malty goodness, a rich plum bread sort of aroma, with butter on of course.
The taste is also plum bread with butter, the label mentions fruit cake, but I'm sticking with plum bread, add a thin layer of liquorice as the beer warms and you've got the flavours of an interesting beer: the label also mentions mellow, I'll agree with that. Smooth mouth feel, this slips down far to easily considering its strength. The 7.4%ABV is hidden well but this isn't a quaffing ale, more of a fireside sipping brew for those who prefer the finer things in life (like a job with a pension).
There are better Old Ales on the market, but this isn't bad at all, the liquorice arriving late on was an bonus: well above average and worth trying if you find it.
1,165 characters

3.5
/5
rDev
-3.3%
look: 3.5 | smell: 3.5 | taste: 3.5 | feel: 3.5 | overall: 3.5
Like the sexually deviant Dan Moody of Kitchen Planet this traditional full bodied English old ale should really give me its full attention. But that is just not going to happen. This country!
I was hoping this would be one red hot scorcher of a beer but its barely even a half pound cheeseburger. Still, it is a right doppelganger for the colour of Director's bitter and smells like mince pie, gas, Colman's mustard and Toblerone. Tastes like Dundee cake, walnuts, arrabriata sauce, Wurthers Originals, Scotch egg and Terry's Chocolate Orange. Leaves lacing like an old woman's hair.
No Lexus, this is barely even a re-badged Rover 100. At one time I might have called this just a bit simple but now that I am a connoisseur its basically just moribund.
Ah ha!
763 characters

3.83
/5
rDev
+5.8%
look: 4 | smell: 3.5 | taste: 4 | feel: 3.5 | overall: 4
Appearance: Poured a dark ruby red, with a small amount of head. Dissipated quickly, not a large amount of carbonation.
Smell: Alcohol, sweet port and brown sugar. Slight berry smell.
Taste: Quite sweet, brown sugar and maltiness. The port sweetness is there with a slight bitter finish
Mouthfeel: Light mouthfeel.
Overall: I enjoyed this beer. Wasn't expecting much but was pleasantly surprised. A sweet port like quality that I enjoy. Quite easy to drink.
464 characters

3.61
/5
rDev
-0.3%
look: 4.5 | smell: 3.5 | taste: 3.5 | feel: 4 | overall: 3.5
A 330ml bottle with a BB of April 2012. The front label is metallic with modern branding. The rear label has plenty of info about the beer, including malts, hops and tasting notes. Described as bottle conditioned - in fact this is writ large on the front.
Poured into a Delerium chalice. A deep coppery-ruby hue with medium carbonation. Yields a small head of creamy light-brown foam that lasts for a minute or two before subsiding. It looks fantastic. Aroma of rich, sweet malt with notes of dried fruit, sweet caramel, butterscotch, brown sugar and a definite whiff of diacetyl. A strong hint of alcohol lurks in the background, reminiscent of a fruit liqueur.
Tastes of sweet malt with a notably alcoholic 'liqueur-like' finish. Notes of diacetyl/butterscotch, caramel, dried fruit, brown sugar and faint stewed hops. Considerable alcohol 'heat' upon swallowing - a bit too much for an ale. Mouthfeel is smooth and slick, with an astringent solvent-like character. Aftertaste of sweet malt, butter and booze.
Quite a good effort, but imperfect. The malty character that an old ale requires is there but it's too sweet, along with an excess of diacetyl and booze. The butteriness overpowers the other flavours, and the alcohol is insufficiently masked. It also comes across as less complex than it could be. Looks like Thwaites could do with some lessons from a good Belgian brewer, although this ale might improve if matured for a while. Worth trying, just don't expect to be overwhelmed.
1,500 characters
Old Dan from Daniel Thwaites Brewery PLC
Beer rating:
3.62
out of
5
with
15
ratings