Marks & Spencer Sussex Bitter
| Hepworth & Co. (Brewers) Ltd.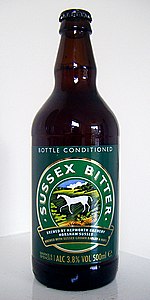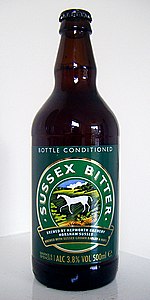 BEER INFO
Brewed by:
Hepworth & Co. (Brewers) Ltd.
England
,
United Kingdom
thebeerstation.co.uk
Style:
English Bitter
Alcohol by volume (ABV):
3.80%
Availability:
Year-round
Notes / Commercial Description:
No notes at this time.
Added by wl0307 on 09-15-2008
HISTOGRAM
Ratings: 5 | Reviews: 5
Reviews by drperm:

4.6
/5
rDev
+16.2%
look: 4 | smell: 4 | taste: 5 | feel: 5 | overall: 4.5
Souvenir pint bottle purchased at the Canterbury M&S and brought back to Virginia. I was able to wait a whole month before cracking it open. Glad I did -- this is a truly divine little piece of England that I've brought home with me.
In the glass, it's a glowing, golden-straw nectar, highly translucent like a dark pilsener or saison. A nice white cap of foam hangs about for most of the glass.
Some patience with allowing the beer's temperature to rise yields the reward of a subtle but lovely bouquet of floral English yeast, goldings hops, and ciabatta bread.
The taste is fantastic -- malty (but not sweet), warming, bready, with a perfect mellow bitterness and a snappy, spritzy, hoppy finish. I don't have enough good things to say about it, so I won't attempt to try. And it's 3.8% ABV, so you can quaff these all night long and be good to go.
Overall, I wish I had brought back about 10 of these, and not just the one. This would be THE perfect beer for bangers & mash or fish & chips. It would also go great with a good English cheese, but I'm happy to sit here and quaff it all by itself.
HIGHLY recommended. If you love English ale, here's one for you. If you need an introduction to the style, I cannot imagine a better candidate.
1,249 characters
More User Reviews:

4.04
/5
rDev
+2%
look: 3.5 | smell: 4.5 | taste: 4 | feel: 3.5 | overall: 4
Poured into a handled dimpled pint
golden bodied thick white big bubbled head that stays and even curtains the side of the glass a little.
The aroma is splendid floral notes backed up with hops and citrus strains.
The taste is deceptive starting very understated with slight malts and peppery undertones that slowly, gradually into sharp hops.
The aftertaste continues a good time after the mouthful is swallowed continuing to warm the mouth.
Very thirst quenching.
low carbonation and very fluid mouthfeel
A utility beer, marching ale
Perfect to wash down some lunch on a busy day.
589 characters
3.55
/5
rDev
-10.4%
look: 3 | smell: 3 | taste: 4 | feel: 3.5 | overall: 3.5
The beer is pale copper toned and clear, has an off-white head with rather large bubbles leaving little lacing.
The smell is rather weak, nuts, apples, some day-old grass.
The taste starts sweet, brown bread, then some bitter orange sourness, and lemon peel bitterness.
Medium low carbonation, a small body, fresh but almost coarse dryness.
For being below 4% is it a very solid and good beer.
397 characters
3.9
/5
rDev
-1.5%
look: 3.5 | smell: 3.5 | taste: 4 | feel: 3.5 | overall: 4.5
Pours a tarnished gold with a white head that fades to a single patch. Nose is apples and grain with some citrus hops underneath. Mulchy barrel malts with some pear hints, tea, lemondrop and spice hops, solid bitterness. Chalky linger. Light to medium, some fizz. Gets chewier and toastier as it warms.
Note: Name changed to "Sussex Golden Ale" - to more accurately reflect the style, according to the M&S blurb.
Looked average but the taste really stepped it up - some depth and balance both. Better bitter than some own labels, and good ABV for staying with.
Bottle conditioned; "a real ale according to CAMRA" says the label.
633 characters
3.7
/5
rDev
-6.6%
look: 3.5 | smell: 3.5 | taste: 3.5 | feel: 4.5 | overall: 4
Purchased at the M&S in Salisbury. As with another ale purchased that day (St. Austell's Cornish IPA), this seems to be the latest recruit to the M&S' range of bottle-conditioned ales commissioned from regional breweries all over Britain. Hepworth brewery is renowned for its many contract-brews in bottles, so I really look forward to trying this one. BB 03/09, served cool in a straight imperial pint glass.
A: dark golden hue with a faint touch of red, coming with very fine and sporadic carbonation and a slowly dissipating white fluffy head.
S: a light, boiled-yum-like veggie note and semi-sweet malts (like melted crystal sugar) underline the major aroma of Golding's citric-fruity hop scent. A swirl gives rise to the more subtle earthiness and light sulphur/yeasts. At times, the mixture gives a very distant echo to a light Belgian pale ale. The hop theme is quite focused, albeit understated in aroma, delivering an overall semi-clean impression.
T: a deepening flow of superbly bitter-sweet and citric hoppiness (with a rough edge on the tongue) prevails from the beginning, then plenty of powdery, mineral and herbal bitter hops engulf the whole palate just beyond boundaries...Very constrained is the liquidy bitter-sweet pale maltiness underneath, leaving the hop bitterness to linger forever at the back of the palate.
M&D: very well bottle-conditioned, this light bitter is blessed with a healthy dose of fine carbonation and a light body, while the flavour profile would make one think twice about how much a "small beer" can demonstrate. Compared with all other beers in the M&S bottle-conditioned range that I've tried, this is by far the most successful in terms of the bottle-conditioning quality.
1,725 characters
Marks & Spencer Sussex Bitter from Hepworth & Co. (Brewers) Ltd.
Beer rating:
3.96
out of
5
with
5
ratings