E.J. Phair Pilsner
| E.J. Phair Brewing Company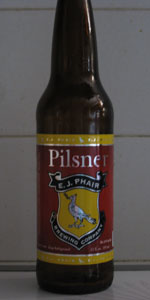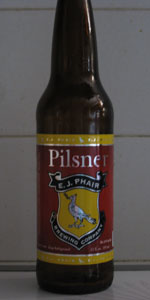 BEER INFO
Brewed by:
E.J. Phair Brewing Company
California
,
United States
ejphair.com
Style:
German Pilsener
Alcohol by volume (ABV):
6.10%
Availability:
Year-round
Notes / Commercial Description:
No notes at this time.
Added by BeerAdvocate on 06-05-2003
This beer is retired; no longer brewed.
HISTOGRAM
Ratings: 8 | Reviews: 7
Reviews by DoubleJ:
3.71
/5
rDev
+18.5%
look: 4.5 | smell: 3.5 | taste: 3.5 | feel: 5 | overall: 3.5
Poured into a stange, on ot the beer:
Beautiful blonde to gold in color with a nice fluffy head that rose nicely. The smell is clean with a yeasty and sweet aroma, which brings to mind sweet sugary candy. But where are those hops? In fact, I was asking that the whole time. It's surpsingly balanced and sweet, which I wasn't expecting in something labled as a pilsner. Pretty sweet taste. The feel was tingly and crisp, which was the best part of the beer.
A totally different kind of pilsner. This is a malt-mouth's pilsner that's focused on them. Hopheads might want to look for a different pilsner. But I enjoyed it.
626 characters
More User Reviews:
2.58
/5
rDev
-17.6%
look: 3.5 | smell: 3 | taste: 2.5 | feel: 2.5 | overall: 2
I got this beer as a gift in a sampler pack. It is a very light golden color with a little haze and a strong head. There is a classic pilsner aroma and a fairly crisp taste on the tongue before getting a hint of sweetness. All in all, it's pretty average, although it would probably be more enjoyable on a warm day.
315 characters
3.88
/5
rDev
+24%
look: 4 | smell: 3.5 | taste: 4 | feel: 4 | overall: 4
Had to settle for this beer when they were out of Anchor Steam. A golden pilsner that is not bad, just isn't my style of choice.. My taste has really steered away from beers of this type. In all due fairness this might not have been the best kept sample. this brewery is near my house and I'm going to get some from the source. I feel it deserves another chance though it's not my favorite style of brew. I have went to the source and the beer was improved like the IPA. A good solid beer when in the mood for this basic style. Competes with North Coast Scrimshaw quite nicely in that it's soft clean maltiness is very refreshing. Head retention is excellent for the style, and mouthfeel is light to medium. Good.
713 characters
3.2
/5
rDev
+2.2%
look: 3 | smell: 3 | taste: 3 | feel: 4 | overall: 3.5
12 oz. bottle- color of clear amber , with a off whitish head - nose of bread , malt , a weird sweetness , and – crisp taste of burn nutty-ness , medium hops , decent malt , and slight honey - body is smooth , crisp , and with low to medium carbonation – aftertaste of light orange , hops , and that weird sweetness
317 characters
2.23
/5
rDev
-28.8%
look: 2.5 | smell: 2 | taste: 2 | feel: 2 | overall: 3
12 ounce bottle split with my dad last night, reviewed from notes, poured into my pilsner glass
A-Light golden color with some orange in the light, big 1 1/2 inch white foamy head, not much retention, no lacing
S-Toasted malts, small amounts of fruit, light hops, some citrus, and straw
T-Started off a bit yeasty and then had some citrusy fruits with lemon coming to mind, malt sweetened even more when it warmed, not much going and on, way too light and watered down though
M-Crisp, fairly sweet, and chewy mouthfeel, thin body, way too much carbonation is an understatement
D-Could not drink much of this because of the unappealing taste, ABV is not high and it is light on the stomach though, fairly smooth for its style
I do not even know where this beer came from but it was in the back of my fridge, have not heard of this brewery, did not expect much and did not get it either, would not drink again or recommend it
925 characters
2.1
/5
rDev
-32.9%
look: 4 | smell: 1.5 | taste: 2 | feel: 3 | overall: 2
Poured into a tall Pilsner glass and boom the head almost literally exploded out of the glass. It wasn't like a did a vigorous pour or anything, there simply was this explosion of carbonation and massive head. I barely got a few ounces of beer in the glass before I had to stop pouring.
I did like the appearance of this hazy light colored beer. The smell was unlike any other pilsner I've ever had before. It has a musky almost soapy smell. It has none of the characteristic smells normally found in a beer of this style: not good.
The taste is equally disappointing. I guess there is quite a bit of malted barley, but it's not sweet or pleasant like a heavily malted beer can taste. It's bitter without any floral hop tastes or aromas.
The mouthfeel is brisk and decent.
I got this as part of a beer mix-pack for CostPlus World Markets. Maybe this particular batch of the beer is flawed, maybe the beer is just flawed. I don't want to waste my time finding out. There are much, much better domestic pilsner style beers to enjoy (Lagunitas, Trumer Pils).
1,057 characters
3.33
/5
rDev
+6.4%
look: 3.5 | smell: 3 | taste: 3.5 | feel: 3 | overall: 3.5
Picked this Pilsner up at City Beer store in 12 oz. bottle. Pours a nice golden color with very little head and almost no lace. The smell had a hint of banana. Actually a little more flavor for a pilsner than I was expecting. Nice balance of hops and malt. But, most of the flavor is up front. Not much at the end. Nice Pilsner.
328 characters
E.J. Phair Pilsner from E.J. Phair Brewing Company
Beer rating:
3.13
out of
5
with
8
ratings