Red Brick Oktoberfest

Atlanta Brewing Company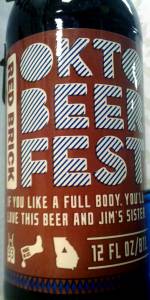 Write a Review
Beer Geek Stats:
| Print Shelf Talker
Style:

ABV:

5.7%

Score:

78

Avg:

3.12

| pDev: 21.47%

Reviews:

15

Ratings:

From:

Avail:

Retired (no longer brewed)

Wants

Gots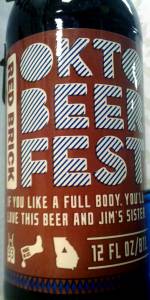 Notes:
Reviews: 15 | Ratings: 21
2.98
/5
rDev
-4.5%
look: 3.5 | smell: 3 | taste: 3 | feel: 2.5 | overall: 3
light amber in color and very clear. This let me see literally tons of carbonation coming up and through the glass, reaching a height of around two inches and then dropped back down to nothing rather quickly. Aroma is very light, bready malts, a touch of muted, herbal hops and a hint of musky aroma, not really what I was looking for but no matter. Bland, rather average taste with bready notes and corn like flavor leading the way. I felt like I kept waiting for a little bit more and just never got it.
505 characters

1.89
/5
rDev
-39.4%
look: 3.5 | smell: 2 | taste: 1.5 | feel: 3 | overall: 1.5
Pours a clear gold with a slight reddish hue. Lots of foamy off-white head.
Aroma is doughy malt, but there's some off smells here. A bit of a vegetal aroma almost like cooked corn.
Starts off with some bready sweetness. More vegetal flavors abound with a horrible astringent aftertaste. Very grainy with little of the good rich maltiness I've come to expect from Oktoberfest.
Mouthfeel and carb are ok.
This is a horrible example of an Oktoberfest. Loads of off flavors and ends up tasting like a cheap light beer. Definitely avoid this one.
546 characters

3.12
/5
rDev 0%
look: 4.5 | smell: 2.5 | taste: 3 | feel: 3.5 | overall: 3.5
12oz bottle
A- Pours a golden orange color with a nice off-white head.
S- The aroma is fruity and citrus with some malt and yeast. 
T- The taste has a lot of sweetness up front with some citrus and yeast flavors. The taste could use some more hops to help balance out the sweetness.
M- The mouthfeel is light to medium bodied with a high amount of carbonation.
O- Overall, not my favorite Oktoberfest. Its a little too sweet for my tastes. 
447 characters

2.78
/5
rDev
-10.9%
look: 3 | smell: 2.5 | taste: 3 | feel: 3 | overall: 2.5
[Best served in a Lager glass]
The pour was a hazy amber/orange with a huge (3-4 finger) light beige frothy head that lasted throughout and had excellent lacing which clung to the glass.
The aroma was very light of toasted bread malts, a grassy hop and a mild sweet doughy yeast with a hint of caramel and possibly some dark fruit.
It tasted lightly sweet and a tad bitter in the beginning and finished a tiny bit on the sour side with a sweet caramel malt flavor that was ever so slightly bitter at the end. The flavor only lasted a short while after the swallow.
Mouthfeel was light to medium in body and dry in texture with a fizzy carbonation.
Overall a very mild Oktoberfest, but it was nice and satisfying and quite drinkable.
738 characters

2.76
/5
rDev
-11.5%
look: 3.5 | smell: 2.5 | taste: 2.5 | feel: 3.5 | overall: 3
Poured out of a 12 oz bottle into a pint glass.
A – Slightly hazy golden wheat on the pour. Half finger of stark white head. No real lacing.
S – Sweet malty aroma. Grain. Not much of an aroma at all, very light.
T – Like the nose this one is very sweet, overly so at least for me. Has some spiciness to it with some more sweetness in the way of caramel. Odd bittering at the end.
M – Medium bodied and lively carbonation. Leaves that sweetness on the palate. Dry as well.
O – This one just came across as way to sweet for me and not much like fest beer. Just not enough balance. I wont seek it again.
620 characters

2.88
/5
rDev
-7.7%
look: 3 | smell: 2.5 | taste: 3 | feel: 4 | overall: 2.5
The aroma is not exactly right even for the style. It's got malt and more grassy hops than most of the style but it also has a strange yeasty element to the aroma. The taste is like the aroma but not bad. The palate is very smooth. Overall it's not very good but drinkable.
273 characters
2.01
/5
rDev
-35.6%
look: 2.5 | smell: 1.5 | taste: 2 | feel: 4 | overall: 1.5
Poured from 12 ounce bottle into nonic pint.
This was my second sampling from the sixer... I had hoped something was wrong with the entire package but this beer was not much different from the first. I was shocked at such a poor offering from an otherwise respectable brewery. I even made sure to check the best-by date, but it wasn't even close yet.
A - a few shades too light for an O-fest, but nothing terrible. Dull and mostly clear yellow with scant head and lacing.
S - aroma of sour corn
T - hints of metallic flavor though some bitterness to finish
M - great texture and carbonation levels
D - the bizarre flavor and aroma were too much for the balanced texture to overcome.
690 characters

3.37
/5
rDev
+8%
look: 3.5 | smell: 4 | taste: 3 | feel: 3 | overall: 3.5
Faintly malty beer without much distinction.
Golden color with just a hint of copper. Head is nice, with creamy mouthfeel soon after the pour. Just a hint of malt to make you think it's an Oktoberfest, but a bitter finish is more hops than it needs for the feeble malt. Another sip brings fresh hope with the very nice nose of malt, but the aftertaste is not very pleasing. Kind of a cardboard flavor with some cooked cabbage.
427 characters

2.15
/5
rDev
-31.1%
look: 3 | smell: 3 | taste: 2 | feel: 1.5 | overall: 1.5
I am struggling to finish this beer, I want to pour it out and start a new one. It is straw colored and clear. The aroma is unremarkable, and devoid of hop aromas. The head is missing. It is the taste that confuses and made me drink more than I wanted so I could define it. Its malt, plus metal plus that beeriness you get from american lagers. The feeling in my throat is acrid, not pleasant. Its pretty flat, and yet causes sensations in the mouth similar to carbonation. Maybe its just highly bitter?
503 characters

3.19
/5
rDev
+2.2%
look: 2.5 | smell: 3.5 | taste: 3 | feel: 3 | overall: 3.5
12 oz. bottle served in a pint glass. This Oktoberfest pours a clear golden straw with perhaps a tinge of caramel. A thin white cap dissipates to a surface film in short order.
Nose of light caramel and some vienna malts with a slightly toasted character. Opens up to offer a decent hop presence.
Flavor is sweeter than the light pour and nose might suggest and yet offers a somewhat dry finish. Bit of caramel and bread carry through yet don't offer a rich complexity as the sweetness is simple and fleeting. Not much body to keep things interesting.
Overall a light colored, and light bodied Festbier with limited character and limited reason to linger. Not bad but not good.
680 characters
4.13
/5
rDev
+32.4%
look: 4.5 | smell: 4 | taste: 4 | feel: 4 | overall: 4.5
A: Deep, dark gold color. Poured a 2 finger white head with fair retention. Decanted lightly with lazy bubbles floating to the top. Laced in sheets.
S: Big, bready Munich malts; slightly sweet. Pepper and grass noble hops.
T: Bready malt and faint caramel up front. Peppery bitter allows some of the big malts to linger nicely in the finish.
M: Medium body. Moderate to ample carbonation. Smooth and coating.
D: Very drinkable, Nice and malty likeit should be.
465 characters
3.01
/5
rDev
-3.5%
look: 4 | smell: 3 | taste: 3 | feel: 3.5 | overall: 2.5
Got this on-tap at Taco Mac Lindbergh in Atlanta.
Pours a clear reddish-brown color with a one-finger off-white head. The head dissipates quickly into a thin ring around the glass. Not much lacing.
Smells alright. There's a big hit of noble hops along with a mild roasted malt aroma.
Tastes alright. Like the smell, there's a lot of roasted malts that overpower the sweet malt flavor. Ends with a big noble hop flavor. It's not very well balanced, and as the beer warms the noble hops overpower everything else.
Mouthfeel is a bit thin. The carbonation is good, and it goes down smoothly enough.
Drinkability isn't that great. Flavors are just too overpowering.
Overall I was a bit disappointed. There's just not enough sweetness to make this a good Oktoberfest in my opinion, and the hops become too much. I won't go as far as to say avoid this beer, but I wouldn't go seeking it out.
891 characters
4.1
/5
rDev
+31.4%
look: 4 | smell: 4 | taste: 4 | feel: 4 | overall: 4.5
Quick review from the bar. Beer of the month for Taco Mac September 08.
A. Bright honey gold color, slightly reddish hues. Head is bright white and 3/4". Lacing is nice and sheety. Beer is transparent.
S. Caramel malts and a decent little hop aroma. Slightly roasty. Not bad all in all.
T. Caramel up front with a nice bittering hop midstream. Just a tad of smoke thrown in to make things interesting.
M. Medium in the mouth and high carb.
D. I actually like this brew. It seems like the reviews have been very low in the past for this one; I thought it was damn good!
574 characters
4.38
/5
rDev
+40.4%
look: 4.5 | smell: 4 | taste: 4.5 | feel: 4.5 | overall: 4.5
Pours a nice, dark, translucent coppery brown with a decent head. Aroma is strong and malty, with overtones of spice. Flavor is rich and lively and mainly malty, and has hints of cloves and cinnamon. There is just a little hop component and minimal bitterness. Leaves a jazzy, pleasant aftertaste.
297 characters
3.37
/5
rDev
+8%
look: 3.5 | smell: 4 | taste: 3 | feel: 3 | overall: 3.5
Appearance: Pours a bubbly, copper body with a fizzy off-white head.
Smell: Toasty Munich malt aroma. Lightly spicy and with just a bit of caramel.
Taste: Very, very toasty malt flavor with a bright caramel sweetness. Spicy hop flavor lasts into the lightly bitter finish.
Mouthfeel: Medium-thin body. Lightly spritzy carbonation.
Drinkability: Not bad, but I can help but wonder what the brewery's plans are for this beer. C'mon, ABC, the Oktoberfest game is afoot!
478 characters
Red Brick Oktoberfest from Atlanta Brewing Company
Beer rating:
78
out of
100
with
21
ratings