Dismiss Notice
Dismiss Notice
Maxlrainer Jubilator
| Schlossbrauerei Maxlrain GmbH & Co. KG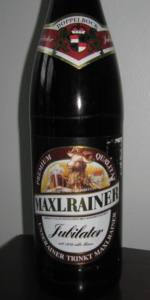 BEER INFO
Brewed by:
Schlossbrauerei Maxlrain GmbH & Co. KG
Germany
|
website
Style:
Doppelbock
Alcohol by volume (ABV):
7.50%
Availability:
Year-round
Notes / Commercial Description:
No notes at this time.
Added by smakawhat on 06-06-2011
Reviews: 8 | Ratings: 17

3.92
/5
rDev
+4.5%
look: 4 | smell: 3.75 | taste: 4 | feel: 3.75 | overall: 4
Poured into my favorite stein.
A - Nice dark brown-black color, with good head. Keeps it for a decent period.
S - Bready, some figs, chocolate, roasted nuts.
T - A little bit of sweetness, nice chocolaty flavor, maybe not as malty as some dbocks. But a pleasant taste that's easy drinking. Enjoyable.
M - Maybe just a tad light compared to most in this style, but not off-putting at all.
O - A really nice beer, goes great with food or by itself. The abv is hardly noticeable, which makes this so easy to drink. Very enjoyable.
★
532 characters
3.33
/5
rDev
-11.2%
look: 4 | smell: 3.5 | taste: 3 | feel: 3.5 | overall: 3.5
at first taste I thought I had found something awesome for a great price. But as the beer warmed up it started tasting less like celebrator and more like a pretender.
A- looks great in the glass
S-sweet boozy a bit of cardboard
T- had some of that taste I describe as root beer candy that celebrator has, but as it warmed up it disappeared....and the hops showed up strong
M- a bit thin
O- like it less as I drank it...wouldn't buy it again.
★
443 characters
4
/5
rDev
+6.7%
look: 4 | smell: 4 | taste: 4 | feel: 4 | overall: 4
Out of a ($3.50!) bottle this beer was a clear, copper color with three fingers of head that formed nicely after my zealous pour. The pillowy fluff showed good retention and consistent lacing. The aroma was of toasted malt, caramel malt, light booze, grains and bread. The flavors were rich and enjoyable, a blend of dark bread, caramel malt, toasted malt, hints of figs and a note of molasses. The mouthfeel was smooth, the body medium full and the carbonation light. Highly enjoyable for a highly affordable price.
★
516 characters

3.8
/5
rDev
+1.3%
look: 4 | smell: 4 | taste: 3.5 | feel: 4 | overall: 4
Poured a brown body with everlasting offwhite head that left minor lacing. A mix of earthy hops and a bready/caramel malt aroma dominate the nose. I like the sweetness of this beer as that's the first thing to hit me; caramel, hints of chocolate, toffee. Also well-balanced with a minor citric hoppiness and something like orange skin. Beer is thinner than most dopplebocks so it's smooth sailing and it almost feels as if the beer is smooth from an exceptional amount of yeast/wheat twang in beer. Some dry, roasted malts add balance and some depth and while not the most complex dopplebock nor the heaviest (which allows for a less than boozy finish) it is every enjoyable.
★
675 characters

4.26
/5
rDev
+13.6%
look: 4.5 | smell: 3.5 | taste: 4.5 | feel: 4.5 | overall: 4.5
I picked up this bottle, along with some others, at the Swiss Bakery just outside the Washington Beltway on Braddock Road. I really likied this beer. It was very pretty in the galss; deep ruby with a wonderful head. The wasn't too much aroma but it was of nice clean malts. Unlike a LOT of D-bocks, thw Jubilator really tends toward the dry, making it easy drinking. Just a hint of sweetness!The mouthfeel is soft and the balance very good. The flavor is of roasty malts with a bit of toffee and coffee. The lacing was excellent.
★
529 characters

3.88
/5
rDev
+3.5%
look: 4 | smell: 3.5 | taste: 4 | feel: 4 | overall: 4
Best before the 7th of March, 2012, 16:46.
Pours a deep burnt orange to near mahogany depending on the light. A 1 1/2 finger light tan head in my Whitbread half-pint mug.
Smell of bubblegum right off the bat, but the second mug had more of a metallic aroma. Toasted whole grains as well--this seams to be the theme for this brewery.
Somewhat tart, with bittersweet chocolate. Here the "toasted" whole grain borders on more of a burnt malt flavor.
Mouthfeel is thick. Definitely thicker than the other Maxlrainers I've sampled. It leaves a nice coating on the tongue.
Thicker and richer than the other Maxlrainers. Thick enough to hide the increased ABV.
★
658 characters
3.31
/5
rDev
-11.7%
look: 4.5 | smell: 3.5 | taste: 3 | feel: 3 | overall: 3.5
Three fingers of orangey head top my Aventinus glass, over a clear, reddish brown body. The head just stays and stays. Laces well too.
Slightly tart and malty nose with significant biscuity character.
The taste is much more bitter than I would've expected; there's some serious hop presence hiding behind the malt in this doppelbock. Other than that, there's a trace of alcohol, but vaguely one-dimensional. Maybe a 'hop'plebock?
Mouthfeel is slightly richer than cola, but still pretty sticky.
There are many doppelbocks out there (I prefer wheat doppelbocks), and for the price point, I would definitely get any of the Weihenstephaner 0,5Ls for the same money.
★
666 characters
3.91
/5
rDev
+4.3%
look: 4.5 | smell: 3.5 | taste: 4 | feel: 4 | overall: 4
Poured into a Pilsner style glass from the bottle. Dated good till March 3rd 2012 off we go. First to add, first to review, pose for the camera baby... make it look good let's see what we got.
Pours a classic dark brown clear out of the bottle giving a big pin sized bubbled light brown head. Head is kind of that classic yellowy brown for a doppelbock. Lots of snapping noise for the head too. Body is a nice red brown clear body. Looks alright and this head seems to have some clumpy retention to it also. This looks interesting, and some good spotty sticking lacing. Yeah I think I like the look of this one very much!
Mild toffee, and caramel, clean and wet but also a burnt sour grain unfortunately. There's a schwarzbier like kind of roast on this thing but it seems oddly placed. I'll still give it a little above average there are things to like here and it's a solid strong nose, almost getting into cooked malted Ovaltine or something.
Taste though is pretty soild I must admit. Chewy malts in the palate with a small touch of banana. Light bodied finish and a hint of char or burnt wood just slightly. Something though in the finish is kind of bitter hard to figure out why. Mouthfeel is a bit wet and missing some of the coating and thickness I would want for this style.
Overall though it's not too bad. It's not anywhere near as good as Celebrator, but it's better than Maximus that's for sure. At least so far this brewery makes something I like, some of the past beers were quite unimpressive. A good go to doppelbock I say, I seem to keep drinking it and liking so overall... good.
★
1,603 characters
Maxlrainer Jubilator from Schlossbrauerei Maxlrain GmbH & Co. KG
-
out of
100
based on
8
ratings.