American Pale Ale
| Three Needs Brewery & Taproom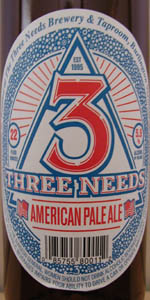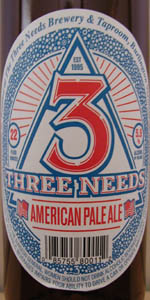 BEER INFO
Brewed by:
Three Needs Brewery & Taproom
Vermont
,
United States
Style:
American Pale Ale (APA)
Alcohol by volume (ABV):
5.90%
Availability:
Rotating
Notes / Commercial Description:
No notes at this time.
Added by scottum on 05-01-2006
This beer is retired; no longer brewed.
Ratings: 6 | Reviews: 6
Reviews by celfan:

4.6
/5
rDev
+26%
look: 4.5 | smell: 4.5 | taste: 4.5 | feel: 4.5 | overall: 5
God I loved this ale. I don't know whats going in the rest of the US, but all the Vermont beers are going hop-heavy. Everyone's drinking IPA'S or really super hopped American Pales. This was a delicious blend of malt, spices, and just enough flowery hops. Smooth, creamy, even a little bread aroma.
I've walked past the Three Needs Tap Room a million times and never went in because of all the shady looking characters:). I heard that when smoking was allowed in Burlington bars you couldn't see two feet in front of you in this place. I read about it in a recent Burlington newspaper article about Vermont beers. This ale is dark and full bodied for a pale ale. Great aroma. I'll be getting this ale a lot. Hopheads will complain its light, but its a nice ale beautifully blended. This and beers from the Alchemist in Waterbury are the only VT beers that excite me.McNeils
in Brattleboro is good but their ales don't taste as good in the bottle. I can't believe how much I loved this Three Needs from a bottle. I'm going to have to visit the taproom and dry a pint.
1,068 characters
More User Reviews:

4.01
/5
rDev
+9.9%
look: 4.5 | smell: 3.5 | taste: 4 | feel: 4 | overall: 4.5
appearance - Pours out with an inviting cloudy haze with the color of warm redish amber. The head has a light tan medium body to it.
smell - Hints of carmel and molasses with enough hops to let you know this beer will offer the drinker both satisfying body as well as a refreshing quaffable glass.
taste - Yummy hop flavors mingled with molasses and carmel to round out a well balanced pale ale that is on the stronger side of the style.
mouthfeel - Full, satisfying, with tight carbonation(just right)
drinkability - Can I have another! Easy. Seems to be even easy to drink as its warms in your glass. Glen has this one down.
638 characters

3.08
/5
rDev
-15.6%
look: 3.25 | smell: 3.25 | taste: 3 | feel: 3 | overall: 3
The appearance was a hazy burnt orange color with a finger's worth of white foamy head. Delicate messy lace. The smell started off with some muted sweet grassy hops. Then some burnt toast, sly amount of caramel malts. The flavor is pretty much the same. Long malty aftertaste. Quick smooth finish. On the palate, this one sat about a light to medium on the body. Decent sessionability. Fairly low carbonation. Overall, hmmm, not much of an APA in my opinion, leans more towards the English wheelhouse a bit. I think I could come back to this, maybe.
551 characters
3.08
/5
rDev
-15.6%
look: 3 | smell: 2.5 | taste: 3.5 | feel: 3 | overall: 3
Appearance: Dark caramel/copper brown, the head was fleeting and off-white.
Smell: Not much aroma coming through, and not very hoppy at all. I understand it's not supposed to punch my in the noggin with hops, but I got much more spices than hops. Nutmeg, cloves, and even the smell of a baked potato (?)
Taste: The carbonation was on the soft side, giving the malt all the room in the world to shine. It had some roasted notes that were allright, but here again hops were a little too discreet, with a thin aftertaste. I wasn't overwhelmed with this one, just like at the brewpub. After a weekend of hop monsters in Vermont (at least by Québec standards), it was passable at best.
687 characters
3.86
/5
rDev
+5.8%
look: 4.5 | smell: 3.5 | taste: 4 | feel: 3.5 | overall: 4
22oz bought somewhere during a MIddlebury/Burlington visit.
Poured into an imperial pint glass, formed 1 3/4" beige head over the clear copper brew. Head holds on tremendously, with heavy coating lace. Aroma is light citrus, a touch of soap over light to moderate malt sweetness. Taste starts with moderate intensity grain husks, giving way to citrus in the center, and moving into some bitterness on the close. Mouthfeel is good, maybe a tad gassy, and drinkability is nice as well. Pleasant intro to Three Needs for me here.
530 characters
3.27
/5
rDev
-10.4%
look: 3 | smell: 3.5 | taste: 3 | feel: 3.5 | overall: 3.5
3 Needs in a bottle!!! Pours a hazed brownish color with a small light tan head. This average. Got the nice hop thing going on, but I don't quite know where it loses everything. Meh. Drinkable sure, but now that I can get this outside of the bar why would I want to? I'm enjoyinh this beer, but meh. Meh.
304 characters
American Pale Ale from Three Needs Brewery & Taproom
Beer rating:
0
out of
100
with
6
ratings