V.F.W. Light
| Beach Chalet Brewery and Restaurant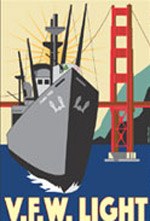 BEER INFO
Brewed by:
Beach Chalet Brewery and Restaurant
California
,
United States
beachchalet.com
Style:
American Pale Ale (APA)
Alcohol by volume (ABV):
4.80%
Availability:
Year-round
Notes / Commercial Description:
No notes at this time.
Added by stirgy on 03-01-2005
Ratings: 11 | Reviews: 5
Reviews by jeffjeff1:

3.3
/5
rDev
+21.3%
look: 3 | smell: 3 | taste: 3.5 | feel: 3 | overall: 3.5
I had this in the sampler at Beach Chalet in SF.
Appearance- yellow color, thin head
Smell- malt, faint hops
Taste- malt flavor, I thought it was ok.
Mouthfeel- light to medium bodied
Drinkability- I thought it was ok. Probably wouldn't buy it again though
261 characters
More User Reviews:

2.74
/5
rDev
+0.7%
look: 3.5 | smell: 2.5 | taste: 2.5 | feel: 3.75 | overall: 2.75


2
/5
rDev
-26.5%
look: 2 | smell: 2 | taste: 2 | feel: 2 | overall: 2
1.73
/5
rDev
-36.4%
look: 2 | smell: 1.5 | taste: 2 | feel: 1.5 | overall: 1.5
I had thought Beach Chalet had done a fairly acceptable job, as a brewer/restaurant effort, at microbrews, but this was just plain awful.
Pours a light yellow. White foam head. Watery, thin, almost no smell or flavor besides a slight hint of citrus zest. Just completely forgettable.
284 characters
3.48
/5
rDev
+27.9%
look: 3.5 | smell: 3 | taste: 3.5 | feel: 3.5 | overall: 4
Went on a beer tasting trip in SF with my brother last weekend and hiked a good distance across the city to get to this place. I tried a sampler of 6 beers and this was the first one.
Poured into a 4 oz sampler glass.
It was exactly what a light beer should be. Normally Im not into light beers but after a 3 mile hike across golden gate park coming from another microbrewery it really hit the spot. It was very light colored and clear. There was some carbonation but not a lot. I can't really judge the foam on account of it being in a 4 oz taster glass. The smell was what a good light beer should be.
It had about as much flavor as a coors original but it was slightly better. Kinda hard to describe, somewhere between a mexican beer and coors. Refreshing in any case. This beer had more mouthfeel than I expected but that was a good thing. Didn't leave much of an aftertaste. Very drinkable indeed.
905 characters
1.97
/5
rDev
-27.6%
look: 2 | smell: 2.5 | taste: 1.5 | feel: 1.5 | overall: 2.5
Enjoyed this one at the Beach Chalet in San Francisco, watching the Pacific crash into the continental shelf. Excellent spot for a beer and a good memory.
Tastes and smells much like any other lacklustre macro lager out there. Looks the same too - straw yellow, with very little head retention and only a few spots of lace. Pale malt aroma with little discernible hopping and a big dose of sugar. The flavour is very watery and bland, with a bit of sweetness and pale malts. The carbonation is overly aggressive.
Very little I can say about this as I've forgotten what it tastes like moments after taking a sip. This isn't my favourite style, but I have had nice examples, and this isn't one of them. I'm not even sure its a pale ale. What a mess!
749 characters
2.98
/5
rDev
+9.6%
look: 3 | smell: 2.5 | taste: 3 | feel: 3 | overall: 3.5
On tap at Beach Chalet on 7/14/09.
A - Clear yellow body with medium carbonation and a fluffy bright white head that diminished to a thin ring and some decent lacing.
S - Macro-esque lager nose with corn and veggies, some light floral hops and a hint of sweet caramel malt.
T - Malty flavor with sweet corn and some cooked veggies. A mild floral hop bite kept things interesting. Closed out with some caramel malt sweetness.
M - Light body with moderate carbonation and a light syrupy texture. While there was a very subtle hop finish, this was mostly sweet on the palate.
D - Typical light fare, but a bit more flavorful that your average BMC "lite" selection.
668 characters
V.F.W. Light from Beach Chalet Brewery and Restaurant
2.72
out of
5
based on
11
ratings.