Gluek Golden Light
| Cold Spring Brewing Co.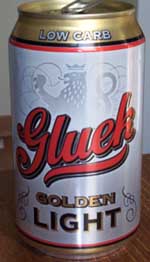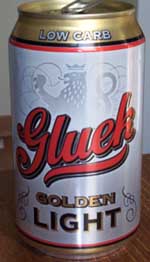 BEER INFO
Brewed by:
Cold Spring Brewing Co.
Minnesota
,
United States
coldspringbrewery.com
Style:
Light Lager
Alcohol by volume (ABV):
not listed
Availability:
Year-round
Notes / Commercial Description:
No notes at this time.
Added by TastyTaste on 02-19-2005
This beer is retired; no longer brewed.
HISTOGRAM
Ratings: 10 | Reviews: 7
Reviews by happygnome:
2.68
/5
rDev
+47.3%
look: 3 | smell: 2.5 | taste: 2.5 | feel: 3 | overall: 3
reviewing from notes:
a: pours a light golden color with about a half inch of head. The head disappeared quickly leaving no lacing. there are a lot of carbonation bubbles rising to the top of the beer.
s: sweet adjunct malts, aluminum aroma. no hop bitterness to balance
t: sweet adjunct malts, no hop bitterness to balance. there is a little cheap can taste
m: light bodied beer with a lot of carbonation
overall, this is a decent cheap light beer but i would not get it again
482 characters
More User Reviews:

2.2
/5
rDev
+20.9%
look: 2 | smell: 2 | taste: 2 | feel: 2 | overall: 3
Looked like your normal macro light lager. Smelled not much like anything. Maybe like water. Taste was what you'd expect from such a cheap beer. Did I mention cheap? Reminded me of college beer. Reminded me of a bad Coors Light. Had one then switched to rum and cokes.
268 characters

1.56
/5
rDev
-14.3%
look: 2.5 | smell: 1.5 | taste: 1.5 | feel: 1.5 | overall: 1.5
Well, I was suckered by the $3.99/12 pk. I blew more on gas driving to an account today that didn't buy anything so I guess that the universe remains intact. I would say, "stay away", but that will not stop anybody when the price is right. Now, I must say, that the Cold Spring craft beers are really pretty good.
313 characters
1.15
/5
rDev
-36.8%
look: 1.5 | smell: 1.5 | taste: 1 | feel: 1 | overall: 1
It's about 10:42 in the morning here, and my head is still pounding from this crap. Another light adjuncty lager, that proudly proclaims "Low Carb" right below the rim of the can. Light yellow in color, fizzy, yellow, not there. Taste isn't much but adjunct nastiness. Not worth it, even at $9.99 a case.
304 characters


2.01
/5
rDev
+10.4%
look: 1 | smell: 2.5 | taste: 2 | feel: 1.5 | overall: 2
Poured into Bud American Ale glass
Pours a thin fizzy white head. No retention or lace. Color is a an incredibly clear light pale straw yellow.
Aroma: Corn and grain. I also get a banana flavor as well, which I find incredibly odd, but I like it.
Taste: Very subtle banana flavor mixed in with the corn and grain. Not a lot going on here.
Mouthfeel: crisp and bland. Extremely light bodied with a fairly low amount of carbonation. Ends with a very sticky grain flavored aftertaste.
Overall, nothing impressive. Just another cheap college beer. At the price it costs, I will probably buy more of this, as some of my buddies enjoy this light flavorless stuff. Very drinkable (bud-light version).
700 characters

1
/5
rDev
-45.1%
look: 1 | smell: 1 | taste: 1 | feel: 1 | overall: 1
Perhaps the worst beer I have ever had. Drank straight out of the can at a boys weekend. We bought it due to its price (25 cents / can) and paid the price. The beer had an awful tinny taste to it and had no beer taste.
We drank 5 of the 30 cans and left the rest for the poor maid.
282 characters
1.32
/5
rDev
-27.5%
look: 1 | smell: 1.5 | taste: 1.5 | feel: 1 | overall: 1
Aren't I the luckiest fella? Another night at work, another confiscated can for some cheap bastard....and this time it's Gluek Golden Light!
Transparent and minimally yellow...no head...
sweet syrupy nose...unappealing....empty.
Taste: none. watery. no flavor, no feeling, no nothing. Zilch, zero, nada. Whoever buys this has been bamboozled, no doubt about it.
Utterly pointless. For suckers only.
You're going down the drain, buddy.
I did this for you, fellas, don't let my efforts be in vain.
501 characters
Gluek Golden Light from Cold Spring Brewing Co.
Beer rating:
1.82
out of
5
with
10
ratings