Colonial Pub Pints Pale Ale
| Cold Spring Brewing Co.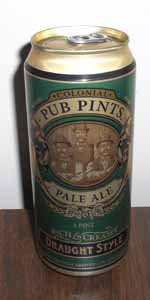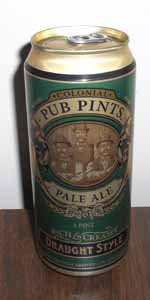 BEER INFO
Brewed by:
Cold Spring Brewing Co.
Minnesota
,
United States
coldspringbrewery.com
Style:
English Pale Ale
Alcohol by volume (ABV):
not listed
Availability:
Year-round
Notes / Commercial Description:
No notes at this time.
Added by TastyTaste on 06-10-2006
This beer is retired; no longer brewed.
HISTOGRAM
Ratings: 11 | Reviews: 11
Reviews by ADR:

2.35
/5
rDev
-9.3%
look: 2.5 | smell: 2.5 | taste: 2 | feel: 2 | overall: 3
Medium gold and transparent appearance. Small flat head without much substance. Horizontal string laces. An aroma almost exactly the same as the Brown Ale, slightly astringent with a sugar backdrop. Mouthfeel is light, carbonation is on the high side. In uncanny Gluek fashion, the flavor is almost identical to the Colonial Pub Pints Brown Ale as well, no hop signature, perhaps not quite as lemony (slightly odd that a Brown Ale would have a little more citrus) but featuring the same weak caramel. Similar wateriness as well. Poor example for style, not foul, so OK drinkability, but not well-made. Again, thanks to Matt at Thomas Liquors for spotting me a free can of a beer I doubt I'd ever buy even if it was stocked.
723 characters
More User Reviews:
3.43
/5
rDev
+32.4%
look: 4 | smell: 3.5 | taste: 3.5 | feel: 3.5 | overall: 3
(Served in an imperial pint glass)
A- This beer has a crystal clear warp copper brown body with a strong carbonation. There is a thick yellowish-white head that last for a good bit.
S- The smell of sweet graham crackers and honey malt have a good fresh malt smell to them.
T- The taste of dry pale malt turns into an all bitter noble hop flavor pretty quickly. The hops have a bit to them in the finish from some carbonic acid. As this beer warms and my taste buds numb from the hops I start to notice a slight honey malt taste to the pale malt flavor.
M- This beer has a medium mouthfeel with a slight astringency from the hop bitterness, but it is very soft. There is no alcohol warmth.
D- This beer is all about the bitterness in the hops. There isn't any other flavor to the hops and the malt doesn't have a great presents. I read all the hype about the pub pint system but it doesn't make any sense to me and I don't notice anything wonderful about the carbonation.
989 characters
3
/5
rDev
+15.8%
look: 3 | smell: 3 | taste: 3 | feel: 3 | overall: 3
$6.99 for a 4-pack of 16 ounce cans. Pours a pale ale orange color with a moderate to weak head. Not bad, not exciting, not anything, really.
Aroma of orange-sweetened malts and little else. Flavor of orange-sweetened malts and little else. A bit of hoppy acid astringency at the end of swallow, but very very weak. Not a bad beer, but just not much to it. Average.
368 characters

3.48
/5
rDev
+34.4%
look: 4 | smell: 3.5 | taste: 3.5 | feel: 3 | overall: 3.5
Poured a light copper hue with a one finger foamy white head. There was good retention and lacing.
The smell featured a strong noble hop followed by a husky and grainy malt.
The taste was similar to a steam beer and hap a bit of a pilsner quality. It certainly isn't an APA or EPA, but could pass for a steam beer flavorwise.
The mouthfeel was toward the lager side and well carbonated.
Overall a decent and easy drinking ale. Again, not an APA, but okay nonetheless.
472 characters
1.79
/5
rDev
-30.9%
look: 3.5 | smell: 2 | taste: 1.5 | feel: 2 | overall: 1.5
Appearance: Clear copper color, lots of bubbles are seen rising from the beer. Big off-white head, good retention.
Smell: Well, the metallic smell from the other pub pints is back, this one does have some sweeter carmel and a little floral hop, but not all that much.
Taste: Cooked grain is all over the place, sour and bitter, pretty bad tasting. The bitterness is good, but it is so adrift in off flavors that it becomes part of the problem. This beer lacks character and good flavor.
Drinkability: My third and final pub pint, and I mean ever. This stuff is terrible and a real misfire at making a pale ale.
619 characters
2.17
/5
rDev
-16.2%
look: 4 | smell: 2 | taste: 2 | feel: 2.5 | overall: 2
Into a pint glass, pours a decent clear gold with a good inch head and pretty decent lacing starting out. Aroma is.... not there? Not smelling much, though I might have thought it were their brown instead, no trace of hops, a little sweet malts if ya take a big whiff, but then it gets metallic too. Taste is... well, its a Gluek. Nicely bitter, a little sweetness and if you dig deep the hops give have a fleeting presence. Again, metallic twinge makes it a little unappealing. Mouth is decent if anything. In all, it was actually better than I'd figured, but nothing I'll be drinking again, unless I plan on getting smashed. So, probably not.
644 characters
1.54
/5
rDev
-40.5%
look: 3 | smell: 1.5 | taste: 1.5 | feel: 2 | overall: 1
Poured into a pils glass it forms a thin white head that falls to a cover. Little lacing to speak of. Golden body with light copper towards the core. Massive amounts of carbonation visible.
Wierd in a nutshell. Here is why: Soft, sweet malts are the backbone of this beer (being generous with the backbone term). Lemon enters the picture but all the flavors are astringent and not well groomed. Tough on the palate. Sweet potatoes. Yammed up to the max and then throw in some lemon juice from an extract and you have this brew.
Notes: Stay away at all costs.
564 characters

2.74
/5
rDev
+5.8%
look: 4 | smell: 2.5 | taste: 2.5 | feel: 3 | overall: 3
Orange and somewhat bubbly although it may be the serving temperature on the low end that makes it so. The head which was described in such superlative fashion on the can is not much to look at really - nothing awful but it doesn't maintain the firmness of even a Guinness nitro-can. Lacing is fairly leggy and sticks pretty well, which I like.
The nose is dominated by a very strange note that I can only chalk up to candy at this point - perhaps something will crystalize for me. Very little hops detected; some herbal notes that can be ascribed that way.
In the mouth, I get an orange citrus flavor from the hops, a bit like a hotel cleansing agent. The pale malt is non-existent with only a hint of sweetness. Lots of the strange, candy-like note that's a little herbal but reminds me of a bad sweet.
Undercarbonated. More bubbles would help to propagate this theory that it's an English pale ale. Not much to go on here, but a lot of questions.
955 characters

2.45
/5
rDev
-5.4%
look: 3 | smell: 3 | taste: 2 | feel: 2.5 | overall: 2.5
16oz can
Colonial Pub Pints Pale Ale was amber in color with an off-white head. The had decent retention with very little lacing. The aroma was sweet and malty. The taste was light caramel malt and with a metallic twang and fairly dry finish. It was medium-light in body with plenty of carbonation. Drinkability was below average. Don't bother with this one, there are much better pale ales out there.
404 characters
2.04
/5
rDev
-21.2%
look: 3.5 | smell: 2 | taste: 2 | feel: 1.5 | overall: 2
Crystalline orange with very few visible bubbles. The ecru colored cap doesn't look bad at all. It's firm, microbubbly leading to micropitting on top, lasts for a while and lays down a decent amount of sea foam lace.
Pale Ale does *not* smell like an English pale ale. It's only minimally hoppy (and that's being generous), with an underlying earthiness whose origins are tough to pin down. Only a lack of power keeps the score from falling even lower.
I have never homebrewed, but am willing to bet a considerable sum of money that I could do better than this on my first attempt at an English pale ale. How do these guys stay in business? Who would ever buy this crap twice?
On a positive note, the beer is not offensively bad. On a negative note, there aren't any more positive notes. Pub Pints Pale Ale has almost no flavor, other than a smidgen of what tastes like watered-down artificial orange extract. A hint of bitterness on the finish doesn't help.
What also didn't help was that I popped the tab at the brewery recommended temperature of 40-42 degrees. It isn't good beer cold, it isn't good beer cool and it sure as hellfire isn't good beer lukewarm. The mouthfeel is way too light and is undercarbonated to boot. Big surprise.
I actually thought that these guys might do a credible job with an English pale ale. Wrong again. It's hard to believe that Surly Furious and Colonial Pub Pints Pale Ale share the same basic ingredients. It looks like Minnesota has the dubious honor of brewing the best canned beer in the world and some of the worst.
1,564 characters

3.46
/5
rDev
+33.6%
look: 4 | smell: 3 | taste: 3.5 | feel: 3 | overall: 4
I didn't know what to expect with this and figured it would be pretty bad based on the label, etc. However, it was actually moderately good.
Copper-amber, this has a nice, big, lasting white head that shrinks slowly and leaves pretty good lacing.
The aroma is mild and a bit thin but generally good, lightly yeasty bread, caramel, and faint leafiness.
The taste is also somewhat mild and a bit thin and simple, but basically good with e nough going on to keep it enjoyable. The taste is mildly caramelly-biscuity malt, with a faint hint of leafiness, a hint of sweetness and a hint of bitterrness, generally smooth, drinkable and refreshing. However, it's fairly bland and thin in character and it has a hint of stale, old plants.
736 characters
Colonial Pub Pints Pale Ale from Cold Spring Brewing Co.
Beer rating:
2.59
out of
5
with
11
ratings