Gluek Ice
| Cold Spring Brewing Co.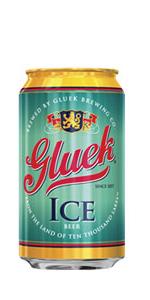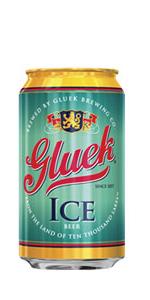 BEER INFO
Brewed by:
Cold Spring Brewing Co.
Minnesota
,
United States
coldspringbrewery.com
Style:
American Malt Liquor
Alcohol by volume (ABV):
4.58%
Availability:
Year-round
Notes / Commercial Description:
No notes at this time.
Added by budgood1 on 06-12-2006
This beer is retired; no longer brewed.
HISTOGRAM
Ratings: 11 | Reviews: 9
Reviews by mothman:

2.24
/5
rDev
+25.1%
look: 1.5 | smell: 2.5 | taste: 2.5 | feel: 1.5 | overall: 2
Poured into pint glass.
Pours a thin fizzy head that settles quickly. Color is a clear straw yellow.
Aroma is very grainy. There seems to be some kind of citrusy fruit behind the main grains.
For some reason I taste bubble gum at first. Then it is mainly the grains. There is a very pale/unfilling taste with this beer. At the very end I picked up slight honey notes.
Mouthfeel is ultra-crisp. The taste is pretty bad that you can't keep it in your mouth for too long. Leaves a pretty clean aftertaste. No carbonation in glass, but it seems to be ok.
Overall, a typical ice beer. It seems to have a little more flavor that most, but still something I'd never buy.
668 characters
More User Reviews:

1.9
/5
rDev
+6.1%
look: 2 | smell: 2 | taste: 2 | feel: 2 | overall: 1.5
Having tried Gluek Pilsner I tried this as well, mostly because it's made in good old Minnesota. Well, this beer is virtually identical. It pours very watery. Little head is gone quickly. Taste is grainy, though not as sweet as the Pilsner. I was really curious about the fact that it was ice brewed, thinking it would be stronger tasting, but it is very watery. If I drink this again I will choose the Pilsner.
411 characters

1.43
/5
rDev
-20.1%
look: 2 | smell: 1.5 | taste: 1.5 | feel: 1.5 | overall: 1
a: pale golden color with about a sixteenth inch of head that dissapears faster than any other beer head that i can remember leaves very little lacing
s: corn grain adjuncts not very inviting
t: very similar to smell, no bitter characteristic just rough alcohol flavor
m: light bodied not overly carbonated
overall this was a drain poor not a beer id recommend, sold it to my not-quite-21 year old friend
405 characters

2.3
/5
rDev
+28.5%
look: 3 | smell: 3 | taste: 2 | feel: 2 | overall: 2
This brew shares the same attribute of all the other "Gluek" branded beers. BLECH! I have pleaded with this company via e-mail, and in person at the brewery in Cold Spring to do something with the offensive swamp musky taste of their products with no avail. I even told them that the former Cold Spring beers were better- at least they did not offend. Gluek makes its big money on energy drinks, fruit type drinks, and specialty beers. It's to bad that somebody doesn't taste what they make and decide to do something about it, rather than change the name on the can and try and foist it off as something else. Just how much would it take to really improve this product, a couple of cents a can?
695 characters

1.82
/5
rDev
+1.7%
look: 4 | smell: 2 | taste: 2 | feel: 1 | overall: 1
Well, due to the wife getting laid off, this is the shit I'll be drinking for a while.
Picked up a case for $9.
Poured into a mug, a transparent urine yellow.
2 Finger fluffy white head with mediocore retention. Good amount of laceing.
So far so good....
smells like doughnuts, kinda sweet.
Taste is kinda metallicy and pretty hard to sip. Chugger for sure.
Taste a little corn, some sweet malt. But mostly bitter metallic sour grapes.
Mouthfeel is highly carbonated and watery....
485 characters

2.6
/5
rDev
+45.3%
look: 2 | smell: 2 | taste: 3 | feel: 2 | overall: 3
One of my golden rules in college used to be that if a beer had "ice" in the name, it was
A) Most likely cheap
B) A quick buzz
C) Low on taste i.e. easy to drink
Thats pretty much what you look for in college.
Color is golden yellow with a surprising amount of head. Smells sweet, no hops present. Tastes like sweet corn and grains. High carbonation, easy going down. Thats pretty much it.
It gets a bad rap, but I never minded it. Its good for drinking games and a quick buzz. But if you didn't buy it for that, then really, why did you buy it?
551 characters

1.87
/5
rDev
+4.5%
look: 1.5 | smell: 2 | taste: 2 | feel: 2 | overall: 1.5
pours out of the can a very light yellow colour with a thin white head that appears not to want to leave any lace. corny aroma with that artificial banana flavour i didn't care for in the golden pilsner. not much actual taste to this beer...some corn syrup adjunct sweetness and a slight alcohol note make up the flavour profile. really, there is no obnoxious crap flavours...just not much flavour at all. the ABV isn't listed on the can and a check of the website has no info on this offering. the mouthfeel is nice, fullish and overly syrupy smooth. not much carbonation is present.
as long as you drink this ice cold and just want a beverage to wash down a meal, it seems ok. inoffensive and uninspired as far as an adjunct macro brew. just another cheap crappy brew from gluek. but for the price at ten bucks a case...you get what you pay for. another candidate for the tomato juice and olives and pickles.
914 characters
1
/5
rDev
-44.1%
look: 1 | smell: 1 | taste: 1 | feel: 1 | overall: 1
The worst beer I have ever tried. And I didn't expect much.
This puppy was on sale for 1.49 a six pack at a Costco in the Bay Area (how it ended up there, I don't know). We purchased a pick-up truck full for a party. Either it had gone bad, or what, but suffice it to say it did not go over well. We bought so much we had cases everywhere for weeks, and our social chair wouldn't spend money on new beer until we finished off this wretched substance.
Piss yellow. No smell except a waft of rotting foliage. Tasted skunky and awful. Texture of carbonated water gone slightly flat.
584 characters
1
/5
rDev
-44.1%
look: 1 | smell: 1 | taste: 1 | feel: 1 | overall: 1
Friends got a case of this for a party along with some other shitty beer (schlitz, black label, big city, dark horse high gravity lager ice) and this was definately the worst of the bunch. By far. Cannot stress this enough. Absolutely terrible.
Anyway, it was piss yellow, little head, smelled and tasted a little bit like unfermented wort, but way grosser. Very watery, very carbonated, man this is really bad. It was the last beer left at the end of the night and only got consumed after all other options were gone. One of my friends even opened up a can, took a sip, put it on top of the fridge and just got a different beer. Seriously the worst beer i think i have ever had. Probably even worse than Camo Ice, though i haven't had that in a couple years and can't really say that for sure.
795 characters
Gluek Ice from Cold Spring Brewing Co.
Beer rating:
1.79
out of
5
with
11
ratings