Colonial Pub Pints Hefeweizen
| Cold Spring Brewing Co.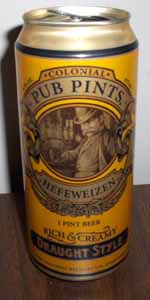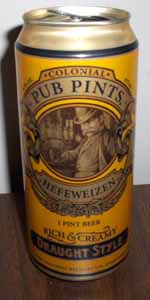 BEER INFO
Brewed by:
Cold Spring Brewing Co.
Minnesota
,
United States
coldspringbrewery.com
Style:
Hefeweizen
Alcohol by volume (ABV):
not listed
Availability:
Year-round
Notes / Commercial Description:
No notes at this time.
Added by TastyTaste on 07-23-2006
This beer is retired; no longer brewed.
HISTOGRAM
Ratings: 8 | Reviews: 8
Reviews by fizzy:

3.53
/5
rDev
+51.5%
look: 3 | smell: 2.5 | taste: 4 | feel: 3.5 | overall: 4
Here's my take on "Gluek" Hefeweizen. I have tried a number of Hefeweizen beers and always find them either to high on cloves or banana. Good grief, I don't like flavored coffees either. At least with this product it tastes sort of like a wheat beer without all the extra ordinary features. I bought some 4 pk 16'ozers for $1.99 a piece and consider it a good deal.
365 characters
More User Reviews:
2.48
/5
rDev
+6.4%
look: 3.5 | smell: 3 | taste: 2 | feel: 2.5 | overall: 2.5
Appearance: Crystal clear gold body, lots of bubbles come to the surface. Head is frothy, slow fading, a little sticky.
Smell: Metallic and light grains, cooked corn, not all that much going on.
Taste: A little soft wheat is present, more metallic flavors and with a noticable hop finish. The metallic off flavor is only more evident as the beer warms. There are many better beers in this style. I eventually taste a melted plastic flavor, makes it go from kind of bad to worse.
Drinkability: I wasn't expecting much, and I didn't get much but a below average beer.
574 characters
2.46
/5
rDev
+5.6%
look: 3 | smell: 2 | taste: 2.5 | feel: 3 | overall: 2.5
A can taken from the Autumn brew review by roommate....
drinking temp: 44F... poured into Imperial Pint
A: Hazy yellow with 1" white head that quickly faded to nothing. There was a lacing left afterwards. Low level of carbonation after pour
S: Small hint of skunkiness very similar to a pils. No noticable hop aroma.
T: Nothing to special. Reminds me of Gluek's golden pils but with a little more sweetness.
M: Medium body. Even though a low level of carb it worked well with this brew.
D: Okey brew from a local brewer. Not my favorite but it wouldn't be bad in the summer.
593 characters

2.56
/5
rDev
+9.9%
look: 3 | smell: 2 | taste: 2.5 | feel: 4 | overall: 2.5
A - Hefeweizen in a can, huh? The pitch white head fades rather quickly to a thin layer of cloudy froth. The body is a dingy yellow with some obvious particles present. It could be more appealing.
S - Soapy aroma accompanied by plums.
T - Tinny with a slight bitterness. There's an odd middle-taste that transitions into an empty finish. Citrus fruits are present but the overwhelming tinny flavor is hard to overcome.
M - The feel is actually its finest feature. It's smooth and easy as it goes down.
~ Minus the feel this brew isn't something I would recommend to friends. I purchased a four pack and this is the last one. However, the 16oz cans are worth every bit of $2.99/4 pack.
689 characters
2.11
/5
rDev
-9.4%
look: 3 | smell: 2 | taste: 2 | feel: 2.5 | overall: 2
1 pint can. This one pours a deep yellow color with just a few floating islands over top. There is crystal clarity and a solid carbonation boiling up. No hint of the nice yeasty haze or billowing head that I would have expected. The aroma is extremely grainy with a deep wheat chreamyness. There is nothing at all other than that in this brew. Even for an American wheat, this one is not doing anything for me. Flavor is just a blast of wheaty malt, light huskyness, and a very mild creamy character. All that I really get is just plain wheat, which really needs something to compliment it and give it something to back it. Mouthfeel is moderate with little to no carbonation. It could use a bit more bubble in there. Overall, this one has not done anything to impress me. All aspects of it are well below average for any wheat beer of any style. I will certainly not have this one again.
888 characters

2.26
/5
rDev
-3%
look: 3 | smell: 2 | taste: 2 | feel: 2 | overall: 3
This is just not very good beer. I had the Colonial Pub Pint brown ale, and thought it decent. However, this is a pretty weak wheat beer, with not a lot of wheat flavor but with some weird maltiness that is very uncharacteristic of the style and I find slightly unpleasant. The aroma is a bit apple-y and spicy, but I'm still not a fan. Mouthfeel is weak and watery. This doesn't seem like a wheat beer; it seems more like a sort of crappy maibock. Not recommended.
465 characters
2.19
/5
rDev
-6%
look: 3.5 | smell: 2 | taste: 2 | feel: 2 | overall: 2.5
Classic amber beneath a decent looking cap of yellowed bone. The foam was three fingers in height following the pour, is hanging on respectably well, and is leaving a smattering of lace behind. Nothing special, but not bad either.
The aroma is reminiscent of sweet corn swimming in lemon juice. While it isn't unpleasant, it's about as far from smelling like a hefe as possible. It's doubtful that real hefeweizen yeast got within several hundred miles of the brewery during the brewing process.
I've known quite a few hefeweizens in my time, and you, sir, are no hefeweizen. What we have here is the ale equivalent of an adjunct lager that features a corny sweetness accented by apples and a lemon juice sourness. Maybe some of the tanginess is coming from wheat, who's to say? This is just about as simple as beer gets.
The body/mouthfeel is equally crapilicious. The thinness isn't too bad (okay, it is), but the lack of carbonation causes the less than wonderful flavor to die quickly. Wait, on second thought, that's a good thing! Calling the mouthfeel lifeless isn't far off the mark.
Pub Pints Hefeweizen isn't aggressively bad, it's just a lousy example of the style. This might be my highest scoring Gluek beer ever. That isn't exactly a silver lining, but it is progress of a sort.
1,295 characters
1.06
/5
rDev
-54.5%
look: 2 | smell: 1 | taste: 1 | feel: 1 | overall: 1
Comes in a 16 ounce can. I was acting a bit grabby at the fancy beer store and so I just stuck this one in my box without really looking at it. My motto, after all, is that any micro served in a can is worth drinking. But honestly I thought it was something from the UK and I was a little oddly disappointed to find out it was a domestic hefe.
Pours decently into a hefe glass. The yellow is nice and hazy but the head is small.
Smells... corny? Has this gone bad? Corn is dominant--I know that there really shouldn't be any adjuncts in a beer billed as a hefe, and I doubt that there is, but I'll be damned if this don't smell like corn. There's some more traditional hefe nodes of light pepper and lemongrass, but the blend is offputting, to say the least.
Tastes like lemongrass, a lightly sour yeast (maybe from age, I can't tell, though it doesn't really seem stale), a small hint of whitepepper and then a little kiss of nitrogen "creaminess." "Creaminess" is in scare quotes because there's nothing close to firm body on this beer. And the blend of flavors is pretty much a train wreck.
I think I'll be able to finish this. I'm not sure, honestly. But it's gonna be a battle. Avoid.
EDIT:
I wasn't able to finish it. I wasn't able to get halfway through it. And I kept tasting it all night, like pepper and rubbing alcohol I kept tasting it, like the way you can smell the alcohol swab they rub you down with at the doctor before you get a shot, the way you can smell that on your way to the doctor because you dread it so much. That's how I kept tasting it. AVOID. This beer actually tastes like it is harming you. I'm amazed I am alive.
1,653 characters
Colonial Pub Pints Hefeweizen from Cold Spring Brewing Co.
Beer rating:
2.33
out of
5
with
8
ratings