Dismiss Notice
Brewer's Cave Golden Caramel Lager (Blue Diamond Brewing Company)
| Cold Spring Brewing Co.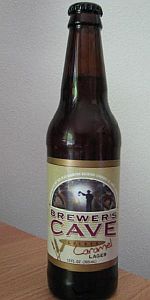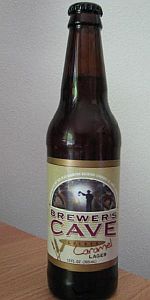 BEER INFO
Brewed by:
Cold Spring Brewing Co.
Minnesota
,
United States
coldspringbrewery.com
Style:
American Adjunct Lager
Alcohol by volume (ABV):
not listed
Availability:
Year-round
Notes / Commercial Description:
No notes at this time.
Added by fantome on 11-22-2006
This beer is retired; no longer brewed.
HISTOGRAM
Ratings: 11 | Reviews: 9
Reviews by skeetermoses:
2.79
/5
rDev
-5.4%
look: 2 | smell: 3 | taste: 3 | feel: 2.5 | overall: 2.5
Being from Minnesota, I really was hopping that this beer and the brewer was one of the best I have ever had. unfortunatley my hometown brew did not do anything. So I was very dissapointed. I really was wanting this one to be a great beer. Very dissappointed. big time.
269 characters
More User Reviews:


1.82
/5
rDev
-38.3%
look: 3.5 | smell: 1.5 | taste: 1.5 | feel: 2.5 | overall: 2
As the ratings indicate, the appearance was the best quality of this beer. I generally stay away from anything made by Cold Spring Brewery, but this was deceptive and said "Blue Diamond Brewing Co." I should have done my research. Bottom line, if you can choke down Gluek's (of any kind), you'll be okay with this. If that isn't your kind of party, pick up a 6er of Schell's Caramel Bock and have a much nicer evening.
418 characters
3.76
/5
rDev
+27.5%
look: 4 | smell: 3 | taste: 4 | feel: 4 | overall: 4
Reviewed on 5-15-10
Reviewed cold from a bottle to a glass
A - Golden color, 1 finger of foam, lacing ring present with a decent amount of carbonation
S - Bready, a lot of wheat aroma at first followed with a slight caramel malt then ended with a slight hop after thought
T - I taste the sweet caramel malts but didn't pick out any hops
M/D - Pretty tasty brew, sweeter brew then most I have had. Nice caramel malt flavor. Very easy to drink more than one of, I recommend that you try it!
492 characters
2.95
/5
rDev 0%
look: 3 | smell: 3 | taste: 3 | feel: 3.5 | overall: 2.5
Dark gold in color with light prickle and light foam head. The nose is classic "beer" in the sense that it could be one of a thousand beers, mostly macros. There is a slightly malty tone to the nose however. The attack is refreshing on some level and the flavor is somewhat smooth and malty. Hints of caramel in the flavor, but I have had beer without caramel in the flavor that have a greater caramel presence. The finish is a bit flat and hurts the overall drinkability in my opinion. The mouthfeel is a little syrupy in a good way and is probably the best manifestation of the boasted caramel that I can find. I had high hopes for the beer, it sounded tasty. Perhaps that plays a part in not being thrilled.
710 characters

3.22
/5
rDev
+9.2%
look: 2.5 | smell: 3 | taste: 3 | feel: 3.5 | overall: 4
Closeout price: $1.99 for a six pack at Dennis Brothers.
I should have bought more.
A - Medium orange color with a few carbonation bubbles floating up. Head quickly fades to a very thin film. No lacing.
S - Caramely malt, wheat, corn and a slightly metallic smell (Gluek???).
T - Nice spicy malt flavor, bready and sweet.
M - Medium consistency with light carbonation.
D - I wanted more of this beer because its definitely a good session beer, but mostly because it was so damn cheap.
Dennis Brothers kicks ass by the way.
543 characters

3.62
/5
rDev
+22.7%
look: 3 | smell: 3.5 | taste: 4 | feel: 3 | overall: 3.5
Many people may not know this but Mr. Yarusso, the dude that created the recipe for this brew is one of the cousin's of the Yarussos that own the Yarusso Bros Italian Restaurant in St. Paul. Now on to the beer.
The appearance is average, not a lot going on. A bit of head that dissapates quickly.
Smell and taste are quite similar. The caramel comes through more in the flavor and the beer is quite sweet at first, but softens up as you swallow.
Mouthfeel is quite light on the palate.
Drinkability is good, but the flavor is not too complex.
542 characters
3
/5
rDev
+1.7%
look: 3 | smell: 3 | taste: 3 | feel: 3 | overall: 3
Got a beer of this from my buddy from college Raging Bull. I am drinking at room temp in a pint glass. The beer pours a golden hue with creamy eggshell white head of 1 cm that fades quickly to a thin surface layer. Aroma is caramel and grainy lager malt. A few hints of what may be fruit? NOt very robust nose but nothing bad here.
First sip reveals an average body with very gentle rolling carbonation. Flavor is sweet grainy caramel and not much more, fairly one dimensional. A sweet clean brew that is an easy drinker. no hop presence anywhere or ABV. Not a complex thinking beer, but nothing off or un pleasant either. Glad to have tried it.
645 characters

1.64
/5
rDev
-44.4%
look: 1 | smell: 2 | taste: 1.5 | feel: 3 | overall: 1
Poured a very ugly burnt orange/amber color with no head and no lacing. Smells like caramel malts and not much else. Taste is slightly sweet up front and slightly bitter at the end. Not much in the way of flavor on this one. Tastes like water with a little bit caramel malts. This one just disappoints me like no other. It's a horrid beer.
339 characters

3.2
/5
rDev
+8.5%
look: 3 | smell: 3 | taste: 3 | feel: 4 | overall: 3.5
Poured medium into a Libbey shaker-pint produces a firm, pale tan head of about two fingers. Good duration, and better-than-average lacing: so far so good! Nose is of pale, crystal, and caramel malts, but pretty light on the latter. There are also very subtle hint of vanilla and marshamallow here, but not much else that I find surprising or enticing for that matter. Golden amber in color, and not-quite brilliant -- it's actually a rather nice complexion for an American Macro Lager. Sweet! Sweeter than I was expecting, fairly cloying. Mouthfeel is actually pretty good, with a smooth and creamy texture and low-to-moderate carbonation. Malty and almost devoid of bitterness, save perhaps for a mildly biter characteristic to the caramel malts. Very easy drinking, despite a lack of hop character or malt complexity - or perhaps because of it? Either way, it's not anything to really "wow" me (for lack of a better word) but I can see how some folks would fall head over heels for this sweet, easy-drinking, inoffensive lager. I'm assuming that this sample bottle was from a reasonably fresh batch, as it tastes that way (and even though the production code isn't standard Julian). The original brewer (Minnesota Brewing) has been out of business for about five years now, for what it's worth . . . Also, although it isn't printed anywhere on the label or packaging, this lager has *GLUEK* "written all over it" as it were . . . in fact, it tastes like just about every other Gluek beer that I have ever tasted. Now, some might see this as a "bad" thing, and yet I would prefer to think of it as a "good" thing up to a certain point, as it displays the *best* that Gluek has to offer while not giving off any downright offensive off-flavors. On the other hand, the mild aromas of vanilla and marshmallow in the nose are typical of Gluek / Cold Spring, and I have always put these notes down to the proprietary house malt base . . . someone please correct me if I'm wrong, but I've always been under the impression that this was due to the fact that Gluek (brews and brewing) is largely an extract-based operation, rather than employing whole grains and hop pellets in the brewing process. Also -and this is largely to Gluek's credit- Brewer's Cave Golden Caramel Lager exhibits the very same smooth, creamy texture that is apparent in their more flavorful, more palateable beers. The original Brewer's Cave family of beers (as brewed at MN Brewing) was marketed towards the then-burgeoning population of microbrew enthusiasts, and actually had a few stand-out brews. Unfortunatley, Golden Caramel Lager wasn't one of them. As such, I'm a little surprised to see this beer again. This isn't the 1990s, guys, and lightning never really "struck" in the first place! Not a beer I'd buy a whole sixer of, but I'm glad I was able to purchase a single bottle - it has helped me to understand my home State's beer industry a little better, and in this regard: the Minnesota beer industry has come a *long* way since the early-to-mid 1990s, and it still has a long way to go in certain respects.
3,090 characters
Brewer's Cave Golden Caramel Lager (Blue Diamond Brewing Company) from Cold Spring Brewing Co.
Beer rating:
2.95
out of
5
with
11
ratings