Dismiss Notice
Extreme Beer Fest:Los Angeles
Join us December 9th in Los Angeles for the ultimate throwdown of craft beer creativity!
Learn more...
Dismiss Notice
Cold Spring Ebony Wheat
| Cold Spring Brewing Co.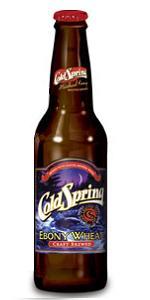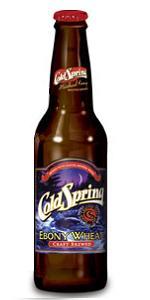 BEER INFO
Brewed by:
Cold Spring Brewing Co.
Minnesota
,
United States
coldspringbrewery.com
Style:
Dunkelweizen
Alcohol by volume (ABV):
not listed
Availability:
Year-round
Notes / Commercial Description:
No notes at this time.
Added by BuckeyeNation on 07-15-2008
This beer is retired; no longer brewed.
HISTOGRAM
Ratings: 13 | Reviews: 11
Reviews by dnichols:
3.15
/5
rDev
-9%
look: 3 | smell: 3 | taste: 3.5 | feel: 2.5 | overall: 3
I poured a 12 ounce brown capped bottle into a pint glass.
A: It poured a dark copper body with a modest half finger tan head that receded fast and supported spotty lacing.
S: It had a yeasty and spicy aroma with sweet dark roasted malts dominating the smell.
T: It had a toasted wheat flavor that had hints of caramel and chocolate. There was a tangy, spicy bite that tasted like black pepper. The alcohol was well hidden.
M: It was light bodied and moderately carbonated. It finished with a tangy spicy bite that lingered into the aftertaste.
D: It was easy to drink but lacked a strong and defining character. It would be a decent session beer if it had a more distinct flavor and improved mouth feel.
713 characters
More User Reviews:
4
/5
rDev
+15.6%
look: 4 | smell: 4 | taste: 4 | feel: 4 | overall: 4
I like beer but unlike most here, my palate and the tastes are not in sync. That said. considering the crap I have tasted, The Cold Spring Ebony Wheat would seem to me do deserve at least a B- average. I am on bottle three and enjoying it at...an unusally low price.
266 characters

3.33
/5
rDev
-3.8%
look: 3.5 | smell: 3 | taste: 3.5 | feel: 3 | overall: 3.5
Pours a very red tinted color which leaves very little head and almost no lacing whatsoever. The smell is very banana-hinted and a bit of clove in there as well. Pretty decent.
Tastes of very intense wheat, yet quickly fades into a very solid darker/malty flavor as it leaves the mouth. Some raisin flavor is detected as well although not too prominent - pretty good addition.
The mouthfeel is decent, and it rests on the tongue fairly well. The drinkability is good, and I downed a 6 pack with no problems.
Overall a good release from Cold Spring. There are a couple better types from the brewery but this one doesn't hurt their roster at all.
648 characters
4.42
/5
rDev
+27.7%
look: 4 | smell: 4.5 | taste: 4.5 | feel: 4 | overall: 4.5
Dark malt, Munich malt, wheat malt unfiltered belgian yeast, banana cloves comes through in the aroma. noticed the yeast on the bottom, gently rolled to rouse the yeast. Malt flavor comes through chocolate sweet yeast definitely adds to the overall flavor color almost black nice tan head holds throughout. Reminds me of a black hefe.
334 characters

3.65
/5
rDev
+5.5%
look: 3.5 | smell: 3.5 | taste: 3.5 | feel: 4 | overall: 4
A- Pours really dark body with a one and a half finger head, but the head goes away quite fast.
S- Smells a lot like wheat with a bitter sweetness.
T- Has a strong taste of chocolates and caramels, along with an after taste of wheats. It has an odd taste. A little bitter coming in, but pretty smooth going out.
M- Very smooth and creamy.
D- I could drink one or two in a night, maybe three.
397 characters

3.45
/5
rDev
-0.3%
look: 3.5 | smell: 3.5 | taste: 3.5 | feel: 3 | overall: 3.5
A-Deep brown hued copper with a thin light tan head that quickly reduced to a thin ring.
S-Nice,but subdude, banana, bubblegum and a hint of clove. This lets you know that you drinking a wheat beer.
T-Upon warming a bit this ismuch better than expected. Nice lively bouncing of the typical wheat beer flavours with the addition of hints of toffee and a bit of chocolate. The more I drank though the more I noticed a flavour that I didn't enjoy. I could not pinpoint what it was only that is was slighty off.
M-Medium light body and a bit disappointing. This almost reaches the watery level but is rescued in the end by the dark malt addition...but barely!
D-Overall a pretty decent brew. Smells nice, tastes better but the mouthfeel is a let down. If they boost the body a bit this interesting beer from a bottle could become most desired.
843 characters
3.2
/5
rDev
-7.5%
look: 3 | smell: 3 | taste: 3.5 | feel: 3 | overall: 3
A: dark nutty brown. Head fizzled out fast.
S: wheat, spicy, bananas, clove
T: wheat on the front... then malty and almost a touch of smoke and spicy at the finish. Crazy complex.
M: very carbonated
D: tasty beer, but I'd probably stick with just one.
I wasn't sure what to expect but the malt finish was a surprise. Exciting beer!
334 characters

2.39
/5
rDev
-30.9%
look: 2 | smell: 3 | taste: 2 | feel: 2.5 | overall: 2.5
pours out a murky, muddy, brownish colour with a minimal head and lace. banana and cocoa in the nose...a bit of funk and clove too. taste is a funkified fruit and yeast combination that doesn't really let any other more desirable flavours shine through. the estery components, mostly sour in nature, bury any wheat notes. no clove, no banana, and little dark malt flavours to be had. mostly a watery and prickly mouthfeel underneath a medium at best body. drinkability suffers again just for the fact that i don't find this very tasty, even for something out of the cold spring brewery.
#4 out of the five pack sampler. it seems every one gets a tad worse as i try them. not really recommended.
695 characters
3.53
/5
rDev
+2%
look: 3.5 | smell: 3 | taste: 3.5 | feel: 4 | overall: 4
Murky looking dark auburn. Thin light brown head. Lace is minimal. Light aromas of dark malt and chocolate. Wheat aromas are scarce. The flavor is halfway decent. Kind of a muddy blend of the dark malts and ghostly wheat traits of banana and clove. Prickly carbonation cleans the palate after every wash. Pretty easy drinker. If this was available at a party or something, I'd drink a few of these. Definitely a step up for this brewery compared to their efforts in years past.
477 characters
3.52
/5
rDev
+1.7%
look: 3 | smell: 3.5 | taste: 3.5 | feel: 4 | overall: 3.5
First thing I noticed about this beer is the smell of chocolate and perhaps a hint of caramel. It does seem to have a coffee hint to the finish and a bit malty mouthfeel. For as appearance though I didn't bother to pour into a glass just straight from the bottle is fine for me! Drinkabilty is good at first kinda took it slow but started to find it's easier to drink after you get used to the complex taste! All in all I might have to pick this up again down the road.
469 characters

3.33
/5
rDev
-3.8%
look: 3.5 | smell: 3 | taste: 3.5 | feel: 3 | overall: 3.5
Mud-caked pumpkin that becomes an attractive shade of russet when backlit. A thick slice of ecru colored froth sits atop the beer. In the end, it's a better than decent looking head that leaves a better than decent amount of sudsy lace. We're on track so far.
Since the banana and clove esters of Belgian ale yeast are obvious in the nose, the choice between American dark wheat ale and dunkleweizen is now an easy one. The aroma deserves praise for style adherence (toasted wheat, along with the fruit and spice), but is limited by a lack of power and definition.
Ebony Wheat is pretty good beer. It's at least as good as Cold Spring Pale Ale, the high point of this brewery's existence. I can't emphasize enough how much improvement has accompanied the change from Gluek to Cold Spring. The new name is much better, as is the beer.
The malt backbone is of acceptable size given the style and the ABV (which is probably close to 5.0%). The Munich and chocolate malt provide pleasant flavors of cocoa and toffee. The German hops do their part to add flavor and bitterness, both of which are more apparent in the second half of each mouthful. Tettnang is used for bittering and Perle is used for aroma.
That brings us to what makes this dark wheat ale a dunkelweizen... the estery yeast. With a more neutral ale yeast, this stuff wouldn't be nearly as good. Chocolate-covered banana earns a (hefeweizen) banan-o-meter score of 2.0/4.0. Not bad... not bad at all. A light sprinkling of clove keeps things interesting as well. Only a lack of depth keeps the flavor score from sliding up a notch.
The mouthfeel is no better than average. It's on the thin side of medium and the bubbles don't do a very good job of injecting a smooth, soothing creaminess. Not even a hint. Passable at best.
Ebony Wheat is pretty good beer that does the style (fairly) proud. I hereby resolve to no longer be surprised by Cold Spring beer. It's obvious that they've upped the ante on their brewing operations. The only thing is, they will now be expected to deliver the goods each and every time. The pressure is on.
2,100 characters
Cold Spring Ebony Wheat from Cold Spring Brewing Co.
Beer rating:
3.46
out of
5
with
13
ratings