Rökporter 2007
| Nils Oscar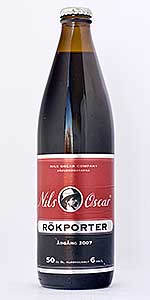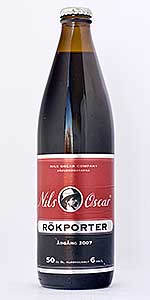 BEER INFO
Brewed by:
Nils Oscar
Sweden
nilsoscar.se
Style:
Smoke Beer
Alcohol by volume (ABV):
6.00%
Availability:
Limited (brewed once)
Notes / Commercial Description:
No notes at this time.
Added by bark on 11-03-2007
This beer is retired; no longer brewed.
HISTOGRAM
Ratings: 15 | Reviews: 14

4
/5
rDev
+8.4%
look: 4 | smell: 4 | taste: 4 | feel: 4 | overall: 4
Appearance: Pours a dark brown, near black body with a frothy, khaki-colored head.
Smell: Roasted malt nose with a light, subdued whiff of smoke deftly maneuvering amongst the various roasty notes.
Taste: Rich melange of flavors, including roasted barley, chocolate, toasted caramel, anise, blackened grains and a fairly restrained beechwood smoke component. Minor fruitiness. Roasty, earthy bitterness at the midway point. Finishes dry with a lasting touch of roast and smoke.
Mouthfeel: Medium-bodied. Medium carbonation.
Drinkability: Very drinkable, fairly solid smoked porter.
586 characters
3.11
/5
rDev
-15.7%
look: 2.5 | smell: 4 | taste: 3 | feel: 3 | overall: 2.5
---Reviewed on 02-28-2009
I've tried and reviewed this beer before, but thought I maybe wasn't being fair when I last reviewed it or something, so I thought I'd try it again.
Served at 10.2°C
A: Pith black with a tan, brown head that dissapears quickly. Poor lacing and little visible CO2
S: Smoked ham, coffee and a bit sweet syrupy smell. Better than I remember
T: Dark roasted coffee and a lot of smoke. Slightly unpleasant bitterness at first. Tastes a bit burnt, but not too bad
M: Thick and full. Smoke aroma covers the palate, yet the bitterness remains
D: One is enough. Average CO2 and too dark and burnt flavor and aroma for me
Conclusion: Maybe I was a bit too harsh last time I reviewed it, but I wasn't totally wrong. Compared to other smoked beers, this ain't the best - not by a long shot. It's absolutely OK, but not more than OK
---Reviewed on 11-14-2008
A: Deep black colour (slighty red brownish when light passes through) with an approx. 1 inch thick beige head. (4/5)
S: Definately smokey! Quite offensive smell of dried fruit, raisins and of course smoked malt. Some smoked wood too. (3.5/5)
T: Whoa, smoke all over the place =). Earthy, smokey taste - yet malty and smooth. Quite bread-like aroma like a dark lager, but richer. Some black coffee too. Slightly bitter aftertaste, almost nutty though. (2/5)
M: Creamy. The smoke flavour sort of makes the other flavours fall behind and become very very subtle, so smoke is all there is left in the mouth after your sips. (2.5/5)
D: If you're in to smoked beers, this is a definate winner. I'm not a big fan of smoked porters, so I'm probably the wrong guy to review this brew. It takes time to drink this beer, almost like a trappist, but it demands more of the drinker.(2/5)
It might work very well with meat dishes and smoked ham for example, as an aperitif or as a social drink it's probably not that good (according to me). It may, however, probably work fine with smokey single malt whiskies like Laphroaig if served as an aperitif.
Will I buy it again? Probably not. Too bad, I was really looking forward to tasting this beer as Nils Oscar's other beers are really good :(
2,165 characters
4.17
/5
rDev
+13%
look: 4 | smell: 4.5 | taste: 4 | feel: 4.5 | overall: 4
Bottle: Poured a deep black color porter with large foamy head with good retention and some lacing. Aroma of smoke malt with some roasted malt notes also noticeable. Taste is a very nice balanced mix between some smoked malt and roasted malt with some creamy lactic notes. I really enjoy the fact that smoke is indeed noticeable and quite present but not so overly as too leave no room for any other flavor. Body is quite full with good carbonation and no no apparent alcohol.
476 characters

3.6
/5
rDev
-2.4%
look: 4 | smell: 4 | taste: 3.5 | feel: 3 | overall: 3.5
Bottle shared by pghlee at the BSP.
Pours dark, dark brown with hints of mahogany around the edges underneath a small tan head that recedes very quickly to a collar.
Smell is big on hickory smoke with hints of sausage. There are some sweet malts in the back as well.
The taste has the same hickory smoked sausage character and the malts underneath. However, the finish is a little more charred with some harsh smoky flavors that make it a bit harsh.
The mouthfeel is a bit on the watery side with low carbonation and fairly oily.
This one didn't quite deliver on the promise of the aroma and was more harsh than I would expect. A decent smoked beer.
654 characters
2.91
/5
rDev
-21.1%
look: 3.5 | smell: 2.5 | taste: 3 | feel: 3 | overall: 3
Appears a dark brown, nearing black with a crimson hue when held to the light. Mild, off-white head slowly fades into a small cap.
Smell is of diacytel, butter cream, beef jerky, and used ash tray.
Taste is of bitey tobacco, cocoa, bitter mineral water, and butter flavor that I have trouble over looking.
Mouthfeel is full bodied, silky, oily, slick, with bitter chocolate in the finish.
388 characters

3.18
/5
rDev
-13.8%
look: 4 | smell: 3.5 | taste: 3 | feel: 3 | overall: 3
A-Is very a dark chocolate with a short, light tan head that fades quickly to a cover. spare lacing.
S-Is smoke and salami.
T-Is smoke but not as much as in the smell. A little chocolate surfaces and a bit of bitterness but there's not a lot of anything else I get from this. It's not very complex.
M-Is kind of thin.
D-Is not so good, just not very tasty.
I'm a bit disappointed with this beer, I expected more from a brewer that I generally like. This isn't cheap either.
474 characters
3.65
/5
rDev
-1.1%
look: 4 | smell: 4 | taste: 3.5 | feel: 3.5 | overall: 3.5
Bottle thanks to axilla!
Poured a dark brown color with a small sized off white head. Aromas of some smoke, smoked meat, caramel, roast, and chocolate. Tastes of smoke, roasty, and some chocolate. The smokiness came out more as I continued to drank this.
255 characters
3.67
/5
rDev
-0.5%
look: 3.5 | smell: 4 | taste: 3.5 | feel: 4 | overall: 3.5
Appearance: Nils Oscars Rökporter anno 2007 pours a opaque, dark, dark maroon colour along with a relatively small (circa ½ inch) light brown crown -- that consists of rather big bubbles -- which eventually leaves a solid ring of lacing around my seidel.
Smell: Similair to that of many a "Chocolate Stouts"; manly due to the prominent scent of, you guessed it, chocolate along with some roasted coffee along with some charcoal-ish characteristics embedded in the background.
Taste: At first, subtle licorice sweetness with acidic reminiscences to it. Then the above mentioned charcoal makes itself heard -- and greatly so! Henceforth in this journey called "tasting the brew" it clearly dominates the tasting experience, but not so without blending, mixing and occansionally letting the licorice pop up as a reminder of balance.
Mouthfeel: The beer in question is very round, it literally feels like it blossoms out in the palate. However, it doesn't end here, the "charcoal sensations" in combination with the medium-to-high carbonation turns this Rökporter into a rose with thorns as the ending experinece is that of a somewhat coarse kind, still pleasant tough (if you like it a bit rough that is...).
Drinkability: Very interesting indeed, does the job as a "Smoked Beer" I'm sure, just not my personal choice in beer types, but I'd surely have another if I'm in the mood for it
since it delivers a satisfiying result in all of the above mentioned categories!
1,471 characters
3.75
/5
rDev
+1.6%
look: 3.5 | smell: 3.5 | taste: 4 | feel: 4 | overall: 3.5
Pours a black color with a small white foamy head. Smell is a bit smoky with notes of liquorice and roasted malt. Taste is malty and roasted with notes of smoke. There's also liquorice here to. Quite filling in the mouth but still a bit thin. Drinkability is on the average side. I don't know, but 50 cl is a bit much? Not one of the better Nils Oscar brews, but still good.
374 characters
3.93
/5
rDev
+6.5%
look: 4.5 | smell: 4 | taste: 4 | feel: 4 | overall: 3.5
The beer is reddish black with a firm light brown head. Very pretty! Leaves medium lacing along the walls of the glass.
The Rökporter has an impressive smell of smoke and some dried fruit. The taste, which is almost a little less spectacular is sweet and smoky.
The finish is smooth and creamy and leaves a long lasting dry taste in your mouth.
347 characters
3.82
/5
rDev
+3.5%
look: 3.5 | smell: 4 | taste: 4 | feel: 3.5 | overall: 3.5
Very interesting porter from Nils Oscar, feels more like a stout though.
Black color with a minimal beige head.
Smells nicely of some smoke, leather and some coffee too, nice!
Taste is pretty similar to the smell as in many cases, but there is a nice touch of caramel and black chocolate in there, some dried fruits too I think.
All and all, a nice and interesting beer!
374 characters
3.65
/5
rDev
-1.1%
look: 4 | smell: 4 | taste: 3.5 | feel: 3.5 | overall: 3.5
Bottle. Brown color with lasting foam. Nose is impressive with smoked meats, hints of chocolate and coffee. Flavor is nicely balanced, with hints of coffee grounds and cocoa. Well balanced with nice character overall. A pretty delicious, dry Smoked Porter.
256 characters
4.1
/5
rDev
+11.1%
look: 4.5 | smell: 4.5 | taste: 4 | feel: 4.5 | overall: 3.5
This is a new beer from Nils Oscar! Let's go!
A: Dark brown/black with a small beige head.
S: Smoke, salami, grain, wee hint of hops.
T: Smoke, chocolate, espresso. Very rich in flavour from the smoked malt but it is not overwhelming but rather balanced and yummy.
M: Rich and creamy liquid with a mild carbonation.
After the disappointment with their triple, i had my expectations set to low for this brew. I am glad to see Nils Oscar can still make excellent new beers. This is a rich and luxurious beer with a superb taste of smoked malts. Recommended!
560 characters
4.25
/5
rDev
+15.2%
look: 4 | smell: 4 | taste: 4.5 | feel: 4.5 | overall: 4
Vintage 2007.
The colour is deep dark brown-black; the liquid is clear. The firm and compact pale brown head leaves some lacing.
The smell got dry notes of rye bread, some fruity hops (according to the label, Fuggles and Amarillo are used), smoked flavours, like smoked ham (not camp fire smoke). It is rich and generous.
The taste is at first sour-bitter. Then, a medium bodied flavour of smoked malt emerges. It is not as heavily smoked as those German rauschbiers, it is more balanced in a British/American way. There are some mild and growing bitter flavours with a somewhat fruity twist. The aftertaste is mildly smoked and roasted with lots of malty flavours as some sweet and bitter notes. The finish includes long lasting smoked-bitter flavours.
The carbonation is mild-medium with lots of very small bubbles. The liquid is very creamy and a little thick. Luxurious!
An extravagant beer, perfectly balanced with lots of interesting flavours that never gets too heavy. I like!
1,002 characters
Rökporter 2007 from Nils Oscar
Beer rating:
3.69
out of
5
with
15
ratings