Thinking Man Tavern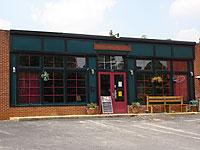 PLACE INFO
Type:
Bar, Eatery
537 W Howard Ave
Decatur
,
Georgia
, 30030-3110
United States
(404) 370-1717 |
map
thinkingmantavern.com
Notes:
No notes at this time.
Added by BeerAdvocate
Reviews: 14 | Ratings: 18

3.81
/5
rDev
-3.1%
vibe: 4.5 | quality: 3.75 | service: 4 | selection: 3.75 | food: 3
The Thinking Man Tavern is one of my favorite bars in metro Atlanta. What I like best is that it's not too loud, there's no smoking allowed indoors, and there are board games to be played. Call me lame, but some nights I like a slower pace of sipping on a drink and playing a board game.
The beer selection is OK but probably better than your standard bar. They have a decent selection of bottled beers and rotating taps. Plus there are mixed drinks, which are craftily made.
The food is a step above standard bar food. But I have yet to eat anything there that I thought was super amazing.
My favorite thing is the atmosphere. The Thinking Man Tavern is just a good place to go in the evening, when you want something low key, but still want to go out and have decent food and drinks. And perhaps even playing a game of Scrabble or CandyLand.
846 characters

4
/5
rDev
+1.8%
vibe: 4 | quality: 4 | service: 4 | selection: 4 | food: 4
I had known of this place (at least by name) for quite some time before I finally visited it for a friend's recent birthday gathering. With no expectations other than "beer place in Decatur," I went in with a fairly open mind, and my experience was mostly good.
Although the building itself is fairly nondescript, its furnishings are anything but. The eclectic decorations (taxidermied animals, various flags, local sports paraphernalia, an autographed box of Cap'n Crunch) distracted me significantly from the matte black walls and exposed plumbing.
More importantly, under different circumstances (i.e., if I weren't there with eight other people on a busy Saturday night), the tavern's extensive selection of board games and books could have kept me occupied for hours. Therein lies the Thinking Man Tavern's key selling point: it's the kind of place where reading and board games are not only tolerated but encouraged.
But back to the black walls and generally dive bar-esque construction for a minute: the Thinking Man Tavern is set up as plainly as possible. There's a medium-sized bar on the right-hand wall, a kitchen housed in the back, and booths and tables set up throughout the room. It's essentially a big, squarish box whose decor renders it somewhat more distinctive.
Due to its location and general vibe (and, from what I gather, its history), the tavern attracts a crowd on the younger end of what you might expect for a beer-centric venue. While it's not exactly a "college bar," it's really only one notch above one on the evolutionary ladder. Local beer folks will understand what I mean when I say its atmosphere -- including the crowd -- falls somewhere between Taco Mac and the Brick Store Pub. I remarked to my friends that it struck me as a training ground for future Brick Store patrons.
Maybe it was the confluence of my personal circumstances on the night I visited the Thinking Man Tavern, but something about the place just felt "right" to me at that moment. It had just enough in common with the bars I frequented in college and the places I favor now. At 31, I was on the older end of the tavern's Saturday night clientele, but that was fine with me.
The place's beer selection was modest in size, but well-considered and paired beautifully with its above-average pub food. I saw signs around the place touting a Southern Tier takeover, which suggests that they work hard to satisfy craft beer-loving regulars with special events.
All in all, if I lived in or near Decatur, I would certainly visit the Thinking Man Tavern at least once every couple of months. It's worth a visit for anyone in the area, although those visiting Atlanta for the first time would be better served by a visit to the Brick Store Pub.
2,755 characters
3.9
/5
rDev
-0.8%
vibe: 4.5 | quality: 3.5 | service: 4 | selection: 4 | food: 4
Finally made my way over here for the VP debate.
Atmosphere was really cool. I'd heard things about this place as far as the books/games and whatnot, and I was impressed. The place was packed out for the debate which made for an interesting evening. It was like watching a playoff game at a sports bar.
Quality was good. I didn't order anything that required special glassware so I don't know if they serve in anything besides the standard pint glass, although I was served various brewery's beers all in a Sweetwater glass. All glassware was at room temperature.
Service was good. Even with the absurd amount of people there I never had to wait very long to order another. The server also rattled off the seasonals without hesitation.
Selection was good. Nothing out of the ordinary, but a solid selection nonetheless. I didn't even look at the bottle list but I did see Corsendonk and Samuel Smith in the cooler. On-tap they had Terrapin, Sweetwater, Sam Adams, Brooklyn, Duck Rabbit, and Flying Dog, among others.
Food was good. I had the mushroom philly with awesome fries that were basically thick chips. I also had a few corn fritters that were also quite tasty.
This place is pretty cheap. The Sam Adams was only $2.50 a pint and $9.00 for a pitcher, although most other beers were closer to $4.00, and the philly was around $7.50 I believe.
Overall I had a good time here. I'd like to check it out when there's less of a crowd, and considering that this place is a bit closer to me than downtown Decatur I'm sure I'll be back.
1,541 characters
3.3
/5
rDev
-16%
vibe: 3 | quality: 3 | service: 4 | selection: 3 | food: 3.5
Big open square interior with international flags hanging from the ceiling to quell the echo from a tile floor and cinderblock walls. Long bar along the wall. Some high tables and regular table in the middle, booths with well worn vinyl along the wall opposite the bar. Mixed crowd of college kids and older local residents. But I think it skews towards the college kids later at night.
Quality and selection was good. There were BMC products on tap, but there was also DFH 60 min., Sweetwater on tap. They have a "special" tap that is probably what the distributor gave a severe discount or something that is not so fresh. Beers on tap came in the correct, room temp glasses.
Service was quite good. We were greeted quickly and beers came quickly and correctly. Server was pleasant and effecient.
Food was tasty. Nothing mind-blowingly good, but solid food for a place like this. They have Brunswick stew, a potato dish that was like nachos with fried potato rounds, burgers, sandwiches, salads, etc.
Prices on beer and food were reasonable, pretty much in line with similar establishments in the area. Dinners range from about $7.50-$12. Beers were from $2.50 ("special" tap)-$12+ for bombers of high ABV beers.
A good spot and probably a 3rd or 4th choice in Decatur.
1,270 characters
3.73
/5
rDev
-5.1%
vibe: 4 | quality: 3.5 | service: 4 | selection: 3.5 | food: 4
Stopped by after a Thrasher game. Has a warehouse feel to it but it's pretty comfortable. I liked that you could pick out games to play at your table while you sat around.
Beer selection is nothing to go crazy over but there are good selections on the menu both on tap and in the bottle. Food was good and the service was attentive.
This is definitely a college bar, with Agnes Scott college just being across the tracks, but it's got a good vibe going and the food is reasonable and the beers were good..overall a pretty good place to hoist a few pints for an evening
571 characters

3.3
/5
rDev
-16%
vibe: 3 | quality: 3 | service: 4 | selection: 3 | food: 3.5
Thinking Man Tavern is pretty much all I expect in a bar - trivia night, TV's playing sports, burgers, typical tavern-decor, etc... I haven't been really impressed with it as far as atmosphere goes - it's nothing special. Not bad. Just, not special. Their beer selection is ok - they've got about 5-6 Belgians in bottles and a decent domestic selection if you get excited about Guiness. Last time I was there about a month ago they had Corsendonk Christmas on tap. I've never gotten a beer in the glass it was supposed to be served in. Mostly imports come in a Unibroue glass and domestics in a pint glass.
One thing I do like about them is their prices on their import beer. Honestly, that's why I go. When money is tight, it feels pretty good to only spend $6.50 on a bottle of St. Bernardus instead of the $8 that it is most other places. The price difference isn't huge, but every little bit helps...
906 characters
3.99
/5
rDev
+1.5%
vibe: 5 | quality: 4 | service: 4 | selection: 3.5
I stopped into this place on my way out of town as I had read the reviews and really wanted to see the place for myself. This reminded me a lot of a bar I used to go to up in Jersey that I loved. Great place with a lot to keep you busy. Board games, books, everything just a really cool looking place. I noticed maybe 5-10 taps and the bottle selection looked decent enough. I wished I had time to hang out but had just been at the Brick Store and really needed to get home. But if I was in the area again I would love to hang out here for a while, it just seemed like the kind of place that was made for me to just sit and chill with friends. Loved the atmosphere and will definitely come back and return.
706 characters
3.9
/5
rDev
-0.8%
vibe: 3 | quality: 4 | service: 3.5 | selection: 4.5 | food: 4
Thinking Man's, another fine Decatur establishment.
While Thinking Man's consists primarily of one large room with a lot of tables and some booths, there is a patio outside. Tons of board games lying around, a jukebox you can usually fill up $5 with and enjoy, and good food depending on what you get (hint: in the South, stay away from their guac).
TM has a nice selection of beers and something they call the "Starving Artist," which is sort of a mystery keg in that you've got ask about when you show up. It's cheap and usually something enjoyable, though I've had some rather off ones as well.
My other note is that I went about a year ago on a weeknight (I think it was a Thursday) and a local seminary was there and took up damn near the entire place. Still, we managed to get a table and have a good time.
Thinking Man's: if you're heading to Decatur hit it up at least once.
886 characters

4.08
/5
rDev
+3.8%
vibe: 3.5 | quality: 4 | service: 4 | selection: 4.5 | food: 4
Thinking Man Tavern is located on the "outskirts" of Decatur, heading towards Candler Park & Lil 5 Points on W. Howard Ave. I forget his name, but the tavern's theme is that greek dude sitting down with his knuckle resting on his chin. So, there are tons of books and board games on the shelves behind the bar. The inside is a wide open space, with the bar running on the left side. There are several outdoor tables on the right side. I never fool with that thinking stuff, instead go there for great beer and super-tasty burgers.
First the beer. What I like best about the tap selection, is that it's different from area pubs. Usual suspects include: Dinkel Acker Pilsner, Harpoon IPA, Gonzo Imp Porter, Dale's Pale Ale, rotating Spaten, Paulaner Hefe, Prima Pils, Terrapin Rye & a rotating Brooklyn. The 'Starving Artist' tap is usually pretty nasty, but it'll only cost ya $2.50. Some still like to drink schwag in these parts. Good bit of High Gravs and a few imports including Duvel.
Now the food. Really, really good burgers. Cooked to order and fresh tasting. I am particularly fond of the patty melt, which comes with pepper-jack on texas toast but get it on rye instead. Potato rounds, not fries, come with and are mighty tasty. Good hummus and vegetarian fare as well. Service is usually muy bueno.
1,310 characters
3.65
/5
rDev
-7.1%
vibe: 4.5 | quality: 3.5 | service: 4 | selection: 3 | food: 4
Neat local bar that my wife and I frequent. Excellent atmosphere - very eclectic and comfortable. The outside seating feels a bit awkward in the summer, but inside in the winter is fantastic - warm, dark, with big windows that look out on a cold Atlanta. The service here has always been good - not great, but good. You'll get your beer, your food, and you won't wait long - the entire staff is pretty friendly though. There are about 14 beers on tap, mostly macros you've had before and some local taps - Terrapin is great, wish they carried more. Great selection of bottles too, and they'll have deals on these as well. Wednesday night is pint night - most everything will only set you back $2.75 - a great deal.
Food is above average for a beer bar - good patty melt, great potato rounds, and the specials are always good.. everything from gumbo to meatloaf to fried chicken to pork tacos. Nice if you need a place to go for good beer, nice relaxing atmosphere, and some good "home cooked" food.
1,002 characters
4.63
/5
rDev
+17.8%
vibe: 5 | quality: 5 | service: 5 | selection: 3.5 | food: 5
I love this place! The funky decor assures you that this is a truly laid-back neighborhood pub where you can relax and just be yourself. Beer selection is not exceptional, but they have plenty of good brewskis for you to choose. Food is wonderful, with plenty of vegetarian options; and the service is nearly perfect. I highly recommend this place for events such as Meetups or any old informal gathering of friends - or for just dropping in because you feel like having a crater or two. Because they don't play music, and because the volume on the TVs is kept down, it is easy to chat with your pals without hollering. They are just a few blocks from two MARTA stations, so you can take the train and get in a good walk to work up an appetite.
744 characters
3.88
/5
rDev
-1.3%
vibe: 4 | quality: 4 | service: 4 | selection: 3.5 | food: 4
I've visited the Thinking Man twice in the past two weeks, so this review is based off of two visits. This small bar has lots of charm. It seems to have an Academic/Science theme …..Hmmm…Thinking Man, go figure. The décor is made up of anatomical models, stuffed animals, a periodic table, planetary globes, lots of books, and a baboon skull reportedly taken from a strip club. A few televisions but they are not overpowering, the place is made for drinking and conversation. There is a front porch that tables with sun umbrellas can be placed upon. They have about 15 taps with a good variety of beer including local micros. If you are strapped for cash there is a rotating tap called the "starving artist" they will at least give you alcohol if not flavor. They have about 40 types of been in the bottle. The bottle selection varies from the usual macros, to American micros, to a few Belgian beers such as Duvel, and Belgian-style beers such as the Uniboue line so everyone has a few beers that they are interested in. The food is a notch above the standard bar food and includes a vegetarian section as well. I had the spinach manicotti and it was excellent. The wait staff and bartenders were very friendly. The first night I went here a bartender named Hunter waited on me and my girlfriend. He seemed very knowledgeable about beer and was pleasant to talk with. If your in Decatur, this place is worth swinging by for dinner or just drinks.
1,450 characters
3.53
/5
rDev
-10.2%
vibe: 4 | quality: 4 | service: 3 | selection: 3.5 | food: 3
Pulled off the road a bit with a parking lot leading up to the doors, Thinking Man looks as if it was a store of sorts previous to being a bar. Basic structure outside and inside. The interior is full of flea-market items, plastered with stickers, books, stuffed animals, globes, books, games, etc. You get the picture. Small bar, with the rest of the high-ceilinged square room littered with tables and chairs. Food menu was basic grub, had these potatoes sliced covered in cheese with salsa and sour cream. Hit the spot and went well with some local brews.
* Man, I wish that stuffed wildcat would stop looking at me. *
Just over a dozen taps, a few locals, but mostly larger imports. Four dozen or so bottles, some decent ones, but the mix is mostly imports and macro trash. Got our check. $2.75 per pint?! Decent beer. Cheap prices. Gotta love Wednesdays @ the Thinking Man.
Part of our Decatur crawl on 06/22/05. Jason and I weren't sure we'd find this place, as it's a bit off the beaten path when walking, but worth the small hike. It's pretty unique.
1,070 characters
3.75
/5
rDev
-4.6%
vibe: 4.5 | quality: 4 | service: 4 | selection: 3 | food: 3.5
This was a part of the pub crawl in Decatur with Todd, man it was hot that day. Not too far of a walk from downtown, certainly worth a visit if you are in the area.
# Around 14 Taps
Mostly mega-imports though about 6 were local craft beer.
# At least 40 in the bottle
Good range of imports to craft to swill. They had some glassware as well.
Odd collectibles; taxidermy, dart boards, stuff you'd find @ a flea market, board games. I could probably hang here for hours. Service was quick and friendly, $2.75 pints on Wednesdays!!! Nice!!!
548 characters
Thinking Man Tavern in Decatur, GA
3.93
out of
5
based on
18
ratings.