Aile Smoked Celtic Porter
| Okell & Sons Ltd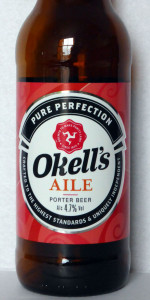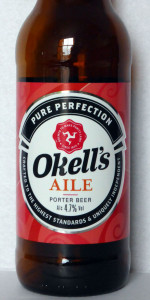 BEER INFO
Brewed by:
Okell & Sons Ltd
Isle of Man
okells.co.uk
Style:
English Porter
Alcohol by volume (ABV):
4.70%
Availability:
Year-round
Notes / Commercial Description:
No notes at this time.
Added by mdagnew on 08-28-2007
HISTOGRAM
Ratings: 10 | Reviews: 6
Reviews by Jeffo:
3.88
/5
rDev
+4%
look: 4 | smell: 3.5 | taste: 4 | feel: 4 | overall: 4
Got this at De Bierkoning in Amsterdam
From a bottle into a Pint Glass
APPEARANCE: Pours a medium-big 2 finger medium-thick beige head that slowly fades away. Pours black with some small faint ruby hints at the bottom. Head slowly fades to a thin film and leaves some good initial lacing. Lacing fades off half way down but the head re-establishes itself nicely after every drink.
SMELL: Roasted barley malt with a bit of licorice and chocolate. Perhaps a slightly smoky quality in the back, but not overly pronounced. Pleasant.
TASTE: Roasted barley malt and a bit more smokiness here. A bit of licorice and some bitter black coffee in the mild but nicely lingering aftertaste. Some chocolate in there too, but not prevalent. Nice.
PALATE: Medium body with medium carbonation. A bit creamy in the mouth and goes down somewhat smooth with a slight bite, which is a nice touch. Finishes on the dry side of things. Nice here too.
OVERALL: Definitely a solid brew that's drinkable and enjoyable. Could easily be a session brew and I'd go for it again. Doesn't quite deliver the smokiness that one would expect from a "smoked porter," but a good brew non-the-less.
1,170 characters
More User Reviews:

3.73
/5
rDev 0%
look: 3.75 | smell: 3.75 | taste: 3.75 | feel: 3.5 | overall: 3.75
A 500ml bottle with a BB of Nov 2014, so it's a bit out of date. Hopefully still in good nick. Purchased a while back from a B&M store. The label mentions that Aile is the Manx word for fire and that this beer is brewed with a portion of peat-smoked malt.
A: Poured into a tulip pint glass. A dark reddish-brown hue with ruby highlights; appears pitch black in the glass. Yields a large head of creamy light-brown foam that lasts for a minute or two before reducing to a persistent surface layer. Slight lacing.
S: Aroma of roasted malt with hints of chocolate, mild burnt grain, delicate smokiness, subtle peat, earthy yeast, vague stewed leaves and a touch of sourness in the background. Rounded and rather good.
T: Tastes of dark malt with a mild smokiness and a bitter finish. Notes of roasted grain, chocolate, faint burnt notes, subtle smoke, a hint of peatiness, earthy yeast, faint stewed leaves and a twinge of sourness. Slightly sweet, followed by a strident, malt-driven bitterness upon swallowing.
M: Mouthfeel is smooth and dry, with soft carbonation and decent body. Could be a tad livelier. Slightly astringent, accompanied by an aftertaste of bitter roasted malt, earthy yeast and faint smokiness.
O: A solid porter with an interesting edge. Looks good, while the aroma and flavour are a satisfying blend of roasted malt, chocolate hints, mild peat smoke and dry yeast. Decent body; could be slightly more carbonated. Goes down nicely - the smoke adds an extra layer of character. Worth sampling if you have the chance.
1,540 characters
3.08
/5
rDev
-17.4%
look: 3 | smell: 2.5 | taste: 3.5 | feel: 3 | overall: 3
I had a beer tasting in a pub called 'the Mug' in Middelburg. I was being introduced to the local PINT beer tasting club. The theme that night was UK Stout and Porter beers.
A - Pitch black and a ring of foam against the glass. In the light one can see its deep dark red.
S - Chocolate, coffee and alcohol
T - a bit flat, not really much going on. A very dry beer, no sweetness what so ever.And bitterness.
M - no carbonation, not much going on, no sensation at all.
O - Not a beer I would be going for in the future.
522 characters

3.85
/5
rDev
+3.2%
look: 4 | smell: 4 | taste: 4 | feel: 3.5 | overall: 3.5
I Tried this Porter as it has recently won awards at the European beer awards 'Best Flavoured Porter'.
A- Black porter with slightly coloured head, good head retention.
S - Typical porter dark/roasted malts and a slight hint of 'peat'.
T- Good roast malt profile and pleasant bitterness rounded of with a little smoke and a peatyness more akin to a Isalnd Whisky. Pleasant!
M- Good medium/full bodied mouth feel typical for the style.
D - A good smoked/flavoured porter however its drinkabilty may belimited by the 'appeal' of peat- Igues you love it or hate it!
I'd recommend this to a fan of Porters!
608 characters

4.09
/5
rDev
+9.7%
look: 3.75 | smell: 4 | taste: 4.25 | feel: 4 | overall: 4
Bottled
Deep dark brown with a small white head. Sweet, peat smoke aroma. Taste is sweet smoke and liquorice with chocolate notes.
A beer that is heavy and smooth all in one. A real good beer from the Isle of Man
215 characters
3.83
/5
rDev
+2.7%
look: 4.5 | smell: 4 | taste: 3.5 | feel: 4 | overall: 4
500ml bottle bought from Wineworks, Newtownards...
Poured completely black even when held up to the light. Dirty mocha head poured tight, thick and foamy then faded slowly to nice thickish covering... some light sticky lines of lacing around the glass...
Aroma - Strong roasted malts, dark chocolate notes, ground coffee beans, light peaty smoke notes although not as strong as i expected... treacle / burnt sugar sweetness, leathery, toasted nuts, faint liquorice, some pepperiness...
Taste – Nice roasted malt bitterness although not as strong as the aromas would indicate, toasted / burnt bread, very delicate peaty smoke notes, some creamy / milky traces, woody, light treacle notes, some grassy / peppery traces, some oatiness, light sweet nutty notes...
Feel - Quite smooth and creamy... medium bodied... pretty drinkable and surprisingly refreshing...
Overall - A pretty good porter although not as smoked as i was expecting - i would have liked it a touch more pronounced... certainly worth a try though...
1,031 characters


3.8
/5
rDev
+1.9%
look: 4 | smell: 4 | taste: 3.75 | feel: 3.5 | overall: 3.75
Aile Smoked Celtic Porter from Okell & Sons Ltd
Beer rating:
3.73
out of
5
with
10
ratings