Hop Project #30
| Yazoo Brewing Company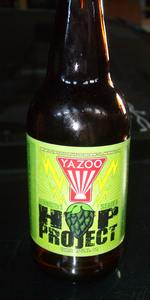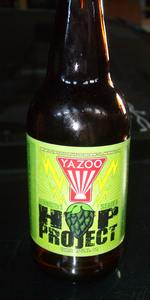 BEER INFO
Brewed by:
Yazoo Brewing Company
Tennessee
,
United States
yazoobrew.com
Style:
American IPA
Alcohol by volume (ABV):
not listed
Availability:
Limited (brewed once)
Notes / Commercial Description:
For #30, we used a blend of Magnum, Columbus, and a new variety, Citra. Citra is a new variety released by the Hop Breeding Company in Yakima, WA. It's supposed to be a cross between Hallertaur Mittlefrueh and U.S. Tettnanger, but somehow bred to yield much higher bitterness. Its alpha acids come in around 12%. Our beer starts with a pleasant mellow and fruity aroma, with a rounded mellow up-front bitterness that fades into a sharp peppery finish.
Added by AleWatcher on 05-28-2010
This beer is retired; no longer brewed.
HISTOGRAM
Ratings: 10 | Reviews: 9
Reviews by witster18:

3.9
/5
rDev
+5.4%
look: 4 | smell: 4 | taste: 4 | feel: 4 | overall: 3.5
this was bottled the 2nd week of June and I had this the third week so it's extremely fresh.
SMells like a pine tree.
Pours amber with a burly head.
retains well.
First taste... grapefruit from a whopping dose of piney hops. Sticky to the tongue. Must be a lot of hops in this bad boy. Pine resin. Pine Tar. Pine cone. you get the idea.
Nice and tart start and finish with a sticky on the tongue aftertaste that keeps me chompin at the bit.
I love this.
Lives up to the name. Definately a hophead beer, but far cleaner tasting than other 'out there' selections... this is unique in that it's refreshing and drinkable yet not for the casual beer drinker. Will definately revisit but not sure if i'd call this a sessioner as it's probably best to take a break after one. One of the stickiest piniest beers on the planet but very clean and quite drinkable considering the immense flavor.
891 characters
More User Reviews:
4.15
/5
rDev
+12.2%
look: 4 | smell: 4 | taste: 4 | feel: 4.5 | overall: 4.5
the newest of the series i have gotten to try, i wish i knew someone who could send me these on a regular basis. served chilled and poured into a pint glass, this one was consumed on 10/08/2010.
the pour is a nice and medium amber color with a nice head of white that really thickens up as it goes on. nice lacing drips down the sides as nice carbonation comes up and down the sides of the glass.
nice aroma right u front with a good hop bouguet and a nice and mellow malt backing. semi sweet at times with a decent touch of citrus in the front and back. warming with a nice smooth, mellow feel that was subtly carbonated to perfection, again really very well done. initial burst of ripe, fresh citrus is soon masked by a smooth caramel an bready malt mixture that seems to really firm up the profile. easily sessionable with the bottle going down in no time.
overall just another very solid offering in a very solid line of ipas.
933 characters
2.66
/5
rDev
-28.1%
look: 4 | smell: 3 | taste: 2 | feel: 4 | overall: 2.5
This is the 3rd in the HP series that I have gotten to try-- all of them sent from the ever friendly, gracious, and generous JohnQVegas. Thanks again Dustin!
This beer was poured into a standard pint glass.
Copper color with less than 1 finger of off white head that became a frothy cap rather quickly. Some sparkly looking lacing is spotty but clinging fast. Beer is nice and clear in color with lots of signs of active carbonation-- great columns of bubbles streaming up after a slight swirl. That swirl also brought the head back to nearly one finger again.
Smells of big citrusy hops-- grapefruit, lemon, mandarin oranges, and perhaps even pineapple. The malts aren't really there enough to get me to pay attention. The malts do bring something to the table on the taste, though. What they bring, I'm not sure was a good idea. There is a sweetness that turns soapy and mildly unpleasant before the hops rush in with brightly bitter and astringent citrusy flavors to scrub some soap away. I honestly thought that perhaps my glass wasn't cleaned well enough-- so I grabbed another clean glass and another fresh bottle-- yeah. Bad news sports fans. The soapiness is part of the flavor profile. I don't know where it comes from, but I just can't bring myself to blame the hops! The hops have enough troubles-- they are overdone but underflavored. Too much astringent bitterness without the flavor to support it. This was as though Yazoo decided to attempt a west coast hop bomb but used the same malt profile as the previous few batches. Somewhere in the effort, things went awry.
This is the worst of the Hop Projects that I have tried in terms of flavor. The body and mouthfeel are pretty standard compared to other batches-- a redeeming quality I assure you. The drinkability also suffers due to the problems in the flavor.
I'd like to see Yazoo try to lighten up the malt (try for something sweet and light- crisp and clean) and use a little more of the hops in the boil for aroma and flavoring-- a little less dry hopping-- and perhaps create an amazingly refreshing American Pale Ale. This IPA just doesn't stand up to the other beers that I have enjoyed by Yazoo. It seems I can tell what they were going for, but the best laid plans of mice and men...
2,265 characters
3.54
/5
rDev
-4.3%
look: 3 | smell: 4 | taste: 3.5 | feel: 3 | overall: 3.5
A: pours clear orange-yellow with nice white head. subsides quickly with slight lacing
S: citrus - lemon and grapefruit. no malt smells
T: Mostly grapefruit hops moving into a touch of lemon, I'd guess this was Citra. Starts crisp and hoppy. Slightly malty halfway through and finishes with lingering bitterness. There isn't much on the grain side - this could be a lot better with some more.
M: Light body, crisp flavors to start and a medium lingering bitterness.
D: Very drinkable for a pale, the lingering bitterness might throw some people off. It is lacking a bit in the grain department - certainly nothing worthy of DIPA territory, but this is surprisingly hoppier than some of the other HPs as well as their Pale. I could have a couple in a sitting.
764 characters
4.27
/5
rDev
+15.4%
look: 4 | smell: 4.5 | taste: 4 | feel: 4.5 | overall: 4.5
A delicious IPA that shows all of what is best about the hoppy flavors and bitterness of great hop-forward beers, but the drinkability is what really sets this beer apart.
From the growler, the beer pours a rich and froathy copper-amber color while releasing a creamy off-white head that sits proudly atop the beer with great staying power and leaving a ton of lacing behind.
Sharp aromas of pine, grapefuit rinds, orange zest and fresh cut grasses fill the olfactories whild spicy graham cracker maltiness follow closely behind. But make no mistake about it- this beer is all about the hops.
Flavors progress evenly and consistently from the nose with the fresh taste of red grapefuit, orange zest, pine, and grasses while contribuing a bold bitterness that is mostly smooth but slightly abrasive. The malt flavors are much, much softer with the light caramel and graham cracker tastes. Not much ester fruitiness or other contribution flavors come into play; pretty simple, powerful, and clean.
Creamy for just a second, the mouthfeel quickly leads to a malty dry fleeting feel along with a pleasanlty arid hoppy evaporation. Rarely do the great hoppy balances lead to this clean, crisp, and dry body while remaining malty where needed.
There are a few great IPA's out there that escape the spotlight. This is one of them. If the hop flavor and bitterness were more smooth with the Centennials or Amarillos then we might be talking Pliny territory here.
1,459 characters
2.94
/5
rDev
-20.5%
look: 2.5 | smell: 3.5 | taste: 3 | feel: 2.5 | overall: 2.5
Got this on my latest trip to Nashville. I keep searching for a Yazoo beer that I really like...the search continues.
Appearance was OK. Darker than most IPAs and the head quickly vanished. The aroma has me impressed, but alas, the taste and mouthfeel did not match the aroma. Nice grapefruit aroma, but the taste was more resin, than fruit/flower. There was also a metallic aftertaste.
386 characters

3.85
/5
rDev
+4.1%
look: 4 | smell: 4 | taste: 4 | feel: 3.5 | overall: 3.5
12 oz bottle well within the freshness date, poured into a flared mouth pils glass.
A - Golden with a copper richness, very clear (just shy of brilliant), decent carbonation leading to a finger thick head that dissipates to a single ring in minutes.
S - Citrus hops, bubblegum, oranges, and grapefruit in the nose up front. Some honey and faint bread notes show as this begins to warm.
T - Solid hop bitterness up front, resin, pine, meet with a moderate malt backbone. Crisp finish leave me waiting for the next sip.
M - Medium body, good carbonation, clean finisher without being slick.
D - For an IPA pretty high. A solid example, but nothing really separating it from the herd.
686 characters

3.93
/5
rDev
+6.2%
look: 4.5 | smell: 4 | taste: 3.5 | feel: 4 | overall: 4.5
Bottle into Sam Adams lager glass.
Pours that familiar dark copper, just a bit hazy, with a nice, two-finger, super dense head on top that is quite impressive. Very slowly recedes starting at the edges, leaving a beautiful mounded island in the middle. Great lacing.
Nose is sweetly floral, pungent, carrying a heavy load of citrus that sits somewhere between orange and grapefruit.
Taste is a bit different than previous incarnations. There's a bit of unexpected bitterness (almost soapy?) coming through early on, piny bitterness, with a toasty breadiness underneath coming through more clearly than expected towards the finish, just a bit of caramel, lingering pungent citrus notes. This is an interesting one, because the finish on this one is just delicious, more so even than the rest of the flavor profile, giving this one kind of hyper-drinkability. Everytime I took a sip, I would recoil a bit from the initial bitterness, only to be sucked back in by the delicious, lingering finish.
Mouthfeel is maybe a bit on the sharp side in terms of bitterness, medium bodied, big bite from the bitterness, a bit astringent.
1,131 characters

4.3
/5
rDev
+16.2%
look: 4 | smell: 4 | taste: 4.5 | feel: 4 | overall: 4.5
This was bottled June 15th so its dang fresh...
Pours a dark golden with a nice thick firm head... Looks good to me.. Appearance is a tough one to judge...
Very nice earthy hoppy aromas that are bringing some resiny pine, a touch of grapefruit, some floral aspects and just enough malt to balance out.
Very earthy dank hoppy taste... This one tastes nice and fresh and green... The hops aren't overly bitter, just enough to be pleasant... This is sort of like munching on pine needles with a little of the earthy bark thrown in... I'm loving the earthiness here... Certainly not a hop bomb, almost puts me in the mind of a hoppy English IPA...
Very well done in my opinion... I downed 3 before I knew it.. Very drinkable and delicious...
741 characters
Hop Project #30 from Yazoo Brewing Company
Beer rating:
3.7
out of
5
with
10
ratings