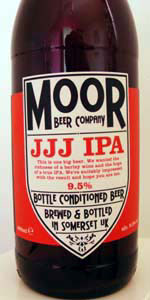 Rate It
Beer Geek Stats
| Print Shelf Talker
Style:

ABV:

9.5%

Score:

Avg:

4.02

| pDev:

10.95%

Reviews:

13

Ratings:

From:

Avail:

Year-round

Wants

Gots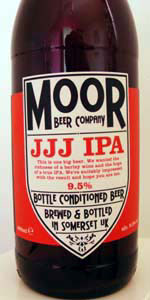 Notes:
Bruno74200 from France
4.1
/5
rDev
+2%
look: 4 | smell: 4 | taste: 4.25 | feel: 4 | overall: 4
Nice triple IPA.
Pours a slightly hazy amber, nice white head. A lot on the toffee, some citrus notes, some floral notes. Good balance. Nice gentle carbonation.
Quite enjoyable
Mar 28, 2018

DJ-Hophead from England
4.25
/5
rDev
+5.7%
look: 4.25 | smell: 4.25 | taste: 4.25 | feel: 4.25 | overall: 4.25
Tap @ Moor, Bristol - Pours cloudy orange with a medium foamy head. Nice lacing. Medium carbonation. Aroma - citrus - orange/mandarin, slight resin. Taste - citrus - orange/mandaring, light sweetness, light resin, crisp bitter finish. Solid high ABV IPA.
Nov 02, 2016
lacqueredmouse from Australia
3.98
/5
rDev
-1%
look: 3.5 | smell: 4.25 | taste: 4 | feel: 3.5 | overall: 4
Moor's strange 660ml bottle, purchased from Oak Barrel in Sydney.
Pours pretty much uncarbonated (and didn't hiss when uncapping), and only forms some bubbling on the top due to surface tension, which this beer has in abundance, being pretty thick and heavy. Body is a hazed, tending towards murky orange. It looks very still and thick in the glass.
Nose is quite pleasant: bright, rounded, sweet fruits come through giving some tropical overtones. But this is punctured by an interestingly earthy fragrance—it's like a combination of fruity, tropical hops (perhaps like you'd find in NZ or Australia), and earthy, herbal English hops. It's an odd combination, because you'd almost always find some citrus or pine seeping into the mix in this sort of aroma, and I really don't get any of that at all.
Malt character is fairly well pronounced, but the woody, herbal hop notes take away from any true grain or wholesome character. It's very nice overall.
Taste is pretty nice too. Big, bold malt basis plants itself firmly in centre-stage, while all around it the hops provide the spectacle. Solid woody, almost peppery bitterness slides down the centre of the palate, while the tropical aromatics react with the slight boozy note to provide a heady penumbra to the flavour. Hop bitterness does build up on the back of the palate, which after a while means that there's this dichotomy from front to back: first you sense the big malt flavour, and then very quickly all you sense is hop bitterness. It's interesting.
It's pretty smooth with the lack of carbonation, but I'd like it to have a little. Even a fine tingle across the tongue would liven up parts of it, especially the back with the hop oils coating the tongue.
Overall, though, this is very good stuff. It manages to be big in many characteristics, but still finds balance amongst the different beasts that it brings forth. Some extra carbonation and it would be awesome.
Oct 16, 2013
CrazyDavros from Australia
3.87
/5
rDev
-3.7%
look: 3 | smell: 4 | taste: 4 | feel: 2.25 | overall: 4.5
Pours hazy copper with an almost non-existent head.
Nose shows resinous, piny and earthy hops alongside masses of sweet rich malt suggesting at caramel, fruity confectionery, bready notes and golden syrup.
Flavours include pine, orange marmalade, sweet syrupy malt and alcohol. Very sharp bitterness in the finish.
Needs higher carbonation, its all but flat.
Jul 08, 2013

danieelol from Australia
4
/5
rDev
-0.5%
look: 4 | smell: 4 | taste: 4 | feel: 4 | overall: 4
Pours a slightly brown orange. Head is slight and barely covers the surface of the beer.
Smell is spicy, plant/weed like hops. Big mango, plasticcy. Malt taking the rear.
Taste is more tropical- pineapple, mango. Strongly herbal bitter hops.
Mouthfeel: I think the reason people call this sweet is that it has a clearly syrupy texture. However, it has extensive bittering hopping which disguises most of the sweetness. Particularly bitter after the swallow. Big palate wrecker.
Definitely see how this is described as a DIPA/Barleywine cross-breed. Body of a barleywine, but definitely hop-focused and do not think this would stand up to age like a Barleywine. If I had any complaints, the body and syrupiness is a little overwhelming. Good beer and a palate wrecker.
Jun 24, 2013
StJamesGate from New York
3.77
/5
rDev
-6.2%
look: 3 | smell: 4 | taste: 4 | feel: 3.25 | overall: 3.5
Hazy dark amber that is absolutely dead flat.
Big floral, orange rind nose.
Caramel pear cake up front with golden raisins, some butter and a bit of must then resiny, citrus + pine sap hops plus some papaya.
Orange Swedish fish finish and pithy linger.
Medium, plenty chewy, and a bit hot.
At first glance this is a big DIPA with lots of West Coast citrus. As you go along, though, it seems more like a barleywine with it's unctuous body, heavy malts and winey fruit notes. And another BA here quite rightly pointed out some old ale characteristics.
Still, why Moor thinks this makes it the second coming (calling it a "triple IPA") I'm not sure. The hop blend is nothing that hasn't been around for 10 years, and the lack of carb is not opening the hops or lightening the body. Certainly shouldn't be flat and definitely shouldn't cost as much as a sixer of Torpedo.
I was expecting one of the great British IPAs, and this ain't it.
Sorely disappointed.
Jun 22, 2013
biboergosum from Canada (AB)
3.97
/5
rDev
-1.2%
look: 3.5 | smell: 4 | taste: 4 | feel: 4 | overall: 4
660ml bottle. The meaning of 'JJJ' isn't really apparent until a fair bit more of Google-fu research is performed on this offering.
This beer pours a hazy dark bronzed amber hue, with one very skinny finger of broadly bubbly dirty white head, which settles as quickly as expected, leaving little beyond a few sparse islet strands of lace around the glass as it inevitably disappears. Looks like a barleywine, I would proffer, combined with the normal lack of effervescence for this brewer.
It smells of sharp grapefruit and orange rind bitterness, a floral perfumed booziness, musty caramel/toffee malt, a touch of biscuit, some stewed melon fruitiness, and a somewhat subtle pine resinous. The taste is more prominently sassy, multifaceted grapefruit and orange fruitiness, understated bittersweet caramel malt, a continuing musty orchard fruitiness, perfumed floral notes, and equally consistent astringent resinous pine notes.
The carbonation is adequately perceptible and supportive at the same rate, the body a well rounded medium weight, and generally quite smooth, the hops having the manners to butt out of this fight. It finishes definitely off-dry, ok, and sweet, with the caramel malt, well obfuscated alcohol, sassy citrus fruit, and lingering pine needle essences all heady, and what have you.
I very much have to decree this as the hoppiest English-borne IPA that I can recall in recent memory (those pesky Scots do nae count in this assertion), which makes for a bit of a mea culpa as far as overall appreciation goes, bias being what it is. Anyway, this has all the hallmarks of a hopped to the nuts barleywine, the key here being the dusty, musty old ale character that amplifies those particular notes, so much so that it appears that the English have not only captured the American essence of the style, they have also integrated it as their own. Scary, huh?
Feb 27, 2013
rarbring from Sweden
3.49
/5
rDev
-13.2%
look: 3 | smell: 4 | taste: 3.5 | feel: 3.5 | overall: 3
A dusky rose hip colored brew, an off-grey head with little lacing, but some curtains.
Much american hops, floral and resin vibes. Pine soap.
Sweet brown bread, toffee, tea, orange marmalade and and bitter peel.
Little carbonation, watery with a small body, a slightly dry finish.
This beer wants to be big, but do not really deliver.
Oct 21, 2012

beerdrifter from Germany
4.42
/5
rDev
+10%
look: 4 | smell: 4.5 | taste: 4.5 | feel: 4 | overall: 4.5
Picked this up at the biggest beer store in the UK, Beers of Europe Ltd. Hazy amber-orange pour with big two finger head with nice retention and great lacing. Huge resiny, perfumy, citrusy West Coast nose loaded with orange peel and hints of pine and caramel. The taste is much the same with bitter, resiny, piney citrus hops the star, balanced out nicely with a sweet caramel malt base with hints of toffee. The alcohol is totally well hidden. This is smooth as silk with drinkability off the charts. Moor has set the bar high and is on par with just about any West Coast hop bomb. A first class beer!
Apr 16, 2011

Zimbo from Scotland
4.15
/5
rDev
+3.2%
look: 4.5 | smell: 4.5 | taste: 4 | feel: 4 | overall: 4
Served between a Duvel Tulip and a high tumbler from a 660ml bomber.
Nice orangy slightly cloudy appearance with a full head. Head partially deflates over time but giving it some aeration returns it to its original appearance.
Leaves fluffy rings of lacing as drunk and has a pleasing orangy spicy citric flavour to it. There is some good interplay between malt then hop and this is followed by a bitter but appetizing rubbery bitterness at the end. Slightly on the heavy side but not bad for a beer of this weight. The attacking hop element isn't over the top but I would probably like to have experienced more integration of this beer's various elements. But still this was pretty fine.
An interesting take on what happens when a good brewer makes an American Imperial IPA and marries it with English Barley Wine elements. Definitely worth a proposal.
Jan 03, 2011
Sammy from Canada (ON)
4
/5
rDev
-0.5%
look: 4 | smell: 4 | taste: 4 | feel: 4 | overall: 4
Enjoyable highly hoppy barleywine to me, very drinkable. Pours light brown with lasting head. Good balanced aromas. Good balance for DIPA style. Worth seeking out, very drinkable.ABove average mouthfeel.
Courtesy of a London store owner (this is not admissable in court)
Dec 20, 2009
PartyBear from England
4.18
/5
rDev
+4%
look: 4 | smell: 3.5 | taste: 4.5 | feel: 4 | overall: 4.5
Appearance: Rich dark copper colour, with a foamy off-white head, good retention and quite a lot of carbonation. There is also a decent amount of thick lacing on the glass.
Aroma: The nose is definitely a DIPA, heavy resinous hops are clear right at the start, followed by hints of fruits, possibly grapefruit, and melon. There is a definite malty base, with a biscuity caramel just noticeable hovering behind the hops.
Taste: At first the flavours are slightly sweet, and syrupy, with some light citric fruits coming through. At which point I started thinking that maybe us British can't make DIPA with the bitterness of the Americans, then after a few seconds the hops really come into play and unleash a potent perfumy bitterness, with a resinous clingy feel that lasts well past the aftertaste.
Mouthfeel: The feel is smooth and almost slick in the mouth, with little carbonation. It's also creamy in the texture and has a mouth-coating clinginess.
Drinkability: For something that has a ABV that nears the 10% mark, this is a scarily drinkable beer. Apart from Brewdog's Hardcore IPA this is the only other legitimate DIPA that is brewed by a British brewer.
Oct 26, 2009
mdagnew from Northern Ireland
3.97
/5
rDev
-1.2%
look: 3.5 | smell: 4 | taste: 4.5 | feel: 4 | overall: 3
660ml bottle bought online from Beermerchants.com
Poured a clear coppery orange colour. Creamy head poured quite loose and frothy then faded quickly to patchy covering with thickish edging. No carbonation at all... light lacing...
Aroma - Nice juicy (slightly overripe) fruits (orange peel, pears, apricots, light pineapple) mixed with toasted biscuity maltiness, some almond / marzipan notes, caramel and honey sweetness, piney and grassy hops, quite rubbery, floral...
Taste pretty much mirrors the aromas... lots of piney, citric and grassy hop bitterness followed by good caramel / toffee malts, floral honey, light medicinal notes, quite herbal, marzipan, some metallic traces, warming alcohol, nutty... reminded me a little of SN Bigfoot...
Feel - Smooth and creamy with a little bite underneath... medium / full bodied... quite drinkable but a 660ml bottle is way too much...
Overall - An excellent British IPA... definitely recommended...
Sep 04, 2009
JJJ IPA from Moor Beer Company
Beer rating:
90
out of
100
with
25
ratings