Amoor
| Moor Beer Company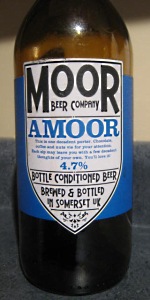 BEER INFO
Brewed by:
Moor Beer Company
England
,
United Kingdom
moorbeer.co.uk
Style:
English Porter
Alcohol by volume (ABV):
4.70%
Availability:
Year-round
Notes / Commercial Description:
No notes at this time.
Added by biboergosum on 03-10-2013
Ratings: 12 | Reviews: 6
Reviews by lacqueredmouse:
3.58
/5
rDev
+1.4%
look: 3 | smell: 3.75 | taste: 3.75 | feel: 3 | overall: 3.5
660ml bottle purchased from Platinum Liquor in Bellevue Hill.
Pours a rather light reddish hue, really I think too light for a porter, with a frothy head of pale beige. Bubbling forms the majority of the head, meaning it collapses in on itself after a while. Body is pretty light, carbonation races through it quite vivaciously. Overall, it looks a bit weak, to be honest.
It's up from here, fortunately. Pleasant nutty malt characters on the nose give a mildly roasted, flavoursome and wholesome character to the beer. Light sweetness comes through, some crumbly brown sugar and a suggestion of chewy toffee. Some light fragrant overtones give a suggestion of fruity coffee and snapped vegetables. Not bad.
Taste is light on sweetness, and very light in the feel, but there's some really lovely flavours providing the interest over the top of this, covering it up somewhat. Lots of nuttiness, mild caramel, macerated strawberry and a seedy fragrance, perhaps a little like caraway. There's a prickle of carbonation throughout, which is a most certain disappointment. The beer would be served beautifully by a smoother feel: even give us a gimmicky nitro-pour. A hand pump from a cask would be even better.
Overall, this is decent enough, but with flaws. The malt characters are constructed very nicely, and I really want to enjoy them in a better beer.
1,357 characters
More User Reviews:


3.3
/5
rDev
-6.5%
look: 4 | smell: 3.25 | taste: 3.25 | feel: 3.25 | overall: 3.25
A 660ml bottle with a BB of March 2014. Purchased ages ago from Trembling Madness in York and stored in my garage. The label describes it as a porter with hints of chocolate, coffee and nuts. Let's see....
Poured into a Duvel tulip. Bottle conditioned. A very deep ruby-brown hue that appears black in the glass. Intense carbonation. Produces a massive head of creamy beige foam with fantastic retention; this slowly subsides to a thick surface layer. Good lacing. Aroma of dark malt with hints of dried fruit, caramel, mild molasses, subtle chocolate, faint roasted grain, a twinge of nuttiness and earthy yeast. Rather subdued and verging on bland.
Tastes of mild dark malt with a lingering yeasty finish. Notes of subtle roasted grain, caramel, weak dried fruit, faint molasses, plenty of earthy yeast and stewed leaves. Highly attenuated, followed by a restrained, malty bitterness upon swallowing. Mouthfeel is smooth, tingly and very dry, with lively carbonation and a somewhat insubstantial body for the style. Seriously astringent, accompanied by an aftertaste of dry, earthy yeast and mild roasted malt.
Hmmmm - disappointing. Little of the character that is claimed on the label appears in this beer; perhaps it has faded over time. Looks good with a huge head, but this is the best feature. The aroma and flavour possess mild hints of roasted malt and fruit along with a ton of earthy yeast. Lacklustre body - I would expect it to be thicker and softer for a porter. Drinkable but pretty average; a pity as I've come to anticipate great things from Moor. Oh well. Sample at your own risk.
1,602 characters
3.72
/5
rDev
+5.4%
look: 4.25 | smell: 3.5 | taste: 3.75 | feel: 3.75 | overall: 3.75
660ml bottle. Apparently this was recently known as Moor's 'Peat Porter'. That may be somewhat of a dead giveaway, in terms of flavour expectations, at the very least, maybe?
This beer pours a hazy, very dark bronzed amber hue, with two healthy fingers of rather aggressive chunky, rocky, and thickly foamy off-white head, which leaves some randomly streaky cloud pattern lace around the glass as it quite slowly sinks away, rendering some bulbous surface floaties in the process. No black beauty, this one, but attractive in its own right.
It smells of biscuity, grainy pale malt, dark, chalky cocoa, oily bar nuts, a very subtle diner coffee essence, some equally tame milk solid notes, and peppy leafy, earthy noble hops. The taste is more grainy, bready pale malt, the slightest hint of caramel sweetness, a rounded gritty nuttiness, ethereal remnants of milk chocolate indulgences that once were, some very light roasted tinges, and dusty, musty, earthy hops.
The carbonation is generally perceptible on the down-low, the body medium-light in weight, barely, and kind of tacitly smooth, the frothiness and billowing noble hops somehow having an effect at this point. It finishes on the near dry side, the chocolate, cereal grain, timid lactic sweetness, and hops notes colluding to produce that particular effect.
An agreeable enough old-school porter, the dryness only somewhat informed by the milky waywardness of the style, as the chocolate and grain really seem to run the show here. With a less than standard ABV (at least in these new-world parts), I could see this as a session-worthy offering, given the opportunity by the agent 'round here, hint hint. Oh, and the previous name? Good thing they changed it, with or without the recipe, otherwise it would be rather hard to treat it as such, given that absolute lack of stereotypical Islay notes here.
1,867 characters
3.75
/5
rDev
+6.2%
look: 3.75 | smell: 3.75 | taste: 3.75 | feel: 3.75 | overall: 3.75

3.54
/5
rDev
+0.3%
look: 3.5 | smell: 3.75 | taste: 3.5 | feel: 3.25 | overall: 3.5
Canned
Lovely dark brown that is soooooo close to black body with thin splattered squiggles of tan head.
Aroma of rye bread toasted and cocoa powder
Similar flavour with a little more charring
Very thin I know it's a fairly low abv but it results in more of a dark coloured brown ale than a porter IMHO
303 characters
3.81
/5
rDev
+7.9%
look: 4.25 | smell: 3.25 | taste: 4 | feel: 3.75 | overall: 4
The colour is black (100 EBC), the two finger off-white head is pale brown. Good retention, fine lacing.
The smell is roasted and a bit sour. Coffee and oat flakes.
The taste is smooth with chocolate and roasted malts. Coffee candy and milk chocolate. The flavours are coherent. Medium body. Salmiak/liquorice in the aftertaste. Tart malty notes and rolled oats. Creamy finish.
The carbonation is light; lots of small fresh bubbles. Medium smooth liquid.
A fine English porter (or is it a stout?): Ingenuous and well balanced.
533 characters
2.6
/5
rDev
-26.3%
look: 3 | smell: 3 | taste: 2.5 | feel: 2 | overall: 2.5
Appearance - Sort of a murky brown.
Smell - Smells slightly chocolatey but no huge aromas.
Taste - Similar to chocolatey tonic water.
Mouthfeel - This beer is much too thin but it is OK and reasonably easy to drink (AKA it goes down quite nicely).
250 characters
3.82
/5
rDev
+8.2%
look: 3.5 | smell: 4 | taste: 3.75 | feel: 3.5 | overall: 4

Amoor from Moor Beer Company
3.53
out of
5
based on
12
ratings.