Wineglass Bay Hazards Ale
| Wineglass Bay Brewery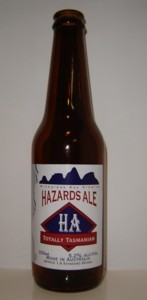 BEER INFO
Brewed by:
Wineglass Bay Brewery
Australia
Style:
English Pale Ale
Alcohol by volume (ABV):
5.20%
Availability:
Year-round
Notes / Commercial Description:
No notes at this time.
Added by rastaman on 03-01-2004
Ratings: 8 | Reviews: 6
Reviews by willjansen:
2.2
/5
rDev
-27.6%
look: 2.5 | smell: 2.5 | taste: 2 | feel: 2.5 | overall: 2
Appearance - Cloudy, murky brownish-orange. Wasn't able to keep the sediment in the bottle despite best efforts. Head is bubbly and quickly recedes.
Smell - Difficult to pin down, but hints of honey, very slight hints of raisins. Overall, smell improves with time, but neither extremly appetizing nor disgusting.
Taste - Very bland and too yeasty for first impression. Not many strong descriptors come to mind. Slight bitterness towards the end. Totally unimpressive...
Mouthfeel - Sticky, lightish body more than expected from appearance. Slightly-too-fizzy feel from carbonation.
Drinkability - To be blunt, it's not a good beer. Like a homebrew gone wrong... It's not horrible and you can indeed finish it with no problem, it is not recommended.
752 characters
More User Reviews:
2.16
/5
rDev
-28.9%
look: 3 | smell: 2 | taste: 2 | feel: 2 | overall: 2.5
Well, didn't exactly set the world on fire. Frothy lasting head on top of a cloudy orange body, with a fair bit of yeast sediment settling at the bottom of the glass. Citric nose and palate, with a kind of corn chip sort of flavour, sweetish start, dry finish, kinda bready aswell. Body is thin, but the flavour seems to hang around, not that the flavour is particularly thick or tasty or anything. definitely rough around the edges as others have mentioned.
458 characters
4.1
/5
rDev
+34.9%
look: 4 | smell: 4 | taste: 4 | feel: 4 | overall: 4.5
(Served in a wine glass) Best after 7/5/09
A- This beer has a slight hazy dark orange body wit a thin film of beige head and strands of tiny bubble pointing to the surface.
S- There is a slight sweet hint of caramel malt with a more pronounced floor malted pale malt that follows.
T- There is a light slightly sweet caramel and pale malt flavor that becomes more honey malt as the beer warms followed by a soft green bitter hop note in the finish. There is a green orange rind flavor to the hops that comes through a bit more as the beer warms.
M- This beer has a medium mouthfeel with a tight little fizz finish and no alcohol heat.
D- It is interesting that it has a drink after date on it. This beer had lighter malts but it was full of flavor and lots of depth made this a great quafting beer.
802 characters
2.61
/5
rDev
-14.1%
look: 3.5 | smell: 2.5 | taste: 2.5 | feel: 3 | overall: 2.5
bottle conditioned beer, but managed to keep most sediment in the bottle. only slightly cloudy appearance.bottle not dated.
pours with a pillowy soft white head. orange/reddish color.
very faint malty aroma. must have poured it too cold because the aroma and flavor both improved after about 10 minutes in the glass.
even after that though, it still seemed to be lacking in both categories.
this beer did have a smooth body and finishes nicely.
450 characters
3.78
/5
rDev
+24.3%
look: 3.5 | smell: 3.5 | taste: 4 | feel: 3.75 | overall: 3.75

2.88
/5
rDev
-5.3%
look: 3 | smell: 2.5 | taste: 3 | feel: 3 | overall: 3
a: hazy copper color with nice head that settles into decent thickness, lots of carbonation
s: slightly sweet malty aroma
t: malty start with small, but sharp hop finish. sweet malts linger on the palate
m: medium body with decent carbonation that finishes pretty balanced with hops & malts
d: not a bad ale, just nothing spectacular
337 characters
3.73
/5
rDev
+22.7%
look: 4 | smell: 3.5 | taste: 3.5 | feel: 4.5 | overall: 4
Had on-tap at Preachers Bar in Hobart, the best place I found for craft beer in the city.
Bright burnished golden brown, it pours quite hazy as well, with a fair head of fine white. Some sudsy lacing. Looks pretty good all up.
Slight caramelly butterscotch on the nose, with a little sharpness, green and fresh. It's actually a nice mix--not the harsh diacetyl butterscotch often brings. Sweetness does seem to win out, but it's ok. It's nicely round and full--fills out the gamut.
Taste is similar. Mild, but very pleasant, with a lot of sweetness on the front and an incredibly smooth feel from the tap. Some spicy earthiness on the back just balances it nicely.
Really drinkable and very pleasantly smooth. This was a nice drop of beer.
743 characters
Wineglass Bay Hazards Ale from Wineglass Bay Brewery
3.04
out of
5
based on
8
ratings.