Brauhaus Faust-Miltenberger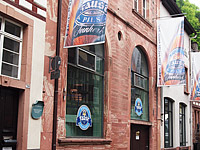 PLACE INFO
Type:
Brewery, Bar
Hauptstr. 219
Miltenberg
, 63897
Germany
(49) 09371 9713-0 |
map
faust.de
Notes:
Sold as "Miltenberger" in the US due to Anheuser-Busch owning the "Faust" copyright.
Added by BeerAdvocate
Ratings: 2 | Reviews: 1

4.25
/5
rDev 0%
vibe: 4.25 | quality: 4.25 | service: 4.25 | selection: 4.25

4.75
/5
rDev 0%
Last weekend, I was fortunate to get for my b-day a present that made me soooooo happy: a brewery tour of Brauerei Faust, in Miltenberg.
First, Miltenberg is in Oberfranken on the Main river, upstream from Bamberg, in Bayern/Bavaria. It's a beautiful medieval town on the banks of the river about 40 minutes drive from downtown Frankfurt by Autobahn, or a 90 minute trip by train. The altstadt/old city is basically 1 or 2 mile-long streets along the riverside, almost all Fachwerkhäuse (half-timbered), nestled smack up against a steep sandstone hillside. The town itself is worth a trip.
Nonetheless, I went there for the brewery tour. I'm posting pics of the town and the brewery. I'm interested to hear from you what other breweries offer on their tours. I was impressed with being allowed in the Fermentation Room, mostly 12 foot deep open squares/tanks. Our guide said most other breweries don't allow people in that room for obvious hygienic reasons, but this room was so CO2 rich, I doubt any other bacteria could stand a chance. They said the air was as thin as being at 10,000 ft. I loved the fact that they had metal pipes sucking up the CO2. Other highlights were the Lagerkellers, chambers cut deep into the mountainside that were used 100s of years ago and only a doorway's distance from the fermentation room.
A third thing that impressed me was the corporate orientation, which was based on tradition but simultaneously very forward-looking. In their promo videos they stated they believed in getting only hops/grains from the region and selling only in their local area. Their reasons were environmental to lessen the companies CO2 impact. (The irony was not lost on me... selling a product that basically IS a CO2 production!) But they focused on quality ingredients and it shows in the quality of the beer, which is typical for Oberfranken: Pils, Export, Dunkel and Kristalweizen. What got me really interested is that, despite the same family owning the brewery for 100+ years, they are really into beer. 1st, I was really impressed that they're not afraid of experimenting, for one of the beers on tap at the brewery and at the restaurant zum Reisen was their Auswanderer (expat/émigré) beer, which was basically a DIPA. I had made an Three Floyds Alpha King clone that tasted almost identical. Though I can't find it on the company's website, that beer and a cask aged Doppelbock from used whiskey barrels from Wild Turkey, showed me they weren't afraid to take risks. Part of the tour took us into an room in the old mountain cellar that was sealed, climate and humidity controlled, where they kept these casks for aging as well as multiple bottles of other worldwide beers that were lagering there. They allowed us a small glass of their 2008 Oak-aged Doppelbock and it reminded me so much of something I had had in the USA.
Basically, the tour costs only 6€/person, and I believe I drank at least 5 xs the value in beer during the tour. The tour started at 3:30pm, yet we arrived 30 minutes early, which was great because we got to sit in their drinking keller, sample as much/many beers as we wanted... and really got our drink on. I think I consumed 2 or 3 0.5L glasses before the actual tour started. They also give you beer during other parts of the tour, and of course potty breaks, so the tour lasted about 3 hours.
Finally, if you do this tour, make sure you stop by for dinner at Hotel zum Riesen, which not only has great German food at cheap prices (not only compared to other tourist towns, but in general in Germany), but it's the "oldest Gastwertschaft/inn in Germany," since 1158. To top it off, they are affiliated with Brauerei Faust and served the Auswanderer DIPA directly on tap.
One caveat- the tour is in German only, so if your German isn't so hot, bring your own translator. I had 3 or 4 of the tour participants offering to translate for me. My German is good enough that it wasn't needed, but I can imagine other tours not having participants whose English isn't so good.
4,035 characters
Brauhaus Faust-Miltenberger in Miltenberg, Germany
3.94
out of
5
based on
122
ratings.