Thoroughbred Red
| Hops Grillhouse & Brewery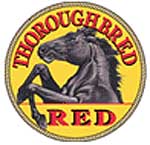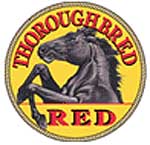 BEER INFO
Brewed by:
Hops Grillhouse & Brewery
United States
hopsonline.com
Style:
American Amber / Red Ale
Alcohol by volume (ABV):
5.10%
Availability:
Year-round
Notes / Commercial Description:
No notes at this time.
Added by TastyTaste on 04-03-2003
HISTOGRAM
Ratings: 13 | Reviews: 9
Reviews by BeefyMee:

4.1
/5
rDev
+22%
look: 4 | smell: 4 | taste: 4 | feel: 4 | overall: 4.5
I went to Hops for the first time and was pleasantly surprised by this, my first beer. It was dark amber in color with an aroma of toasted malt. The taste was great and very similar to Magic Hat's Jinx. A modest and well proportioned amount of both malt and hops made it easy to like this beer. Flavorful with a nice bitterness that pulls through about midway. There was also a trace of smokiness. I wish I knew what kind of hops are used because they seem to be the kind I like.
479 characters
More User Reviews:
3.53
/5
rDev
+5.1%
look: 4 | smell: 3.5 | taste: 3.5 | feel: 3.5 | overall: 3.5
Had this at the Newington, CT location.
L: Pours a nice copper-amber color with a medium sized and medium bodied off-white colored head that laces the glass somewhat on the way down.
S: The smell is of sweet toasted and darker roasted malts and a hint of caramel and a hint of hops at the end.
T: The taste had a nice burnt yet sweet malt taste that was pretty interesting. It was sweet then bitter then sweet and a hint of earthy hops at the end.
M: Very fresh feeling, interesting. Nice amount of carbonation.
D: Pretty drinkable, I liked this one.
551 characters

3.5
/5
rDev
+4.2%
look: 3.5 | smell: 3.5 | taste: 3.5 | feel: 3.5 | overall: 3.5
Tried at Hops in Manchester, reviewed from notes. Really pissed when they closed that place.
Clear red beer with a half finger head. Dissipated rather quickly, left a little ring around the glass, no lacing.
Aroma was slightly sweet, with a hint of cherries. Very different, not what I would have expected.
Taste was also slightly sweet, but full of rich toasty malts and biscuits. Also had a light hoppiness. No fruitiness to speak of. Well rounded.
Mouthfeel was good, full and crisp, but light and refreshing.
Good drinkability - I would have it again no problem. Would make a good session beer while chowing down their sweet little croissants.
653 characters

1.09
/5
rDev
-67.6%
look: 2.5 | smell: 1 | taste: 1 | feel: 1 | overall: 1
On tap at the Alexandria, Virginia location.
Pours a moderate amber color with a thin light tan head. Fades quickly and leaves a thin collar around the edges. The nose is quite bad with a strong medicinal component alongside a strong odor of wet, stale cardboard. Going into the taste it's more of the same with the addition of quite a lot of grain. Almost rancid. Body is light to medium with a very harsh finish. I could not finish this.
440 characters
3.38
/5
rDev
+0.6%
look: 3.5 | smell: 3 | taste: 3.5 | feel: 3.5 | overall: 3.5
About an average red. Smelled lightly of floral hops and carmel malts. Maroon in color, with a moderate off-white head. Had a nice bitter flavor, but kind of leaves you hanging, needs more of a sweet finish, In my opinion. A little more balance and this stuff would be a lot better.
282 characters

3.03
/5
rDev
-9.8%
look: 3.5 | smell: 3 | taste: 3 | feel: 3 | overall: 3
Typical red american amber ale. This beer has a decent flavor, and in my opinion the most flavor of all 4 beers available at Hops. It came in a nice cold mug, with very little head. The scent was semi sweet. Caramel sweet with slight floral aroma. The taste much in the same. Semi-sweetness. More sweet and malty. Little hops showed up.
336 characters
3.97
/5
rDev
+18.2%
look: 3.5 | smell: 4 | taste: 4 | feel: 4 | overall: 4
Clear ruby colored body. Tan head with good retention and lace, some carbonation.
The smell is full of caramel notes surrounded by nuts and floral scents.
Taste is nut and caramel molasses up front. Aftertaste is a nice balance of floral hops and sweet malts.
Full and solid mouthfeel but not much coating.
This is a very different brew and makes you relax just nicely.
-Oelergud
386 characters
2.88
/5
rDev
-14.3%
look: 3 | smell: 2.5 | taste: 3 | feel: 3 | overall: 3
Nice looking amber ale with a more reddish tint than most ambers. The brew was crystal clear and had very little white head, but left a fair amount of lace. The flavor starts of a bit sour but smooths out with a good hop sense. The finish is nicely bitter and the overall flavor is not at all bad. Malt nose. Worth a try.
321 characters

3.83
/5
rDev
+14%
look: 4 | smell: 3.5 | taste: 4 | feel: 3.5 | overall: 4
Had on tap at Hop's in Berlin, Connecticut. Pours a nice dark amber with red highlights. Really nice lacing down the glass, nice soapy head. Smell up front is of some sweet caramel maltiness, a tinge of wheat and some fruitier florals. Taste had a nice malt consistency, small amount of dry hoppiness with a bit of caramel, and some malt spice in the finish. Mouthfeel was well carbonated, medium bodied and pretty creamy upon a first sip. Finishes a bit dry with a slight bitterness. Overall, a pretty decent red, nice balance of hops and maltiness. Would have again for sure.
577 characters
3.06
/5
rDev
-8.9%
look: 3.5 | smell: 3 | taste: 3 | feel: 3.25 | overall: 3
Thoroughbred Red from Hops Grillhouse & Brewery
Beer rating:
3.36
out of
5
with
13
ratings