Brouwerij der St. Benedictusabdij de Achelse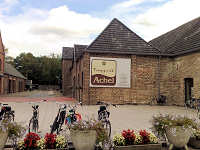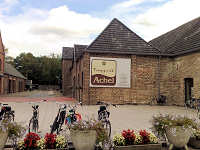 Brewery, Bar, Eatery, Beer-to-go
Kluis
Hamont-Achel
, 3930
Belgium
+32 (0)11 80 07 60 |
map
achelsekluis.org
Notes:
Recent ratings and reviews.
| Log in to view more ratings + sorting options.

Rated by ptarmigan98 from Alaska
4.14
/5
rDev
+3.2%
vibe: 4.75 | quality: 4 | service: 4 | selection: 4.25 | food: 4
Great stop on a beer tour. The beer shop has changed recently, but the selection is still outstanding.
Aug 19, 2019
Reviewed by 4thelvofbeer from Virginia
4.2
/5
rDev
+4.7%
vibe: 4.5 | quality: 4.5 | service: 4 | selection: 4 | food: 4
I love Achel beers, as limited as their beers are, they make good beer. A small operation, if you have ever been to the Monastary, it is almost quaint.

There is a very nice, very well stocked beer store at Achel and it also has a restaurant that serves its beer on tap. It is a nice place, but kinda out of the way on the Belgian Netherland border.

Great place to visit in the summertime as they have a nice big courtyard with plenty of outdoor seating.

Beer is cold and fresh and they also have slices of homemade fruit pies for sale.

Enjoy this place...it is worth the trip.
May 10, 2012

Reviewed by rvdoorn from Netherlands
4.35
/5
rDev
+8.5%
vibe: 4 | quality: 4.5 | service: 4 | selection: 5 | food: 3.5
The Achel abbey has two postal addresses, one in the Netherlands, and one in Belgium. It is located exactly on the boarder, the brewery however, is in the Belgian part, making it a Belgium Trappist. This place is very popular by Dutch and Belgium bikers (some official bikeroutes pass the abbey). The abbey has a very nice shop, with a very decent selection of beers. What I like most however, is the enormous selection of beer glasses that are available there! The abbey also has a pub/restaurant where one can drink the two table beers of the monks, and eat some food. Overall a very nice place, worth a visit
Jul 02, 2011

Reviewed by Voss from Italy
3.4
/5
rDev
-15.2%
vibe: 3 | quality: 4 | service: 3.5 | selection: 2.5 | food: 4
Making a tour of Germany and staying in Duisburg (if you don't know, its zoo is the only place in Europe where you can see koalas), we (me and my wife) could not miss a jump in Belgium for some "shopping" (40 bottles of some of their wonderful brews) and a return to the Achel Abbey we reached at closing time during our honey moon.
You cannot visit the monastery, only the church, the pub and the little market. This is more a place where locals go to buy beers and some products made by the monks, to take some rest, food and drink during their walks or bicycle tours than a mystich and mythic place where religious or beer enthisiastics (like me) find their paradise (like the Orval Abbey instead).
The restaurant consists of two big rooms (one is for smokers) and a courtyard with many seats, and is run with self service. Food varies from soups, toast and cakes, drinks from their trappist beers in bottles or on tap, one blond and one dark, both 5°, to every kind of cola and so on.
Very simple things, made, as said before, to have a break rather than lunch or dinner, but how good they are!
We took a couple of toasts made with ham and their cheese (Kaas) and two slices of a strawberry cake. Pure pleasure in pure simplicity. We took the blond and the dark trappist on tap, I think this is the only place you can taste them (as for the Petit Orval).
Nothing special, but if you are in range, you cannot miss it, at least for the little market. Here you can find almost every good beer Belgium produces, 33 and 75cc bottles, glasses, meet, cheese, kaas, and other goods. I came out with two crates of every trappist beer (except for westvleteren), St. Bernardus, Maredsous, Hoegaarden, Val Dieux, Chouffe...
And as for the other trappist Abbeys, Achelse Kluis is immersed in the green and quietness, another beautiful place in that beautiful country called Belgium.
Aug 26, 2008
Reviewed by TheLongBeachBum from California
3
/5
rDev
-25.2%
vibe: 3 | quality: 3 | service: 3 | selection: 3 | food: 3
Our 2001 Belgium Trip, included a visit to the newest (& for a very short time the Worlds 7th) Trappist monastery to start brewing. The St. Benedictus Abbey added a modern day Brewery, Shop & Visitor Café back in 1999. At first, the beers were only available in the Café – as was the case in April '01 when we visited here.

Achel is right on the Dutch border, in fact it quite literally sits on it, for the official border runs right through the monastery itself. The Brewery lies on the Belgium side.

At the time we visited, the Visitors Café at the monastery was the only place to sample the Achel beers, & they were only available in the draft format for they had not yet started bottling the beers. The Café reminded me of a 1960's old style school dining hall, which has rather basic tables & chairs, & a system based on a rather ill-organized self-service people conveyer system. Walk-past offerings included some sandwiches, sweets & pastries. At the end by the Till where you pay, drinks choice includes Tea, Coffee & ah-ah, the draft Achel beers! They had all 3 beers that they were brewing at this time, these were (April '01); Blond (4%), Bruin (5%) & Blond (6%). The beers were the lowest strength I have ever come across from a Trappist Brewery & they were average at best. Probably the best of the trio was the 6% Blond, the others were definitely lacking. Surely they would improve over time?

Outside the Cafe is a monastery shop called the 'BierWinkel', which sells amongst other fund-raising items, a rather decent range of bottled beer. On my visit, it was 50 or so, though I believe it is somewhere in the range of 150 now. Good prices.

The journey across glorious lush green countryside to visit this beautiful Abbey in a superbly tranquil setting, to partake of the newest Trappist beers in a small sparse Student-like Refectory Café can be a juxta-pose shock for some though - it certainly was for me.

Last Visit: Saturday 14th April 2001.


Update: June 2003 - The Achel beers are now widely available on draft & in bottle, throughout Belgium & several Export markets including the USA. The range too has altered since my visit. As predicted, the beers have evolved greatly & thankfully improved vastly in quality. The range has settled at 4 beers, at least for the time being, a 5% & an 8% version, of both a Blond & a Brune beer. I feel that these too will improve in quality & the range may well alter to be revised again in the future.
Jun 20, 2003
Brouwerij der St. Benedictusabdij de Achelse in Hamont-Achel, Belgium
Brewery rating:
4.2
out of
5
with
2337
ratings