Svijanský Rytíř 12%
| Pivovar Svijany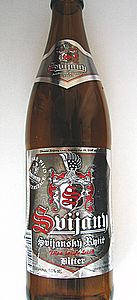 BEER INFO
Brewed by:
Pivovar Svijany
Czech Republic
pivovarsvijany.cz
Style:
Czech Pilsener
Alcohol by volume (ABV):
5.00%
Availability:
Year-round
Notes / Commercial Description:
No notes at this time.
Added by cooter on 01-18-2005
Reviews: 8 | Ratings: 18

4.27
/5
rDev
+8.1%
look: 4.5 | smell: 4.25 | taste: 4.25 | feel: 4.25 | overall: 4.25
I liked this beer, brewery, this never ceases to amaze me, the taste of the bright, saturated natural vision bitterly, with a slight aftertaste, zaph heard immediately when you open the bottle, so the beer thirsty and drink at the end of regret that it ended !!!
262 characters
3.63
/5
rDev
-8.1%
look: 4.5 | smell: 4 | taste: 3.5 | feel: 4 | overall: 3
The colour is deep gold; the liquid is clear. The large firm head is white. It builds a fine crater on top. Some lacing occurs.
The smell is loaded with noble hops and an elegant bitterness. Some sweet hints. Overall the flavours are very clean and balanced.
The taste is creamy and mellow with quite a lot of clean sweet notes. Lots of aromatic hops, notes of straw and flowers. The aftertaste is soft and a bit sweet. The bitterness grows slowly, as does a hint of old fashioned fruit drops. Saccharin in the finish.
The carbonation is very soft, lost of small bubbles. The liquid is smooth, almost like a nitro-beer.
A bit too sweet for me, especially in the finish. Otherwise, this is a solid pilsner.
711 characters
4.18
/5
rDev
+5.8%
look: 4.5 | smell: 4 | taste: 4 | feel: 4.5 | overall: 4.5
500ml bottle, from a shop in prague
appearance: served in hotel water glass - lightly hazed golden body, full frothy white cap and good retention
smell: nicely hopped (as noted by the english word "bitter" on the label), some nice dry malts
taste: nice czech pils - fresh and floral, delicate czech hops, light grain and lightly toasted malts. enjoyable and a nice suggestion from the barkeep
mouthfeel: light, crisp, frothy
drinkability: nice
448 characters
4.8
/5
rDev
+21.5%
look: 4.5 | smell: 4.5 | taste: 5 | feel: 4.5 | overall: 5
Love this unpasteurised beer from this great smaller bottler from North Bohenia. I drink it a lot at a couple of places I know that stock it in Prague. I also drink it bottled at home, at it is still superb. A pilsner style lager as it should be made.
251 characters
3.93
/5
rDev
-0.5%
look: 4 | smell: 3.5 | taste: 4 | feel: 3.5 | overall: 4.5
Quite enjoyed this beer. Had it from the bottle fresh a few kilometers from the source. The appearance is clear yellow/amber with a thin head which remains through drinking. Quite a departure from other Svijany offerings and one that I wouldn't hesitate to try again. For some reason, and not as a complaint, leaves a slight numbing feeling in the mouth.
354 characters
4.15
/5
rDev
+5.1%
look: 4 | smell: 4 | taste: 4 | feel: 4.5 | overall: 4.5
Grabbed this bottle from the famous Pivni Galerie in Prague. The best before date is 9 Aug. 05!! Well, I suppose it's alright to drink a beer having expired for only five days…
A: served in a 300ml Weissbier glass, it pours a lovely dark golden hue, with a consistently 1cm thick, tight, white beer head with good retention, leaving tight but uneven lacing. Quite fizzy, like a sparkling wine.
S: slightly sweet, grainy and bready note approaches at the front, more lemony, and lightly grassy and lemony hops assert themselves;… an aromatic hoppy aroma mixed of red apples and (surprisingly) green bananas runs rather deeply underneath. Overall a very soft, aromatic nose as a decent pale Pilsner with good body should have.
T: hmmm… immediately arriving at the palate is a rather distinctive, intense bitter taste of hops, along with an interesting buttery and clove-spicy taste like a lesser version of a hefe-weizen; the bitterness is not so much overwhelming as profoundly lingering, running deeply down the tongue and throat, while it gathers force bit by bit with the creamy texture of bread and chewy grains underneath and a solid backbone of aromatic hops. Fantastic bitterness lingers extremely well, for a pale pilsner at least. No doubt on the beer label the word "Bitter" (in English) is clearly specified: it's brewed to taste as such and different from traditional pilsner!
M&D: this beer has a very refreshingly bitter as well as soft and creamy mouthfeel, and that's the very reason why I truly love this beer. Having tried this beer on draught (alas I didn't take any beer-note) and another nice pale pilsner by Svijany (Knize 13%) on draught at a fantastic pub in Prague, this bottled version of Rytiř is simply distinctively nice as well as thirst-quenching, and adds to my good impression of the products by this brewery… alas, if only there was another bottle to savour~~ Again, thanks very much for your kind recommendation, Sigmund!
1,966 characters
4
/5
rDev
+1.3%
look: 4 | smell: 4 | taste: 4 | feel: 4 | overall: 4
500 ml bottle, bought at Pivni Galerie, Prague. Golden colour, large lasting head. Strong fruity and flowery hops aroma, some malts in there too, faint hints of leather and camphor. Flavour is a hoppy bitter explosion from start to finish, verging on being too much, but there also is a delicate malty sweetness below which makes the bitterness acceptable. Long, bitter and dry aftertaste. Who said pilseners don't taste of anything?
434 characters

4.12
/5
rDev
+4.3%
look: 4 | smell: 4.5 | taste: 4 | feel: 5 | overall: 3.5
This Svijany is a light lager with a delightful surprise--typically, the term "světlý ležák" (light lager; the typical-by-dozen-times-over brew here) on a Czech bottle depresses me, because (typically) it signifies another carbon copy of the style, with the only possible taste change being uric acid.
This one, however, says "Bitter," which is not a terribly surprising claim in itself considering the hoppy bite of most Bohemian brews. It also has a dark lager brother that I have tried and loved. Anticipation...preparation for being let down...
A lofty, cloudy head gives off a creamy, hoppy aroma. The first sip bursts with unique flavors, reminding me of an IPA. An entertaining and smooth mouthfeel that never turns to a sour aftertaste (like most do) wins me over; this is the style done right, and it wins a lot of points just on being this style and working. Bite and bitter in a positive sense. A beautiful, not-letting-me-down brew.
959 characters
Svijanský Rytíř 12% from Pivovar Svijany
3.95
out of
5
based on
18
ratings.