Svijanský Máz 11%
| Pivovar Svijany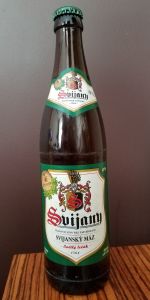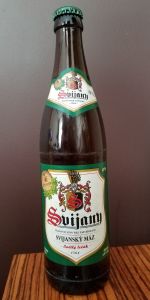 BEER INFO
Brewed by:
Pivovar Svijany
Czech Republic
pivovarsvijany.cz
Style:
Bohemian Pilsener
Alcohol by volume (ABV):
4.80%
Availability:
Year-round
Notes / Commercial Description:
None provided.
Reviews: 9 | Ratings: 29
3.83
/5
rDev
+5.8%
look: 4.25 | smell: 3.75 | taste: 3.75 | feel: 3.75 | overall: 4
500ml can - another thoughtful gift from an old friend from Prague who was visiting the Rocky Mountains here last week. Zero English on the wordy label - nice!
This beer pours a clear, bright medium golden yellow colour, with four fingers of puffy, rocky, and somewhat bubbly off-white head, which leaves some splendidly thorough snow rime lace around the glass as it slowly but surely abates.
It smells of grainy and crackery cereal malt, a bit of mixed pome fruitiness, some damp minerality, and subtle earthy, floral, and grassy green hop bitters. The taste is gritty and grainy pale malt, a generic acrid fruity character, some stoney flintiness, a bit of lager yeast, and more leafy, weedy, and grassy verdant hoppiness.
The carbonation is adequate in its palate-satiating frothiness, the body a decent middleweight, and mostly smooth, but for a touch of yeast acerbity perhaps making a few too many waves at this particular juncture. It finishes trending dry, the crackery malt and grassy hops keeping up appearances.
Overall - this is certainly akin to what I drank tons of the last time I was in Central Europe, nice and crisp in its bearing. Definitely the real deal, and quite enjoyable on a comfortably sunny Alberta afternoon, I must say.
1,258 characters

3.84
/5
rDev
+6.1%
look: 4.25 | smell: 4 | taste: 3.75 | feel: 3.75 | overall: 3.75
This brewery ispytavala special affection, as I consider it one of the best breweries in the Czech Republic, but that's what the beer is certainly not the brightest representative of her !!!
190 characters
2.52
/5
rDev
-30.4%
look: 2 | smell: 3 | taste: 2.5 | feel: 2.25 | overall: 2.25
Served: Bottled; tasted at home.
Look and style: The bottle is as simple as it can be with a retro (or rather obsolete) etiquette. Beer in a glass looks like nice, classic pale gold Czech lager.
Taste: They have probably a great source of water in Svijnay, because water is a dominant taste of their beer. Svijany evolved through last years. Maz got rid of its typical "banana" aftertaste and substituted it with a watery feel. The beer has almost no interesting taste with an exception of "spicy" aftertaste, which makes it less drinkable.
Recommendation: Avoid this beer. It is rather worse Czech lager with no style or interesting taste.
643 characters

3.81
/5
rDev
+5.2%
look: 4 | smell: 3.5 | taste: 4 | feel: 3.75 | overall: 3.75
My neighbor and occasional trivia teammate travels for work on an infrequent basis, but he is always on the lookout for new CANs for me in furtherance of The CANQuest (TM). This is one of his recent acquisitions and I am quite excited about it!
From the CAN: "Svijany Brewery is located at the southern tip of the Liberec region. Year of foundation 1564 is one of the oldest breweries in the Czech Republic."; "SVIJANY Brand today represents the traditional, purely Czech beer produced in the quality of water from their own wells, malt from selected varieties of malting barley, with the addition of the finest Saaz hops. Production is carried out using modern equipment, in compliance with the classical technological process which is characterized by a two-step fermentation and long maturation in the lager cellars at low temperature. Svijanska beer is not chemically treated, retains a clean and hoppy taste and aroma."; "Enjoy classic beer, the result of skill and care experienced brewers, unmistakable, perfectly prepared original!"; Savor Svijany!"; "Helles Lager Beer"; "Svijany Maz Lager"; "Pivo Beer Bier Piwo HHBO Birra Biere Verveza Cerveja Starkol". (All translated from the Czech using Google Translate).
I almost blew it on the Crack by not paying close attention to the positioning of the opening tab. It was slightly skewed to the left and might have bent and perhaps broken off had I not felt something was amiss. Lessons learned over the course of The CANQuest (TM). I celebrated with an inverted Glug and ended up with two-plus fingers of dense, bone-white head that looked like the top of a vanilla ice cream cone. Color was a pretty sunshine-yellow (SRM = 4) with NE-quality clarity. Nose was grassy and malty, but more malty than I prefer in this style. Mouthfeel was medium and the grassiness of the Noble hops had a better presence in the mouth than on the nose, which was a relief. I would hate to be disappointed in a Czech Pils by a Czech brewer. Great lacing began to appear as I drank through it. Finish had a slight maltiness, but it was a pretty dry beer, overall. I really enjoyed this for several reasons, including its authenticity, my friend's generosity and it being another CANned beer from the larger world. I would definitely drink this more often if I had regular access to it.
2,322 characters
4.58
/5
rDev
+26.5%
look: 4.5 | smell: 4.5 | taste: 4.75 | feel: 4.25 | overall: 4.5
One of my favorite Czech beers. Refreshing and smooth. Great color and taste. Very refreshing on a hot day and perfectly carbonated as are most Czech beers. I have lived here for ten years and this is one of my favorites.
I highly recommend it to anyone that likes Czech beer.
277 characters
4.13
/5
rDev
+14.1%
look: 5 | smell: 5 | taste: 3 | feel: 4.75 | overall: 4.75
Svijany , my first choice of pivovar ( brewery ) in Czech pivo ( beer )
good all round drink on a hot day , neither too strong abv or weak .
Not by nature a lager drinker being British and having a tongue that wants real ale so choosing this as a first choice is down to it's original taste slightly bitter.
Excellent beer to have in the fridge or to offer to friends.
368 characters

3.41
/5
rDev
-5.8%
look: 4 | smell: 3 | taste: 3.5 | feel: 3.5 | overall: 3.5
A buddy of mine found Svijany at a local beer store and picked me up a can....thx JG!! The beer poured golden clear with decent carbonation that provided a white head, which laced. The smell was typical barley, grain, some Saaz hop. The taste had decent balance between the malt and the hop, which made the beer finish a little bitter. Mouthfeel was a medium bodied plenty of carbonation. Overall is was a good typical Czech Pils.
430 characters

3.15
/5
rDev
-13%
look: 3.5 | smell: 3.5 | taste: 3 | feel: 3 | overall: 3
Purchased from gas station near Pisek, Czech Republic.
.5L bottle served in Pilsner glass.
A- Pale gold; pours a perfect, thick head. Thick lacing.
S- Slightly malty, fresh cut hay.
T- Toasted malts with grass and spice. Ends with a distinct bitterness.
M- Mild bodied, lots of carbonation.
D- Typical of a regional Czech Pils. Pretty good beer.
352 characters
3.42
/5
rDev
-5.5%
look: 3 | smell: 3.5 | taste: 3.5 | feel: 3 | overall: 3.5
Golden blond color, clean,with a visible carbonation. Beautiful white foam, not too persistent.
In the smell a light maltiness, fresh, with a good grassy hop, and cereal. Pleasant.
At the taste, aftert a malty start, an explosion og a good intense hop, long standing, in the aftertaste, too.
Bitter, thirst-quenching, and pleasant. And with a good maltiness in the smell.
371 characters
Svijanský Máz 11% from Pivovar Svijany
Beer rating:
3.62
out of
5
with
29
ratings