Sedm Kulí (13% Speciální Pivo Polotmavé )
| Pivovar Ferdinand / Pivovar Benešov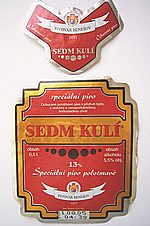 BEER INFO
Brewed by:
Pivovar Ferdinand / Pivovar Benešov
Czech Republic
pivovarbenesov.cz
Style:
Euro Dark Lager
Alcohol by volume (ABV):
5.50%
Availability:
Year-round
Notes / Commercial Description:
No notes at this time.
Added by wl0307 on 07-12-2005
Reviews: 6 | Ratings: 18

3.55
/5
rDev
-4.8%
look: 4 | smell: 4 | taste: 3.5 | feel: 3.5 | overall: 3
Pours a beautiful ruby colour with a distinctly creamy head.
Sticking my nose in the glass and there were traces of liquorice, pepper and even a touch of basil - three of my favourite smells on the planet.
Thus it was with expectation that I took my first mouthful, and sure enough it was malty and quite sweet. However, I found the sweetness to be rather syrupy, and the beer in general to be uninspiring.
★
410 characters
4.15
/5
rDev
+11.3%
look: 4 | smell: 4 | taste: 4 | feel: 4.5 | overall: 4.5
I picked up my bottle of Sedm Kuli on a recommendation from the owner of Pivini Galeri. I'm glad that I did, as it was easily the best of the brews I brought home. It pours a pleasant garnet color with a lacy head. The aroma is slightly herbal and hints at caramel. The flavor is nicely balanced with a somewhat more aggressive hop presence than I expected from a Czech beer. There are plenty of cereal flavors and a pleasant kettle caramel. The brew had a nice body and as expected from Czech brews and excellent drinkability. It definitely didn't finish leaving me thinking it might have been overly sweet.
★
608 characters

3.92
/5
rDev
+5.1%
look: 4 | smell: 4.5 | taste: 3.5 | feel: 4 | overall: 4
A big head and lovely shaded colour. Lacing as well. Plenty of dark malt in the aroma, excellent selection, a good blending. Like a herbal bitterness. Some wheat as well is detecable in the mouthfeel, another good choice as it seems to round out the flavour nicely. A bunch of flavour meets a pronouced mouthfeel meets easy drinkability. I could agree to Vienna (though, higher than average in my opinion for that style) or even as marzen or dunkel. Neat beer and very well rounded overall, especially in the mouthfeel. A malty body with great finish. Well produced beer, excellent for the style. Enjoyed!
★
605 characters
3.47
/5
rDev
-7%
look: 4 | smell: 2 | taste: 4 | feel: 3.5 | overall: 4
Big head though beer smell, lace, and nice reddish dark colour. Well malted. Carbonation on the aggressive side. Overall bold taste, with some herbal addition. There is a bit of yeast and wheat in the taste. Good finish.A good Vienna, thanks to Jan Biegeman. Good with food.
★
274 characters
3.22
/5
rDev
-13.7%
look: 2.5 | smell: 3 | taste: 3.5 | feel: 3.5 | overall: 3
Old dark red color. Beige foam, not too much, not too beautiful.
In the smell it has something of a dunkel: caramel, dark malt, dry plums, vanilla, candy sugar, and a bit of liquorice. Quite complex and pleasant.
Malty taste, with caramel and candy sugar, dry fruits, and a hop and liquorice bitterness. The same notes of the smell. Good.
Medium body. In the aftertaste, a comeback of a good and lingering bitterness, with plums and dry fruits. Malt present, and persistent, too, but not boring.
★
495 characters
4.08
/5
rDev
+9.4%
look: 4.5 | smell: 4 | taste: 4 | feel: 4.5 | overall: 4
Tasted this beer in the small drinking area of the brilliant beer shop in Prague, Pivni Galerie, on 30/06/05. Recommended by the outgoing boss, it truly is a nice amber, rather than dark, lager, as the name "Polotmavé" suggests, and the style is a bit like Märzen in my opinion.
Pours a dark, clear, copper hue, with an effervescent off-white beerhead which sustains throughout the drink. The deep aroma of lightly-burned brown sugar, sweetish dark malts dominates the nose but not overly simple, as a vertical structure on the nose is balanced between sweetness, bitterness and sourness--just about right! The palate again shows soft caramel and brown-sugary flavour, while delicate hops at the back balances the malty body very well. This is a medium-flavoured amber lager, and the mouthfeel remains refreshing and smooth throughout, without falling into the overly malty, simple, sticky, and sweet category. To me, it's a very enjoyable beer to savour in every season and on every occasion! And I thank the boss for recommending this beer to me.
★
1,054 characters
Sedm Kulí (13% Speciální Pivo Polotmavé ) from Pivovar Ferdinand / Pivovar Benešov
3.73
out of
5
based on
18
ratings.