Bufadora
| Consorcio Cervecero De Baja California ( La Taberna TJ )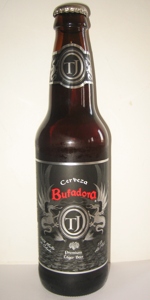 BEER INFO
Brewed by:
Consorcio Cervecero De Baja California ( La Taberna TJ )
Mexico
tjbeer.com
Style:
Maibock / Helles Bock
Alcohol by volume (ABV):
7.50%
Availability:
Year-round
Notes / Commercial Description:
No notes at this time.
Added by karait95 on 12-12-2010
Reviews: 8 | Ratings: 21
2.84
/5
rDev
-9.6%
look: 2.5 | smell: 2.75 | taste: 3 | feel: 2.75 | overall: 2.75
Amber color with a thin head with short retention.
Light aroma of caramels, apple puree and cinnamon.
Flavor with notes of caramel malt sweetness, herbal hops, cinnamon, apple puree, some Cointreau liquor and maybe, just maybe red fruits. Dry and bitter aftertaste.
Medium towards full body with appropriate carbonation. Alcohol of 7.5% is relatively well hidden.
Average Maibock, it does fit the style and it is not that of a mild version as it is most of the Tijuana beers.
476 characters

3.55
/5
rDev
+13.1%
look: 3.75 | smell: 3.75 | taste: 3.5 | feel: 3.25 | overall: 3.5
Reviewed from notes. Poured from bomber into a Cigar City pint glass.
A: Light copper, slight haze, with a small white head and good visible carbonation.
S: Cracker and pilsner malts, fruit-forward yeast esters that almost smell Belgian (apples, bananas and clove).
T: Follows the nose very closely. Malt forward up front - more toasted biscuit malt, less pilsner character. Then Belgian fruity yeastiness (mostly apple, clove, maybe a bit of cherry). Then just a touch of grassy hop bitterness at the swallow.
M: Medium body, carbonation sensation on the low side. The alcohol is more noticeable than usual for a maibock.
O: I don't think this is a very good example of style. However, it's certainly not offensive and stays pretty drinkable. Just taken for what the beer happens to be, it's not half bad.
811 characters
1.53
/5
rDev
-51.3%
look: 3 | smell: 2.5 | taste: 1 | feel: 1.5 | overall: 1
Poured out a dark gold. OK looking. Smelled like booze and reminded me of malt liquor. Surprised this is 100% malt. Taste was yucky. Just like that. This tastes like malt liquor. Reminds me of Andygator but worse. Mouthfeel is nothing to write home about. Just not feeling this.
This is Mexico's Andygator. Stay away. I normally like Tijuana's beers, but this is not for me.
375 characters

3.29
/5
rDev
+4.8%
look: 4 | smell: 2.5 | taste: 3.5 | feel: 3.5 | overall: 3.5
Little aroma was noticed.
Nice dark amber color with a light tan head. Nice crisp beer.
A little bitterness with a medium roasted malt flavor.
A good bit of carbonation with a pretty good body.
The 7.5 abv isn't very noticable.
Over all a pretty decent beer.
263 characters
3.44
/5
rDev
+9.6%
look: 4.5 | smell: 3 | taste: 3.5 | feel: 3.5 | overall: 3.5
A - Brownish red clear color, nice tan head and plenty of lace.
S - Not much. Thin subtle breadiness and hint of hops.
T - Light bready malt, slight hop to balance.
M - Med-light body, good carb and balance.
D - Nice beer to enjoy at Petco Park watching a Padres game!
272 characters
3.66
/5
rDev
+16.6%
look: 4 | smell: 3 | taste: 4 | feel: 4 | overall: 3.5
Although not necessarily the best helles bock the world has ever seen, an absolutely excellent beer to find in macro-centric, flavour-averse Mexico! Gives me hope for the future of Mexican artisanal brewing.
Clear amber with orange highlights, decent carbonation and off-white head. Sweet, single dimensional aroma followed by a much more impressive, multi-layered taste. It's a treat to enjoy caramelized, roasted malts without any corn or other adjuncts!
The 7.5% ABV means this isn't a session beer, but the alcohol warmth morphs nicely into a pleasantly lingering, bitter finish.
Overall a very pleasant surprise and a beer I'd definitely recommend others try.
667 characters
3.47
/5
rDev
+10.5%
look: 3 | smell: 3.5 | taste: 3.5 | feel: 3.5 | overall: 3.5
A: pale red-brown color, alittle bit paler than expected according to the style, completely traslucent, consistent carbonatation, generates a foamy, no white, 2 finger head, with good retention
S: some caramel notes and dark fruits,
T: incredible but there are not sweet notes at all, in fact there is a nice bitter after taste, some bready and buiscuit notes, light to medium body, the alcohol presence is not noticed
Not the best bock, but if you find it give it a try!
475 characters
3.49
/5
rDev
+11.1%
look: 3 | smell: 4 | taste: 3.5 | feel: 3.5 | overall: 3
A: Dark amber color, almost red with a lot of brightness, a little head that dissipates some how fast, leaving behind no traces on the glass ant a very thin layer over the liquid.
S: Full caramel like aroma, it is really pleasant, a little of tasted malty, some alcohol can be sensed witch should be.
T: Good flavor, not to hard as expected really barley with really faint herbs flavors I cannot identify.
M: A little dry at the end, with a little sweet and alcohol at the beginning, its lasting is good it remains in your throat a little while.
I really enjoy this doppelbock, if you can give it a try.
615 characters
Bufadora from Consorcio Cervecero De Baja California ( La Taberna TJ )
3.14
out of
5
based on
21
ratings.