1784
| UAB Švyturys - Utenos alus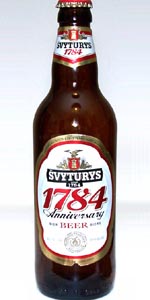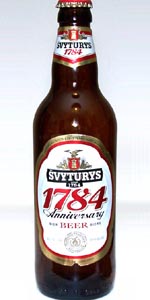 BEER INFO
Brewed by:
UAB Švyturys - Utenos alus
Lithuania
svyturys.lt
Style:
European Export / Dortmunder
Alcohol by volume (ABV):
5.40%
Availability:
Year-round
Notes / Commercial Description:
None provided.
This beer is retired; no longer brewed.
HISTOGRAM
Ratings: 8 | Reviews: 6
Reviews by mattmaples:
2.8
/5
rDev
-10.5%
look: 3 | smell: 3 | taste: 2.5 | feel: 3 | overall: 3
This Lithuanian Pilsner is light golden in color with a distinct hop aroma. The flavor is light and has a pronounced bitter finish. A bit harsh around the edges. I ecpected a bit more for their "anniversary" beer. I liked their other two but there was not too much to this one except the bitter finish.
302 characters
More User Reviews:

3.97
/5
rDev
+26.8%
look: 3.5 | smell: 4 | taste: 4 | feel: 4 | overall: 4
Pretty good interpretation of the style. Quite enjoyable. Pours out to a hazy bright gold yellow colro with a decent head of white foam totalling about 1/4 inch. No lace. Medium level of carbonation. Aroma of sweet malt and yeast, mixed with hay and grass. Nice. Taste was medium bodied and refreshing; sweet malt, mild hops, grass, light grain, some notes of buttery biscuts. Impressive. Mouthfeel was bubbly and light, very enjoyable. Drinkability is good. I'd like this again for the summer months. Would make a great partner to burgers and hot dogs on the grill. Recommended drinking.
588 characters
3.37
/5
rDev
+7.7%
look: 3.5 | smell: 4 | taste: 3.5 | feel: 3 | overall: 2.5
We got this bottle from Flair Beverage in Manhattan. It was probably the most robust and spunky Pilsner that we've ever had. In some ways, it tasted more like an Ale than a Pilsner. Deceivingly light in color. Very flavorful hops and heavier than an average Pilsner
265 characters
2.24
/5
rDev
-28.4%
look: 3.5 | smell: 2 | taste: 2 | feel: 2.5 | overall: 2.5
This beer had a slight sweet aroma of malt and grass. It was an attractive golden color with a small white head that didn't last. It had a crisp taste with a mixture of citrus and skunkyness.
It was very refreshing but didn't have a lot of character.
253 characters
3.45
/5
rDev
+10.2%
look: 3.5 | smell: 3.5 | taste: 3.5 | feel: 3 | overall: 3.5
BB 15/03/2006.
A: pale-straw hued, highly carbonated, with white, thick and pillowy head with not bad retention.
S: noble-hop (like Saaz) dominated, lightly perfumy, with mild spice and herbal hops, with a touch of mild strawberry kind of fruity hint, covering a bed of refreshing, grainy malts. Alas the aroma doesn't sustain too well, slowly dissipating after several times of swirling.
T: bready-textured and toasty-flavoured maltiness upfront, with a light backbone of herbal hops underlined by a light, toasty bitterness. Very light grainy flavour is left in the aftertaste along with semi-dryish bitterness of hops lingering at the back of the palate.
M&D: pretty refreshing due to creamy carbonation, and the texture crisply clean, though the overall body is too thin for my taste and for a pilsner IMO. Can't pinpoint exactly which style it's brewed to be, but it's a good-bodied pilsner-like lager with healthy balance on the nose and palate all the same.
968 characters
2.93
/5
rDev
-6.4%
look: 3 | smell: 2.5 | taste: 3 | feel: 3.5 | overall: 3
Mildly milky, pale gold... like sunshine in winter. The bright white cap has a quality look about it. It's impressively persistent, but isn't sticky enough to leave more than a smattering of lace. The good cancels out the bad, resulting in an average appearance.
The nose isn't hoppy enough for the style. As a result, it most resembles a Euro pale lager. It's slightly sweet and untoasted grainy with minimally musky hops. Bottom line: not enough power and not enough personality.
While 1784 is better on the palate, it still isn't earth-shattering. More hops would have kept the EPL comparisons at bay. It's acceptably malted with plenty of sweetness, more than is usual actually. Since I don't mind sweet graininess as much as bitter graininess, I'm sorta okay with it. Another comparison would be to a lower alcohol malt liquor.
What hoppiness makes its way to my taste buds is mildly grassy, making me think that at least one noble is in the house. The mouthfeel is style medium and the restrained carbonation gives it a smooth, slick feel that matches the sweetness fairly well. Unfortunately, that same sweetness impairs drinkability in the end.
Svyturys 1784 Anniversary Beer was named in honor of the year the brewery (the oldest in Lithuania) was founded. On the other side of the Atlantic, that was the year the American Revolution officially ended. This beer may be long on history, but it's short on excitement. Another ho-hummer from Eastern Europe.
1,475 characters
1784 from UAB Švyturys - Utenos alus
Beer rating:
3.13
out of
5
with
8
ratings