Maksimum
| UAB Švyturys - Utenos alus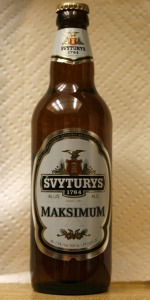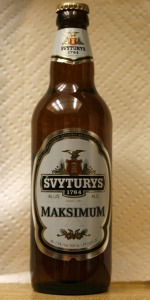 BEER INFO
Brewed by:
UAB Švyturys - Utenos alus
Lithuania
svyturys.lt
Style:
Euro Strong Lager
Alcohol by volume (ABV):
7.50%
Availability:
Year-round
Notes / Commercial Description:
No notes at this time.
Added by Mora2000 on 12-17-2009
HISTOGRAM
Ratings: 14 | Reviews: 10
Reviews by mrquartetman:
3.83
/5
rDev
+31.6%
look: 4 | smell: 3.5 | taste: 4 | feel: 3.5 | overall: 4
A: Pours a golden color with a medium head that does not persist
S: Does not have a distinctive aroma, other than mild malt
T: Can't quite figure out what is "maxsimum" in this ale - the taste is somewhat above average, not really like a mass-market beer, but it doesn't do as much for me as the Baltijos
M: The beer does not stay for long on the palate; i fact, while having a nice initial taste, it disappears too quickly
D: Probably good on a summer day.
Some notes on the BA info on this beer: It's not a Euro Strong Lager. It's a strong ale. Its abv is, according to the bottle, 7.5%. Nothing about it at this point on the Svyturys web site.
I bought it at the River Forest, IL Whole Foods that I tried to get listed as a "beer store" here, but could not (even though every other Whole Foods in the area is on the list). That store seems to have some sort of thing for the Svyturys line. It started with the Baltijos Dark Red Ale and the Baltas Weizen, now has 4 or 5 of their beers, including this one. All seem to be at a very nice price point: $1.89 for a 500 ml bottle.
1,080 characters
More User Reviews:
3.36
/5
rDev
+15.5%
look: 4 | smell: 3 | taste: 3.5 | feel: 3 | overall: 3.5
Picked up during a recent trip to Houston. I bought it to see what a beer from Lithuania would be like.
Pours a clear yellow with a small white head. Lots of bubbles.
Smell is that of a typical Euro lager. Smells a lot like Baltika No. 9 with some corn and hops, as well as a slight fruit aroma that I can't quite pick out.
The flavor is similar to the aroma with the typical macro flavor. That being said, this is a very easy drinking beer. Compared to other beers of a similar style, this is a good beer.
The mouthfeel is pretty thin and there is quite a bit of carbonation.
580 characters
3.62
/5
rDev
+24.4%
look: 2.5 | smell: 3 | taste: 4 | feel: 3.5 | overall: 4
same as the others haven't tried a beer from Lithuania so i thought "give it a shot", plus it was on sale, pours light golden color, white head that dissipates quickly low to no head retention lots carbonation bubbles flow for some time. mouth feel average, light hop smell almost no hop taste, a slight buttery taste at first that fades. light malt taste. decent strong lager
376 characters
3.62
/5
rDev
+24.4%
look: 3.5 | smell: 4 | taste: 3.5 | feel: 3.5 | overall: 3.5
Poured from a brown 16.9 oz. bottle. Has a liht golden color with a 1/2 inch head. Smell is alive with grians, malts, somewhat sweet. Taste is crisp, lots of grains, some malts and sweetness. Feels medium bodied in the mouth and overall is an enjoyable beer.
258 characters

1.88
/5
rDev
-35.4%
look: 3.5 | smell: 3 | taste: 1.5 | feel: 1.5 | overall: 1
Found this beast in the singles basket at Spec's. With a name like 'MAKSIMUM', who can resist?! 500 mL pours a very clear, medium yellow color. Fine-bubbled white head displays some nice retention and moderate lacing.
Nose is actually not too bad, light noble hopping with a grainy malt presence. Alcohol is not as bad as I thought it might be at 7.5%. Little bit of cardboard and some adjuncts as well.
Ok, wow...there's the alcohol. Tropical fruity and powerful in the taste. Grainy malt is sweet and approaching corn syrup status as the hops are not doing anything for me in the finish. When very cold, it is palatable...as it warms - watch out! Rough around the edges is putting it mildly. This is comparable to America's malt liquors. I couldn't see anyone drinking this for anything besides catching a buzz. I am pretty sure I wont be finishing my half liter sample.
874 characters
3
/5
rDev
+3.1%
look: 3 | smell: 3 | taste: 3 | feel: 3 | overall: 3
Appearance: Medium golden body with a touch of haze, topped by a large, billowy white head, which persists fairly well. The lacing is patchy, there are clouds of fine, slow-rising carbonation.
Aroma: Rather sweet, with lots of alcohol, grain, particularly corn, apparently, and a bit of lemon zest.
Taste: Abundant grain notes and sweet alcohol throughout. As the taste draws to a close, there is a moderate metallic hop note, which helps to cut the sweetness. Rather like an American Malt Liquor.
Mouth feel: Smooth and fairly full, pleasant.
Drinkability/notes: Not bad, really, not much that distinguishes it from malt liquor. Still, for around two dollars a bottle, its hard to dislike it.
Presentation: Packaged in a 500 ml brown glass bottle, with a pop-off crown, served in a Pilsener glass.
804 characters

2.22
/5
rDev
-23.7%
look: 4 | smell: 2 | taste: 2 | feel: 3 | overall: 2
My fifth offering for New Beer Sunday (Week 385).
This came to me from tone77 in one of our ongoing series of trades and I will reiterate the importance of having (at least) one local trader. He and I pass beers back and forth and one never knows what the other is getting.
From the bottle: "Svyturys Maksimum is an ale deceptively light in color while betraying a rich boldness with a perfect balance of hops and barley."
My pour betrayed a Greg Koch special - a fizzy yellow beer, but why should I care? I am drinking ales and lagers today! I managed a brief finger of bone-white froth, but it wilted in the heat. Color was a sunshine yellow with NE-quality clarity and I wished that I had opened this at night or in the dead of winter when such a sight would be much more welcomed. Nose smelled of plastics factory, bubble gum, dry cleaning fluid and suddenly the heavy tramping of the Cybermen could be heard on the other side of the fence. How could you do this to me?!? You know that I am susceptible ... Mouthfeel was slightly full thanks to all of the carbonation, but it succeeded only in scrubbing open my taste buds to the point that I could taste it all. It had an incredible unworldly sweetness like pink bubble gum and dry cleaning fluid. Finish was dry. Yeah, it was bone-dry, which is what happens when you work your little yeasties until they are so tired that they cannot go on. This was hangover in a bottle! Ugh.
1,435 characters

2.47
/5
rDev
-15.1%
look: 2 | smell: 2.5 | taste: 2.5 | feel: 2.5 | overall: 2.5
A: Nothing surprising about the pour on this one--pale, pale yellow in color, almost clear with no head retention whatsoever.
S: A sweet corn and grain aroma with a slight lemon note and some definite sourness.
T: I was surprised to find a light bitterness on the palate, unfortunately, this is overshadowed by the usual sweet grain, alcohol, and skunkiness of the beer.
M: The body is, as expected, light with a fizzy carbonation.
D: This is essentially like any American malt liquor I've ever tried. Not something I'd go for again, but good to try a beer from the fine nation of Lithuania.
595 characters
2.42
/5
rDev
-16.8%
look: 2 | smell: 2.5 | taste: 2.5 | feel: 2 | overall: 2.5
Found a beer from a country I had not yet tried and thought I would buy a four pack of the 500ml bottles. First the packaging is not so good and one fell out and smashed on my garage floor. Having set my expectations low based on other eastern block beers I was right in line with where this beer lies. Pale yellow color with little in the line of aroma. Full white course head that fades quickly and leaves zero lacing. This strikes me as a particularly Americanized version of an otherwise unimpressive beer. Taste is slightly sweet with little hop or malt character. Would not be bad to serve on tap at a college keg party. Not a beer I will be buying again but I will keep an eye out for other Svytury's to make sure I give the brewery a chance.
749 characters

2.33
/5
rDev
-19.9%
look: 2.5 | smell: 2 | taste: 2.5 | feel: 2 | overall: 2.5
little yellow beer with a crap load of carbonation.
corny hops and it is an okay beer from the smell and taste, whow, hold on it is a little too much in the alchohol taste. way too much, too much carbonation, it seems this beer is trying to be a good micro beer that depends on its location to be high quality but still needs to depend on being a low quality taste, oh well. it is okay, for the price.
402 characters
Maksimum from UAB Švyturys - Utenos alus
Beer rating:
2.91
out of
5
with
14
ratings