Dogwood Pale Ale
| Dogwood Brewing Company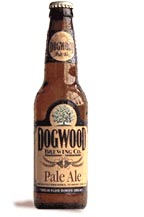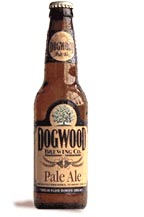 BEER INFO
Brewed by:
Dogwood Brewing Company
Georgia
,
United States
dogwoodbrewing.com
Style:
American Pale Ale (APA)
Alcohol by volume (ABV):
not listed
Availability:
Year-round
Notes / Commercial Description:
No notes at this time.
Added by aracauna on 06-26-2002
This beer is retired; no longer brewed.
HISTOGRAM
Ratings: 13 | Reviews: 13
Reviews by FormatKid:
3.2
/5
rDev
-11.6%
look: 3.5 | smell: 3.5 | taste: 3 | feel: 3.5 | overall: 3
I picked up a single of this from Riverside Beverage in Chattanooga as part of a mixed sixer. I haven't heard anything about the beer or brewery so we'll see how it goes.
Pours out into a pint glass slightly on the yellow side of orange. The vision is hazy and plump carbonation bubbles roll languidly to the top of the glass. A respectable, big-bubbled fizzy head coalesces a finger and a half high but quickly turns into a thin crusty layer on top of the brew.
Smells sweet and fruity, not exactly what I was expecting but pleasing none the less. Alongside the citrus I can pick out a mixed berry scent that I wouldn't expect in an APA. Powdery malt backbone is present as well.
The taste on this brew really throws me. The sweet, musty yeast is a lot more prominent than I would expect in this style beer. It practically dominates my taste buds. It eclipses the malt and the citrus notes play the sidelines. A really bready taste is present throughout the middle. Mouthfeel is medium-light and carbonation is appropriate for the style.
This beer dumb-founds me. Much sweeter than I anticipated, and I don't expect this much of a yeasty presence in an APA. Not bad, just not appropriate.
1,207 characters
More User Reviews:

3.73
/5
rDev
+3%
look: 4 | smell: 3.5 | taste: 3.5 | feel: 3.5 | overall: 4.5
Pours a hazy peach with a nice looking head layered on top that leaves a trace amount of lacing,aroma is light of orange and bready malt.taste is lightly sweet with a touch of caramel somewhat odd for the style and even a little soapiness.I notice this beer is very lively in the carbonation department pretty spritzy for a pale ale.This brew wont knock ur socks off but I could drink alot of these in one session.
414 characters
3.53
/5
rDev
-2.5%
look: 3.5 | smell: 3 | taste: 3.5 | feel: 4 | overall: 4
Pours a one-finger head over a slightly cloudy copper body. Head dissipates quickly with hardly any lacing. Not much on the nose, maybe just a touch of hops (although I do have a bit of a head cold). Light mouthfeel, slightly creamy. Light hoppiness, some bitterness, very little aftertaste. A good beer for late afternoon when you want a light thirst-quencher.
361 characters
3.38
/5
rDev
-6.6%
look: 3.5 | smell: 3 | taste: 3.5 | feel: 3.5 | overall: 3.5
Pours amber with a big bubbly head.
Mild hoppy aroma with the lightest bit of citrus and yeast.
Medium body, yeasty flavors mixed with slight floral flavors. No real noticable flavors, they all tend to mix together. Finishes with a light dryness. Sweetness becomes more noticable as it warms.
Average pale ale, worth a try.
333 characters
4
/5
rDev
+10.5%
look: 4 | smell: 4 | taste: 4 | feel: 4 | overall: 4
Pours to a nice white head with tiny bubbles and a hazy orange-amber color. Aroma is of fresh yeast and sweet malt. Flavor is malty, caramel sweet with a nice pleasant hoppy flavor and bitterness in the finish. Mouthfeel is ok. I like this beer. As a homebrew, it would be a winner. As a commercial beer, it is a bit rough around the edges, but has more character than the average American microbrewed pale ale.
411 characters
2.83
/5
rDev
-21.8%
look: 3.5 | smell: 3 | taste: 2.5 | feel: 3 | overall: 3
Pours a cloudy amber color from the bottle. There was a white foamy head that disappeared rather quickly. There was a small amount of lace present on the sides of the glass. Smells slightly fruity and grassy. Taste was sweetish on the malt side followed by little hop bitterness. There was a slight grassyness in the finish. Medium body, but a bit overcarbonated. I suppose this is easy to drink, but I was expecting more. Where is the hop presence. Yes this Pale Ale is supposed to be balanced, however I think the malt clearly sticks out, and the hops and an afterthought. Personally, I would probably pass on this one.
621 characters
3.57
/5
rDev
-1.4%
look: 3.5 | smell: 4 | taste: 3.5 | feel: 3 | overall: 3.5
The one problem I find with Dogwood Breweries beers is the excessive carbonation, which I like to attribute to bottle conditioning, but I think that is in error. As with others, this one is way over the top "Fizzy Wise", but once it settles down, the color is a nice orange to yellow amber, the head modest and frothy, with the lace nice sheets to cover the glass. Yeast is quite evident, as are the malts and even a hint of the hop flower. Start is sweet and the top middling in feel, the finish pleasantly acidic, mellow on the hops and the aftertaste droughty, a drinkable Pale Ale.
587 characters
4.25
/5
rDev
+17.4%
look: 3 | smell: 3 | taste: 5 | feel: 3.5 | overall: 5
This is very nice brew...arrived a cloudy golden yellow with a lively head and a short sence of yeast.
Head quickly left leaving a full lace and no cling.
Carbonation is lively.
Body is almost full.
Taste is exceptional...well balanced but does start to the hops and ends the same way...no linger...just satisfaction.
Session brew?....You bet!!!
350 characters
3.97
/5
rDev
+9.7%
look: 3 | smell: 3.5 | taste: 4 | feel: 3.5 | overall: 5
The appearance isn't much -- the head is sluggish and fast-fading. Body is just what you'd expect from a Pale Ale. the aroma is slightly citrusy hops. The flavor is nice, however. Toasty malt, caramel and a bit of chocolate that does more to mellow the character than to be a prominent aspect of the flavor. Surprisingly crips. Hops are subdued (despite being the biggest part of the aroma). There's a slight tea-like aspect to the flavor. Great drinkability, good session beer.
478 characters
3.6
/5
rDev
-0.6%
look: 3.5 | smell: 3.5 | taste: 3.5 | feel: 3.5 | overall: 4
An unexpected bonus to find this in the Atlanta airport in the Delta Airlines business lounge...and free! Oh yeah! The brew is a nice clear gold/orange color. Head is decent but dissipates rapidly. A swirl regenerates the head and the faint nose, which consists of sweetish grain and minimal hops. The crisp and snappy hoppy character shines through and dominates the flavor, with a bit of malt to balance things out. A nice session brew that's quite drinkable.
461 characters

3.38
/5
rDev
-6.6%
look: 3.5 | smell: 3 | taste: 3.5 | feel: 3.5 | overall: 3.5
The beer poured hazy golden. The head was white, but fell back extremely quickly. It did lace the glass.
The aroma was earthy and woodsy hops (Northern Brewer?).
The flavor was slight caramel and fruity. Slight caramel, not much complexity in the beer, but some bitterness in the background.
The finish was dry with a slight caramel into the aftertaste, not much of a finish. The body was medium and very smooth.
12 ounce bottle. (Neck label appears to have been applied by a three year old.)
504 characters
3.63
/5
rDev
+0.3%
look: 3.5 | smell: 3 | taste: 4 | feel: 4 | overall: 3.5
Somewhat copper in color, with a slight haze to it. A bit of a tan head, but it dissapates quickly. Aroma isn't too strong. Slight citrusy hops in the nose. The taste is quite good. There is a farily good balance of maltiness and hops, with a fair amout of body. Also, very smooth. A pretty decent EPA. I thank Delta for having this selection in addition to the normal Macros!!
377 characters
3.95
/5
rDev
+9.1%
look: 4 | smell: 4 | taste: 4 | feel: 3.5 | overall: 4
When in Atlanta I always buy a case of this brew to bring home. A very good pale ale that has a pleasing deep copper color and while not overwhelming a very good aroma. Just enough hops to please this hophead but not to much for those who don't prefer very hoppy beer. Very drinkable with or without food I highly recommend this to all............CHEERS
356 characters
Dogwood Pale Ale from Dogwood Brewing Company
Beer rating:
3.62
out of
5
with
13
ratings