Berliner Bürgerbräu Rotkehlchen
| Berliner Bürgerbräu GmbH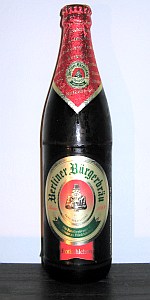 BEER INFO
Brewed by:
Berliner Bürgerbräu GmbH
Germany
Style:
German Pilsener
Alcohol by volume (ABV):
5.20%
Availability:
Year-round
Notes / Commercial Description:
No notes at this time.
Added by rastaman on 01-16-2003
This beer is retired; no longer brewed.
Reviews: 6 | Ratings: 9
Reviews by sfprint:
2.15
/5
rDev
-24.6%
look: 2.5 | smell: 2.5 | taste: 2 | feel: 2 | overall: 2
A: Orange rust, minimal rising carbonation with uneven fluffy head with moderate retention.
S: Very German malt: somewhat sweet, metallic. and surprisingly peppermint.
T: Dull, empty, bitter/sour aftertaste.
M: Medium body, carbonation almost non existent.
O: Not great but drinkable.
286 characters
More User Reviews:
2
/5
rDev
-29.8%
look: 2 | smell: 2 | taste: 2 | feel: 2 | overall: 2
Very boring, thin and sweet, not particularly bitter. Quite a tinny metallic flavour, and nopt even that easy or pleasnt to drink. Not a good example of a German pils, leans more towards the mass produced examples. But perhaps just slightly better, i don't understand? their schwarzbier is so tasty!
299 characters

3.81
/5
rDev
+33.7%
look: 3.75 | smell: 4 | taste: 3.75 | feel: 3.75 | overall: 3.75
2.51
/5
rDev
-11.9%
look: 3.5 | smell: 2.5 | taste: 2.5 | feel: 3 | overall: 2
Nice looking bottle with some fancy red foil around the neck and a gold and red label.
Poured a tall creamy off-white head that popped its way to a thin film. Deep golden beer holds a few dozen streams of tiny bubbles. Not much aroma, which is good because it's mostly a sweet stale grain scent. Unpleasant malt sweetness in the flavor borders on corny. Finishes with a lingering metallic flavor. Mouthfeel is packed full of carbonation, which is good because it keeps the flavor from sticking to your tongue. First off, don't drink this if you're looking for a Pils because it's not even close. Secondly, it's not very good no matter what you're in the mood for. There are some bad aspects to this beer (mainly the corny and tiny flavors, and the crappy aroma) and no redeeming qualities.
793 characters
3.4
/5
rDev
+19.3%
look: 3 | smell: 3 | taste: 3.5 | feel: 4 | overall: 3.5
Pours deep yellow with an active loose white head that's gone fast to leave a stagnant film of bubbles. Nose is corny sweetness and flint. Golden syrup and corn husk malts followed by a mineral Noble hop hit. Medium, some stick, soft.
I was expecting the worst from the other reviews and it ain't pretty in the glass, but this is a totally adequate - maybe too sweet - if unambitious German pils.
397 characters

4.25
/5
rDev
+49.1%
First things first: this beer is definitely still brewed!
Served cool from 500ml bottle purchased from Beers of Europe into straight pilsner mug.
Had this on tap from the brewery tap in Friedrichshagen (Berlin) and it is a winner. Hope it is just as good from the bottle:
A) Attractive deep amber colour, lots of bubbles and a fluffy white head. This is not a standard pilsner, the colour is deeper.
S) Sweet malt and pilsner hops.
T) Excellent balance of sweetish malts and bitterness of pilsner hops; think of a cross between a Munich hell and a German pils. Bitter hop after taste is very persistent. After a few gulps the warming flavour of the malt also balances the aftertaste. This really is a good lager.
M) Lightish, nicely carbonated and refreshing. Goes down easy. Too easy.
O) Takes the best sweetish malt elements of Munich hell and bittering hops of a German pilsner, balances them perfectly and gives you the perfect lager. A first class bier!
973 characters

2.18
/5
rDev
-23.5%
look: 3 | smell: 2.5 | taste: 2 | feel: 2 | overall: 2
really disappointing beer from burgerbrau. their schwarzbiers a beauty, and was expecting more of the same but ended up being a huge let down.
color was a cloudy light red with a generous head which mellowed but didnt fade away to nothing. small hint of malt and some traces of cut hay on the nose. flavor sorely lacking. was a bit sweet, not enough presence of grains of any kind and the hallertau hops just did not fit in with anything and added no impact to the brew. petered out to nothing despite a reasonale level of bubble.
a nothing beer on the whole. there is nothing in this brew to make you want to drink it over anything else. uninspired and on the insipid side. at the lower end of german beers on the ranking scale.
737 characters
Berliner Bürgerbräu Rotkehlchen from Berliner Bürgerbräu GmbH
2.85
out of
5
based on
9
ratings.