Löwenbräu Alkoholfrei
| Löwenbräu AG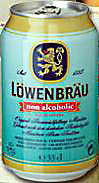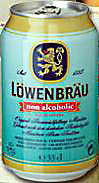 BEER INFO
Brewed by:
Löwenbräu AG
Germany
loewenbraeu.de
Style:
Low Alcohol Beer
Alcohol by volume (ABV):
0.50%
Availability:
Year-round
Notes / Commercial Description:
No notes at this time.
Added by brewdlyhooked13 on 11-16-2003
HISTOGRAM
Ratings: 10 | Reviews: 7
Reviews by MTNboy:
4.39
/5
rDev
+47.3%
look: 3 | smell: 4 | taste: 4.5 | feel: 4.5 | overall: 5
Usually I am lot big on non-alcoholic beer but lately that is all I can get. I would have to say if you have to go for "Near Beer" this one and St. Pauli's would be my choices. It has a good beer flavor. It is very smooth going down. It has a real nice aroma to it. You can almost close your eyes and imagine you are home.
325 characters
More User Reviews:
2.14
/5
rDev
-28.2%
look: 3 | smell: 1.5 | taste: 2 | feel: 3 | overall: 2.5
So,I am currently stationed in Kandahar Afghanistan, and this is one of the only beers they sell on base. All beer here is NA. I finally decided to try this one.
This beer pours a clear, waterlike color, with no head.
This beer has a slightly metalic aroma, which is odd since it came from a bottle. Maybe it picked it up from the cap? A slight vegital aroma is also present.
This beer tastes like it smells. I get a strong boiled cabbage flavor. That is really about it. It actually has more flavor that I would expect from a NA beer.
This beer is highly carbonated. It leaves a vegital aftertaste.
This beer would make a great session beer if it tasted good, since it has no alcohol.
Overall: I didnt expect much from this beer since it is NA, and I wasnt let down. I am surprized that it wasnt worse.
Overall: I will probably drink it again because it is only beer or water here, and the water gives youi malaria.
924 characters

1.5
/5
rDev
-49.7%
look: 1.5 | smell: 1.5 | taste: 1.5 | feel: 1.5 | overall: 1.5
3.06
/5
rDev
+2.7%
look: 3 | smell: 2 | taste: 4 | feel: 3 | overall: 2.5
500ml bottle. Best before 06. 2012.
It pours a gold more-or-less like any helles. The head is a bit crappier looking though.
It smells very herbal and mediciney with a hint of bread.
The flavor is similar, with a bit more sweetness. Flavor-wise it isn't the worst NA beer out there.
287 characters
3.92
/5
rDev
+31.5%
look: 3.5 | smell: 4 | taste: 3.5 | feel: 4.5 | overall: 4.5
Nice herbal hop aroma with a light pils malt sweetness underneath. Short white head holds strong. Tiny bubbles rise through the transparent golden beer. The mouthfeel is surprisingly fuller then a Pilsner, and almost as full as a helles. The hops arent' assertive in the flavor, but they balance the sweetness and make a brief bitter appearance in the finish. The typical alcohol free beer sweetness is there, but in this case there is actually some malt flavor there to mask it. This is definitely one of the top NA beers.
523 characters
2.95
/5
rDev
-1%
look: 3 | smell: 3 | taste: 3 | feel: 2.5 | overall: 3
I got this can at the nearby Supermercado Disco here in Recoleta, Buenos Aires. Poured with a nice fine white head, and the clumpy lace that seems to go with NA beer. Aroma, as is typical too, is mostly malty. This does have some noticeable hop. Flavor's about the same but with some funny flavor in the background I can't identify. Fizz is a little sharp (label includes CO 2). Otherwise, body's not too bad either. Not as bad as most others rate it. Wouldn't be the worst choice for an NA.
491 characters
3.67
/5
rDev
+23.2%
look: 3 | smell: 3.5 | taste: 4 | feel: 2.5 | overall: 4
Drank directly from the bottle, ice cold. No room for snifters on deployment. For only coming from the bottle, I did pick up on a surprisingly nice hoppy aroma. Not quite as bitter tasting as I expected from the smell, but not unpleasant by any means. Mouthfeel is that of any typical BMC. Not impressed there. Overall drinkability was good. This drink was rather refreshing and exceeded my expectations.
If you're on deployment, pick this one up before the bitberger.
470 characters
1.87
/5
rDev
-37.2%
look: 1.5 | smell: 2 | taste: 2 | feel: 2 | overall: 1.5
Ingredients: Malts, hops.
appearance: golden, transparent body, white immediately disappearing head, aggressive head.
aroma: foul greasy cookie smell
taste: slightly sweet, no hops, tastes lightly of apple bread.
Sweet apple aftet taste
mouthfeel: thin and unpleasant
drinkability: the sweet aftertaste ruins this.
This is what their website says about this beer:
Our alternative non-alcoholic beer, made from the finest malt, rare aromatic hops and our own strain of yeast.
A full-flavoured, refreshing beer with less than 0.5 % alcohol content. Ideal for health-conscious nutrition buffs and as an isotonic drink for athletes. A genuine Löwenbräu with an original gravity of 7.2 %.
703 characters
Löwenbräu Alkoholfrei from Löwenbräu AG
Beer rating:
2.98
out of
5
with
10
ratings