November Gale Pale Ale
| Keweenaw Brewing Company
BA SCORE
81
good
12
Reviews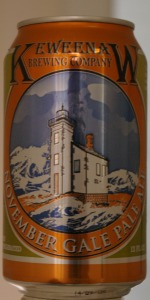 BEER INFO
Brewed by:
Keweenaw Brewing Company
Michigan
,
United States
keweenawbrewing.com
Style:
American Pale Ale (APA)
Alcohol by volume (ABV):
5.10%
Availability:
Year-round
Notes / Commercial Description:
No notes at this time.
Added by MarcatGSB on 05-17-2012
Reviews: 12 | Ratings: 70
3.52
/5
rDev
+4.1%
look: 3.75 | smell: 3.5 | taste: 3.5 | feel: 3.5 | overall: 3.5
This pours a murky golden color. The head was minimal, and dissipated fairly fast. The nose has some hops on it. The taste is slightly hoppy, some maltiness. Feels somewhat wattery. Not bad.
190 characters
2.48
/5
rDev
-26.6%
look: 2.5 | smell: 2.5 | taste: 2.5 | feel: 2.25 | overall: 2.5
On tap at the brewery. Weak and bland pale, watery. Hops swimming around somewhere in the mix. Finish is flat and metallic. I'm thinking they may have extremely hard water up there.
181 characters

3.56
/5
rDev
+5.3%
look: 3.5 | smell: 3.75 | taste: 3.5 | feel: 3.5 | overall: 3.5
One of the really unexpected pleasures that I have derived from The CANQuest (tm) is the quality of the graphics when transferred from a paper label onto aluminum. Some went directly to a CAN, so there is no CANparison, but nobody has cooler CAN labels that Keweenaw B.C. in the U.P. of MI. I was ecstatic when I spotted one that I had not seen before while visiting a college buddy in Ann Arbor and then I had to take a picture and get it approved. Here we are!
From the CAN: "The Keweenaw Brewing Company, located in the Upper Peninsula of Michigan, was founded with the goal of turning beer drinkers into craft beer lovers."; "A golden pale ale, this beer hs medium malt character, assertive hop bitterness with a distinctive fruity aroma and citrus finish."; "'The infamous storms of November descend on Lake Superior as winter closes in on the region. These powerful gales have plagued mariners from the earliest days of shipping and still garner their fear and respect in the 21st century.' With hurricane-force winds and wave heights reaching 35 feet, Gull Rock Lighthouse (circa. 1867) stands off shore of Keweenaw Peninsula in defiance of a 'November Gale'."; "From a Family of Fine Ales"; "Hand Crafted Beer South Range, Michigan Est. 2003".
I really like hearing a nice, loud Crack! as it inspires me to CANduct an inverted pour, which is just what I did. This netted me two-plus fingers of dense, tawny head that slowly fell, leaving nice, sticky lacing in its wake. Color was a slightly hazy Amber to Deep Amber/Light Copper (SRM = > 9, < 13). Nose had a grassy mintiness. I have to admit that I was intrigued at this point. Mouthfeel was medium. The taste had a slightly astringent bitterness. It was not hopped to the point of saturation, but it was pushing that upper limit. It finished very dry, somewhat astringent, with a lemony citrus tartness. It was pretty good, overall, but I just think that it could use a minor tweaking of its recipe to make it a little less puckeringly dry.
2,004 characters
3.68
/5
rDev
+8.9%
look: 4 | smell: 3.5 | taste: 3.5 | feel: 4 | overall: 4
12 ounce can into pint glass, canned on 8/22/2014. Pours lightly hazy/cloudy golden orange color with a 1 finger dense off white head with good retention, that reduces to a small cap that lingers. Nice spotty soapy lacing clings down the glass. Aromas of grapefruit, lemon zest, orange peel, pine, floral, grass, light caramel, bread, and floral/grassy earthiness. Nice and pleasant aromas with good balance and complexity of citrus/floral hops and moderate pale malt sweetness; with solid strength. Taste of grapefruit, lemon zest, orange peel, light pine, floral, grass, light caramel, bread, and floral/grassy earthiness. Light pine/grassy bitterness on the finish; with lingering notes of grapefruit, lemon/orange zest, light pine, light caramel, bread, and floral/grassy earthiness on the finish for a good bit. Good complexity and robustness of citrus/floral hops and moderate pale malt sweetness; with a good malt/bitterness balance and zero cloying flavors after the finish. Medium carbonation and body; with a smooth, fairly crisp, and lightly sticky mouthfeel that is nice. Alcohol is well hidden with zero warming present after the finish. Overall this is a nice pale ale style. All around good balance, robustness, and complexity of citrus/floral hops and moderate pale malt flavors; and very smooth and crisp to drink. A nicely enjoyable offering.
1,360 characters
3.46
/5
rDev
+2.4%
look: 3.75 | smell: 3.25 | taste: 3.5 | feel: 3.5 | overall: 3.5
12oz Can
$7.99 6-Pack
Kap N' Keg - Traverse City
November Gale Pale Ale is translucent with a bright, glowing sunset orange body and mild haze. A modest antique white, soapy cap covers the body while large carbonation rushes to the surface. Some nice patchy lacing clings to the glass. Good looking beer.
Citric hoppiness leads the way in the nose, orange and grapefruit in that order of intensity. The orange is sweet and the grapefruit is just kind of there. The malt profile shows clean graininess, a touch of caramel, and some dry white toast. Not bad, but a little ho hum.
The flavor is similiar to the aroma, a little more robust even. The orange brightens up and is on the sweet side as the sugared grapefruit becomes more pronounced and less muddled than in the nose. Malt profile runs the same, clean graininess, soft caramel, and a little toast.
The weight is on the lower side of moderate and, while this is very minor, it actually feels to light at times. The bitterness is on the low end of the spectrum and the drinkability is sky high.
Overall, November Gale is a solid, no brainer pale ale. This beer won't knock your socks off or wow your friends but it is a sturdy choice as an activity beer whether that's keeping busy on the grill, doing yardwork, or hanging out at a party. I could see myself picking this up again, especially at $7.99 a 6-pack.
1,373 characters
3.72
/5
rDev
+10.1%
look: 3.75 | smell: 3.5 | taste: 3.75 | feel: 4 | overall: 3.75
Appearance- big 2 fingers of light beige head that dissipates slowly, good amount of swirling carbonation, light amber
Smell- Decent amount of floral hops with some light toffee sweetness, some breadiness as well with a bit of grain, not much in terms of bite to the hops
Taste- The front is light and sweet while the mid-mouth holds most of the flavor, grains and some slight hop bitter on the back
Mouthfeel- light/medium, not as heavy as an amber but not as light as a pilsner, halfway between water and milk, seems about right
Overall- this is a pale ale, plain and simple, it does the trick as a beer you can have after some strenuous work and most definitely sessionable. I'd get another 6-pack.
705 characters
3.33
/5
rDev
-1.5%
look: 4 | smell: 3.5 | taste: 3 | feel: 3.5 | overall: 3.5
Poured from an undated 12 oz. can: clear, deep golden to copper with a quickly receding white-head.
The ale has a sharp, perfumy hop punch in the aroma; some faint malt aroma wafts upward after the initial hop blast.
Like the aroma, the flavor is all over the place. The flavor begins with a nice malty sweetness(perhaps too much so) including some faint caramel notes. Then the astrigent hop profile comes through, offering a bracing bitterness on the back of palate. The ale becomes more balanced as it warms in the glass.
This light to medium bodied ale has a soft and clean mouthfeel with restrained carbonation. The aftertaste struggles between the assertive hop and the malt before finally ending in a slightly minty flavor.
This ale has a quite different (and better) taste after it is allowed to warm a bit in the pint glass. It has a decent flavor profile but hardly memorable. I would not seek it out again which is the same thought I had when I tried another offering from this brewery.
1,002 characters

3.46
/5
rDev
+2.4%
look: 5 | smell: 4 | taste: 3 | feel: 4 | overall: 3
I thought this beer was very well balanced with the malt to support the high level of bitterness. Also, good head retention with some lacing that made it enjoyable to look at. I thought there could have been some more hop flavor in the beer. I picked up some pine character and then it quickly went away when the bitterness came into play. Maybe they could do a bit more of later kettle hop additions for a bit more hop flavor. Since there are so many great Pale Ale's out there, this is one I probably wouldn't purchase again.
a: Pale gold in color and fairly transparent. Pours a large head that is long lasting off-white and is creamy in nature.
s: Predominate hop aroma consisting of citrus and floral notes with a background of Munich malt. Malt aroma is moderately low and toasty in nature. No caramel detected. No esters.
t: Earthy, piney hop flavor with a touch of citrus that follows with a strong level of bitterness. Good malt backbone to support the strong level of bitterness. Not detecting a whole lot of malt flavor except some toastiness. Bitterness lingers in the aftertaste but is not too powerful to be unpleasant. Moderately dry finish
m: Medium body with moderate carbonation. No alcohol warmth.
1,220 characters
4.15
/5
rDev
+22.8%
look: 4 | smell: 4 | taste: 4.5 | feel: 3.5 | overall: 4
Appearance – This pale ale pours a beautiful copper color with a thick head that quickly dies down. The head that is retaing is thin but leave a little lacing on the glass.
Smell – A little sweet malt smell dominates at first until the citrus and pine of the hops shine through.
Taste - A good balance of hops and malt. There is a definite caramel note that shines through the moderate hop flavors.
Mouthfeel – The balance of the malts and hops play well on the tuonge with the carbonation pushing the hops towards the end.
Overall – KBC's mottos is to turn the average beer drinker into a craft brew drinker. This is an excellent step from Pick Axe Blonde and Lift Bridge Brown into a excellent example of a pale ale. This is a solid pale ale that does not take a back seat to other pale ales.
808 characters

3.12
/5
rDev
-7.7%
look: 3 | smell: 3.5 | taste: 3 | feel: 3 | overall: 3
I picked up a can of Keweenaw's November Gale Pale Ale a couple days ago for $1.39 at The Lager Mill. It's a nice summer night in Mid Michigan and a Pale Ale is sounding pretty good right now, so lets see how it goes. No visible canning date, but this is a new release so I'm sure it's fairly fresh. Poured from a 12oz can into a imperial pint glass.
A- I like the way this can looks, it looks good, and the picture of the waves surrounding a lighthouse looks pretty nice. It poured a slightly hazy golden yellow color that took on more of an orange like color when held to the light with two fingers worth of fluffy white head that died down to a thin ring that stayed till the end and left a little bit of patchy lacing. This beer looks ok and pretty average for an American Pale Ale.
S- The aroma is pretty straight forward, it starts of with some pale malts that have a higher amount of sweetness and impart some sweet grainy aromas along with some white bread and biscuit like aroma. Up next comes a unique fruity aroma that is similar to apple juice and is followed by some noticeably spicy and slightly earthy hops. The aroma was ok and pretty unique for an American Pale ale, I liked it more then I thought I would.
T- The taste seems to be pretty similar to the aroma. It starts off with some slightly sweet pale malts that impart some grainy, bready, and a slight biscuit like flavors. Up next comes the hops that impart a slight fruity taste which is a little similar to apple juice and is followed by some spicy and earthy hops that impart a medium amount of bitterness that lingers in the aftertaste along with some pale malts and spicy hops. This is an average tasting American Pale Ale, it didn't have any off flavors but it also didn't have any flavors that stuck out as being really well done.
M- Somewhat smooth, crisp, on the lighter side of being medium bodied, and it had a slightly higher amount of medium carbonation. The mouthfeel is ok, it's pretty average for an American Pale Ale.
Overall I was pretty indifferent about this beer and I thought that it was a pretty average example of an American Pale Ale, there was nothing about it that was really wrong, but it just didn't come together as well as a good American Pale Ale should. This beer had ok drinkability, it was a little smooth and the flavors were unique but they didn't keep me that interested, one or two of these would be enough for me. What I liked most about this beer was the aroma, it was pretty unique for the style and I liked that. What I liked least about this beer was that it was rough around the edges and the flavors didn't come together as nicely as they should have. I don't think I would buy this beer again, it's not that hard to find a much better American Pale Ale for around the same price, if you are really into the style this is worth a try for it's uniqueness but other then that it's not something really worth seeking out. So far I have yet to be impressed with a beer from Keweenaw they all seem to be pretty average at best and not that memorable and this beer fall right in line with that, nothing special here, just an average but somewhat different American Pale Ale.
3,192 characters
2.99
/5
rDev
-11.5%
look: 4.5 | smell: 3 | taste: 2.5 | feel: 4 | overall: 3
APPEARANCE - pours a deep gold/orange color with a thick pillowy head. very carbonated but head loses intensity quickly. brilliant clarity.
AROMA - low to moderate hop and malt aromas. malt scent after initial pour reminds me of common english style pale ales. wafts of biscuit and baked bread round out what would otherwise be a disappointing pale ale aroma. the packaging (can) references the citruis presence from the hops, but it was mostly absent.
FLAVOR - moderate hop and malt flavors. hints of bready/biscuity notes were a big plus but there was not a lot of hop character which sort of goes against what the style might commonly call for.
MOUTHFEEL - medium-light body. very carbonated but appropriate for the style.
OVERALL IMPRESSION - aside from the suprising clarity and cleanness of the beer, this "american pale ale" left me wanting more as a result of its moderate (kinda boring) hop and malt presence. unfortuntey, it doesn't fit the molding of many other great beers under the style umbrella. Buuut, as a yooper, i will say that it's good to see KBC canning and moving a new style.
1,103 characters
2.73
/5
rDev
-19.2%
look: 3 | smell: 2.5 | taste: 2.5 | feel: 3.5 | overall: 3
New year round release in a can. Poured into two pint glasses.
Appearance: Copper appearance with a minimal one finger head. Some sparse lacing.
Nose: Biscuit, some esthery notes, a little bit of hop, but not overwhelming.
Taste: Seems to be a bit metallic. Some hop bitterness lingers on the back of the palate. Not a real prominent hop character, a bit lacking. A bit muddled, no distinctive hop character.
Mouth: Mouthfeel is fine, maybe a bit undercarbonated (which is opposite of most KBC cans, as they almost always froth out of the can when opened). Good body though, not too heavy. The hop flavor does show on the tongue, and has a lasting effect, but not quite positive what the flavor or feel is. Like I said, a bit muddled.
Drink and Overall: A decent expression. Hard to stand up to some of the classic Pale Ale's that are widely available, but people do enjoy their local beers, and I think this is something a bit different than the other year round offerings from the KBC.
1,007 characters
November Gale Pale Ale from Keweenaw Brewing Company
3.38
out of
5
based on
70
ratings.