Batch 622
| Magic Hat Brewing Company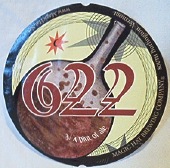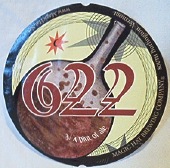 BEER INFO
Brewed by:
Magic Hat Brewing Company
Vermont
,
United States
magichat.net
Style:
Smoked Beer
Alcohol by volume (ABV):
not listed
Availability:
Limited (brewed once)
Notes / Commercial Description:
No notes at this time.
Added by taez555 on 12-08-2002
This beer is retired; no longer brewed.
HISTOGRAM
Ratings: 10 | Reviews: 9
Reviews by far333:

4.68
/5
rDev
+14.1%
look: 5 | smell: 4.5 | taste: 5 | feel: 5 | overall: 4
This is one of my favorites. I first had it in the sampler 12 pack and had to get more. Whenever I buy a sampler, I ask the store owner/manager if I can switch a few bottles out of the sampler and steal 3 more 622's from another box. Some will allow it and some won't, but if they go for it it's nice to be able to go home with 6 bottles. I was at the Magic Hat brewery over the Thanksgiving weekend and tried it out of the tap, and it tasted even better, a little smoother with the smokey flavor toned down a bit. The smokey flavor comes from the addition of smoked beechwood chips during the boiling of the wort. Needless to say, I went home with a couple of growlers of the stuff.
683 characters
More User Reviews:

3.85
/5
rDev
-6.1%
look: 3.5 | smell: 3.5 | taste: 4 | feel: 4 | overall: 4
Without knowing what kind of beer I'm drinking I found this one to be tasty and drinkable. It pours an orange/red color with an off white foamy head that quickly dissolves. Some lace is left behind on the side of the glass and surface of the beer. The aroma seems fruity and reminds me of a magic hat #9. The taste starts fruity, but quickly moves towards a malty caramel flavor. It finishes slightly tart with a hint of alcohol. A stickyness with a cherry flavor is left behind after each sip.
The carbonation seemed to fade about half way through the glass, but the flavor remained constant. Also, the aroma seemed a little odd to me. Other than that I thought it was a decent beer.
687 characters
4.63
/5
rDev
+12.9%
look: 5 | smell: 4.5 | taste: 4.5 | feel: 4.5 | overall: 5
Another fine brew from my friends at Magic Hat. Deep deep dark amber colored with a small head. This is my girlfriend's new favorite beer. Tastes very smokey, but it is quite smooth and has a very pleasant short aftertaste. Bought a few growlers to take home with me.
267 characters
4.67
/5
rDev
+13.9%
look: 4 | smell: 4.5 | taste: 5 | feel: 4.5 | overall: 4.5
You have to admire a brewery that will release a beer and not tell you anything about it other than it's batch number. All part of the magic hat mystique. After the initial decaping of the mystery 622 with the south burlington vermont wisdom under the cap, the beer pours a dark amber body with a whitish almost purple 1/2 inch head. A subtle nose, with hints of malt, smoke and that classic magic hat yeast. The initial taste is a rather unexpected clean lighter body but with a full malt flavor. Undertones of chocolate, caramel and a distinct smoked malt immediatly scream scotch ale. Or as my girlfriend would say "it tastes like ham". 622 is balanced just right on the bittering end. Enough to give it a bitter taste but not overerly bitter. What I really like about 622 is the interplay of smoked malts and aroma hops which weren't as apparent with the first few sips. It's very subtle, but the smoked malt seems to get carried that extra step by the earthy aroma hop. My best guess is maybe english kent golding. The balance between the two is quite superb.
Overall I really like this beer, it's a shame you have to buy the mixed 12 pack to get only 3 of these. Most scotch ales tend to be either, overly smoky, indistiguishable from a rauchbier, or just another sterotypical ale with hints of smoke. This is on the other hand is very nice example of what american scotch ales can be. I really hope magic hat decides to put this beer into full rotation.
1,463 characters
4.05
/5
rDev
-1.2%
look: 4 | smell: 4 | taste: 4 | feel: 4.5 | overall: 4
Given the fact that it can sometimes be difficult to ascertain the style of the brew behind a Magic Hat label, I am never skeptical as to the quality of beer within. This brew is no exception. Right off the bat the impression I get is that of a good scotch style ale. The aroma is malty and sweet with hints of honey and a bit of smoke. The deep copper color sits under a foamy thick tannish head. The smooth body supports initial hints of dark roasted malt followed by a peat smoky flavor. Very tasty and smooth with a decent kick.
532 characters
3.61
/5
rDev
-12%
look: 4 | smell: 3 | taste: 4 | feel: 3.5 | overall: 3.5
Appearance was a dark cherry red that darkened upon standing.An average head that dissolved leaving rings of an off-white lace.Mouthfeel showed a full bodied heavy malted Ale with a slight crisp carbonation on the tongue.The taste and mouthfeel are much stronger than it looks.The malt overshadows anything else in the beer and makes it hard to decipher the other flavors.A bit bitter on the finish.Very strong with an ABV I'd say between 7to7.5.Alcohol is noted on the mouthfeel.Very dry on the palate.
Notes:Smoke,roasted malt and grains.I wish there beers werent such a mystery so i could rate them as to what they are trying to achieve.
643 characters
3.98
/5
rDev
-2.9%
look: 4 | smell: 3.5 | taste: 4 | feel: 4 | overall: 4.5
I bought the variety pack just to get some and i wasn't disappointed. A clear red pour with a off-white head that disperses nicely. a mild fruity like aroma close to what you find in most other Magic Hat brews. The taste of caramel malt gives way to a smokey flavor that reminds me of the maple bacon i had for breakfast. Is it a scocth ale or rauchbier i don't know but i do know i like it. It would be nice if Magic Hat tries to make it again.
445 characters
3.51
/5
rDev
-14.4%
look: 4 | smell: 3 | taste: 3.5 | feel: 3.5 | overall: 4
Appearance: Clear dark orange-brown. White head.
Smell: Nothing very noticable. Perhaps a slight hops smell.
Tatse: Initially a citrus/pine hops flavor kicks in. The finish, however, is malty and bitter (a good bitterness). I was told this was a smoked beer, but I couldn't detect any of the smokiness. I enjoyed the taste of this nevertheless.
Mouthfeel: Finish was a little dry.
Drinkability: The alcohol was not overpowering. Very drinkable.
456 characters
4
/5
rDev
-2.4%
look: 4 | smell: 4 | taste: 4 | feel: 4 | overall: 4
Pours dark amber in color with a tiny white head that doesn't last. The smell is malty with a hint of something sweet. The initial taste is smoky and earthy. The finish is a bit bitter and dry. Not as malty as a Smoked or Scotch ale. Very complex and interesting over all. After about you finish about 1/4 of this beer the smoky flavor mellows out a bit. An interesting beer that I would like to try again.
406 characters
Batch 622 from Magic Hat Brewing Company
Beer rating:
4.1
out of
5
with
10
ratings