Dojlidy Polski Porter
| Browar Dojlidy S.A.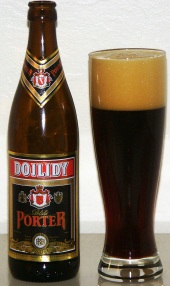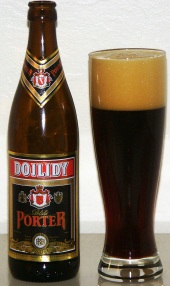 BEER INFO
Brewed by:
Browar Dojlidy S.A.
Poland
dojlidy.com.pl
Style:
Baltic Porter
Alcohol by volume (ABV):
9.50%
Availability:
Year-round
Notes / Commercial Description:
No notes at this time.
Added by Mitchster on 06-16-2002
This beer is retired; no longer brewed.
HISTOGRAM
Ratings: 8 | Reviews: 8
Reviews by granger10:
3.93
/5
rDev
-4.4%
look: 4.5 | smell: 4 | taste: 4 | feel: 4 | overall: 3.5
This was one great looking porter with a nice aroma to match. It's taste reminded me of roasted peanuts dipped in chocolate. Alcohol was apparent while drinking which brought the drinkability down a bit. The finish seemed really sweet which I liked. Surprisingly a very good beer.
280 characters
More User Reviews:
4.43
/5
rDev
+7.8%
look: 4 | smell: 3.5 | taste: 5 | feel: 4.5 | overall: 4.5
This beast glugs out of the bottle with a tight tan head that leaves attractive lacing on the sides of the Duvel tulip. Great deep red with brown highlighted color in the glass, I'm getting some anise, roasted barley, fruitiness, malt sweetness and slight chocolate mixed with alcohol in the nose. The taste reveals a viscuous mouthfeel..this bad boy could be eaten with a spoon, giving way to brief malt sweetness, some very light diacetyl, a powdery cocoa sensation, roasted grain bitterness with some light latent sourness , then the alcohol warmth is felt as it flows down the gullet and warms first the stomach, then the senses. I can feel my buzz kicking up a notch after only a few sips. Finishes up long, roasty, powerful. Not a chocolate monster like Okocim Porter, but a bit stronger in taste profile than that example...a wonderful sipping beer that's akin to a nice Barleywine.
Thanks, Gusler!
908 characters
4.12
/5
rDev
+0.2%
look: 4 | smell: 4.5 | taste: 4 | feel: 4 | overall: 4
Pours a muddy, dark, reddish brown with a creamy beige lasting head. Aroma was Rum like (brown sugar, molasses, and alcohol ) Flavor was molasses, burnt sugar, raisin/prune, coffee, warming alcohol.
bitter sweet chocolate finish.
Watch out the high abv sneaks up on you. :)
277 characters

4.54
/5
rDev
+10.5%
look: 4 | smell: 5 | taste: 4.5 | feel: 4 | overall: 4.5
Pours a clear, dark, dark brown with a light tan head. Head has staying power and lace is pretty decent.
Aroma is extra complex. Figs, dates, prunes, all the dark fruits are here. Dark chocolate, grapes, molasses and scotch-like notes also appear.
Flavor has chocolate, roast and dark malts in that order. Got a flash of licorice or chickory and some sugary honey or molasses also present. Finishes very dry with some earthy wooden notes and somewhat bitter.
Alcohol is very prevalent in the mouthfeel but the surrounding sweet and bitter flavors make it warming and not overpowering. Really strong beer and seems to really ripen as it warms up. So very true to style. These Baltic porters continue to amaze me with their complexity and how good they are. Must be in the water from the Baltic Sea or something.
Drinkability was high but very potent.
856 characters
4.12
/5
rDev
+0.2%
look: 4 | smell: 4.5 | taste: 4 | feel: 4 | overall: 4
On the pour a quite deep mahogany to almost brown color, the head behemothic in size, spumous in texture, the color a dark tan and the lace that is left over a thick glutinous sheet to smother the glass. Fusel alcohol, sweet malt, caramel, toffee, burnt wheat toast, geez what a nose. On the outset quite sweet and brimming with malt, top thick and chewy in its feel. Finish is modestly acidic, the hops spirited in their bite, the aftertaste continues the sweetness, and oh yes the 9.5 ABV does appear as slightly bitter, and it gives the "tummy" a nice warming sensation. Must agree more a "Barley Wine" than a porter but not a bad beer, beats the hell out of their "Lagers/Pils" in my humble opinion.
709 characters

4.28
/5
rDev
+4.1%
look: 4.5 | smell: 4 | taste: 4.5 | feel: 4.5 | overall: 4
Pours with a thick brown head. It is a black beer that has deep garnet notes when held up to the light. Smells of rum soaked burnt raisins and the alcohol is evident in the nose as well. Quite creamy tasting, and it is a fairly sweet example of the style. The burnt raisins are in the taste as well. The finish is of roast malt, though this character is not aggressive. There are notes of coffee and, interestingly enough, cinnamon as well. This is a quite tasty eminently drinkable beer.
488 characters
2.9
/5
rDev
-29.4%
look: 3 | smell: 3 | taste: 3 | feel: 3 | overall: 2.5
This ruby brew throws out a big brown mountainous head. Very minimal aromas on the nose. Some nutty and roasted characteristics. The beer is thick and chewy. (I'm wondering if this is a Baltic Porter being that it's from Poland. Not sure though.) I can actually taste the alcohol in this porter (a rarity for the style indeed). I can also taste some chocolate notes and roasty tones. This is a very average porter.
While in Milwaukee last weekend I saw a couple Polish porters on the shelves. And being part Polish myself, I took a stab at them. I wouldn't get this one again though.
598 characters
4.59
/5
rDev
+11.7%
look: 4 | smell: 5 | taste: 4.5 | feel: 4.5 | overall: 4.5
Clear, dark chestnut in color with a whipped tan head atop small to medium-sized bubbles. Retention and lacing are ok. Carbonation is mild to moderate. Aroma is complex and enticing...figs, dates, walnuts, prunes, a barely there whiff of alcohol...almost to the point of smelling like a Sam Adams Triple Bock. Mouthfeel is smooth with a moderately dense, cloying body and a dry finish. Taste is rich and complex. The taste is a continuation of the odor...begins upfront with figs, dates, prunes, dense tarry amber malts, black licorice, blackstrap molasses...in the middle there is a brief metallic note. The finish is mildly bitter with rounded hops, a dry woody character, and a tolerable blast of astringent alcohol. Powerful notes of cocoa powder flit upon the tongue. While the alcohol is very noticeable, it doesn't impede the enjoyment of this beer, and it is relatively clean (i.e-no fusels, ethers, isopropyls, acetones, etc.) This one really took me by surprise...despite it's modest color and viscosity, it is one hell of a strong beer. It gets better as it warms, and the dry finish make it extremely drinkable. This is a picture-perfect example of the robust Baltic porter, perhaps even more-so than the famed Okocim Porter. Highly recommended.
1,257 characters
Dojlidy Polski Porter from Browar Dojlidy S.A.
Beer rating:
4.11
out of
5
with
8
ratings