Boulder Creek Brewing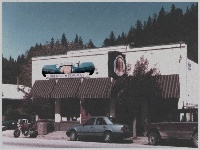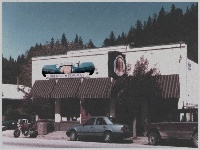 PLACE INFO
Type:
Brewery, Bar, Eatery
13040 Highway 9
Boulder Creek
,
California
, 95006
United States
(831) 338-7882 |
map
bouldercreekbrewery.net
Notes:
No notes at this time.
Added by BeerAdvocate
HISTOGRAM
View: Beers | Place Reviews
Ratings: 15 | Reviews: 11

2.53
/5
rDev
-27.5%
vibe: 2.75 | quality: 2.25 | service: 2.25 | selection: 3.25 | food: 2
The only place in town, but that's not necessarily a bad thing. Run by lovely people who keep it feeling homey, they moved across the street a few years ago since their brewery burned down. Unfortunately they don't brew anymore, a real shame, I never got to try their brews. They have a rotating/semi fixed selection of California native drinks. I can't really complain since the happy hour is so cheap.
The food is overpriced. But they always have Pranqster so it's all okay.
478 characters
3.65
/5
rDev
+4.6%
vibe: 4.5 | quality: 3.25 | service: 4 | selection: 3.5 | food: 3.5
4.11
/5
rDev
+17.8%
vibe: 4 | quality: 4 | service: 4.25 | selection: 4 | food: 4.5

3.9
/5
rDev
+11.7%
vibe: 4 | quality: 4 | service: 3 | selection: 5 | food: 3
I've been drinking here since the two new brew masters started. So I don't know how good the beer was before I started going. They have changed the outside sign to something modern and lighted, to bring in the younger crowds. They also cut off some of the space to the bar to add more brewing tanks. They keep a House Amber and IPA on stock. But They tend to make few more IPA's then other types because of the locals' taste. They make oak barrel brews as well. And come up with new and crazy flavors.
501 characters

3.75
/5
rDev
+7.4%
vibe: 3.25 | quality: 4 | service: 3.5 | selection: 4 | food: 3.5
A good rotating selection of craft brews. Changes week to week, but the quality is consistently great. The brewmaster is approachable and loves to talk his craft. The sampler platter is will NOT disappoint. Oh, and try the avocado fries....sinfully delish.
Check it out.
271 characters
2.24
/5
rDev
-35.8%
vibe: 3 | quality: 1.5 | service: 2.5 | selection: 2.5
Atmosphere at this place was OK, definitely a locals spot and the location is part of the reason. A little ways off the beaten path.
The beer at Boulder Creek Brewing is some of the worst I've had in over 100 visits to various brewpubs. Just not good at all, and not just bland, but actually not enjoyable to drink. There were 5 selections when I went and not one of them was any good.
Service was OK. Staff did not seem to be too knowledgeable, despite working in a brewpub.
Not worth seeking out for the beer by any means. If you happen to be in the Santa Cruz mountains and end up driving by, maybe stop by for the experience, but don't have any kind of high hopes for the beer.
687 characters
3.55
/5
rDev
+1.7%
vibe: 4 | quality: 3.5 | service: 3.5 | selection: 3.5 | food: 3.5
I've driven by this place a few times, and after my girlfriend and I did a long hike into Berry Creek Falls, seemed like a good place to stop for a beer. Kind a rustic place, and the "brewery" is literally right behind the bar. Lots of locals, but a friendly welcoming vibe to out of towners like ourselves, something one thankfully finds in most brewpubs. The service was a little mixed. Our waitress did not know what an IPA was. The dreadlocked bartender was a lot more knoweldgeable, friendly, and everyone else in the place seemed to know him on a first name basis. At the time, they were refurbishing their brewing equipment, so the only house beer they had was the Big Basin Brown, which was good, not great. Various local beers were used to "pinch hit" for the next couple months while they get their brewery up and running again. I plan to get back sometime and try their other brews.
Food had a veggie slant to an otherwise standard brew pub menu. Our food worked on some levels, failed on others.
I wouldn't recommend going way out of your way to go to this place, but liked the rustic, bohemian vibe to the place and plan to stop here the next time I'm passing through.
1,184 characters
3.78
/5
rDev
+8.3%
vibe: 4 | quality: 4 | service: 3.5 | selection: 4 | food: 3
I spent many afternoons here while I was living in Boulder Creek. The food was hit and miss, but the beer was the attraction. Some serious brewing magic went on there. The Ghost Rail pale is awesome, the Mudslide stout is off the chain. Didn't have one bad beer there. Totally generous with giving out a taste or a half pint. The crowd is your general eclectic mix of mountain folk and hippies. One of the last times I was there I had a Belgian-style triple and it was absolutely mind-blowing. Smooth as anything, but packed a whallop. I miss it up there. Love you guys! Hope I see you soon!
591 characters
3.7
/5
rDev
+6%
vibe: 4.5 | quality: 3.5 | service: 4 | selection: 3 | food: 4.5
I've been coming to Boulder Creek Brewing for some time now, both when I lived in Los Gatos and Santa Cruz. I've always had a fondness for this place, with it's informal, homey, comfortable vibe. I always feel as if I'm intruding just a bit, as invariably everyone in the place seems to be a regular and so on a first name basis with the bar tender. That being said, the staff and folks hanging out here are always friendly, and I always feel comfortable. The menu is above average for a brewpub, with many excellent vegetarian items (not exactly a huge surprise in Boulder Creek) on the menu as well. The quality of the beer is really up and down here. When in doubt I go with the redwood ale, though in the past I've also had a pretty good stout and bock here. The selection is pretty much limited to 4 or 5 Boulder Creek beers, but I can usually find something on tap that I like.
This is a very nice place, one I invariably visit whenever I happen to in the area. It's also a great place to stop for a beer after a day of hiking in Big Basin. Cheers!
1,055 characters
3.08
/5
rDev
-11.7%
vibe: 3.5 | quality: 3.5 | service: 3.5 | selection: 2 | food: 3
Stopped in around dinner time on a Monday night and went straight to the bar seating. About 6-8 regulars, everyone seemed to know each other, sitting in the bar area chatting amongst themselves and w/ the staff. the bar tender was chatty and nice, but forgot what i was drinking so just gave me samples of everything to let me pick my next pint. Ordered a tray of nachos that was huge but a bit boring and waaay too salty. The beers were tasty and average, but the biggest disappointment was that there were only 4 beers on draught. Apparently there were a couple kegs of specialty beers, including a trippel, in the back, but i couldn't get the bar tender to give me a pour. They were saving the best beers to go to GABF this October. Their flagship, Redwood Ale, is a tasty and highly drinkable amber. Their wheat was exceptionally dry but quite refreshing. The pils I didn't like at all, and the IPA was mediocre.
It was worth the drive, the town is cute and the mountains are beautiful. If I'm in the area this place will be on the list for sure, just to see if news beer are around and to catch up with the bar tender.
1,126 characters

3.46
/5
rDev
-0.9%
vibe: 3 | quality: 4 | service: 3.5 | selection: 3
I finally made it up to Boulder Creek from Santa Cruz last week. Stopped for a quick beer and was not disappointed.
The atmosphere is an authentic rustic locals place. I am sure in tourist season the crowd changes but for now is all-local.
When you walk in the bar and brewing equipment is to the left and the dining area is straight ahead.
Make no doubt the equipment is not for show-as the brewer was working and measuring hops during my visit.
They had a Porter, Amber, Dopple Bock, and a Winter Warmer on tap. I only had time to try the Winter Warmer (6.8%). Nice beer- good balance of hops and malt.
I purchased a growler of the Winter Warmer for New Years Eve- $8.88 for a refill and a little over $11 for the initial purchase.
I didn't eat so I can't comment on the food.
The only down side of my visit was unopened growler was flat within a day,
I will be back for a longer visit. For those coming up to BC for the first time be careful. Highway 9 is a white-knuckle drive.
1,009 characters
3.2
/5
rDev
-8.3%
vibe: 3.5 | quality: 3 | service: 3.5 | selection: 3
Kind of a weather worn building, the atmosphere is some what touristy (local) with some regulars. The bar area is almost like a home brew shop with all the necessities (fermenters, boiler, hoses, sink, kegs etc...) behind the bar. There are some TV's and a couple of ceiling fans in the bar area. Has a coffee bar area in the back with a large TV. A wood stove with current soot all around is to the West of the dining area.
Has black tap nozzles; a small wooden cabinet behind the bar for liquor; and wooden tables, (padded) booths, chairs, and bar. Clean restrooms with a waterless urinal (new tech). Kitchen is not in the open. Some areas in this place seemed cluttered.
Service was alright.
They have several beers there with a couple of cider options, no cask. All their beers had a similar taste, except the Lager (possible notable), and were not real risky except for the dry hopped Red (unfiltered and fermented with wood chips). Their beers are served too cold with refridgerated glasses. No sample set available, just individual samples (4 oz. pricey) but did give free tasters.
Decided not to eat there.
Seemed pricey for the area.
1,158 characters
4.18
/5
rDev
+19.8%
vibe: 4.5 | quality: 4 | service: 4.5 | selection: 4 | food: 4
I will note ahead of time that while I'm from Maine, I grew up scoffing at the Grateful Dead as I pulled out my Clash and Ramones records at parties. But there's something in me that loves a good hippie or tie-die style town and its brewpub. Something about the loving laid-back care (which will rarely get 5 stars but makes a 4 an easy choice) that a counterculture based on peace, love, and, in these cases, beer builds into its establishments makes me very comfortable there. Also, since the place has been open since 1989, there's a good lived-in feel to it.
I have stopped in twice, both times for lunch. There's more meat on the menu than I might have expected, but there is a fine veggie/vegan cafe in town, so making a decent burger is good for your food business. The portions of everything were pretty big for the price: I got the "appetizer" order of garlic fries and four of us could get through a third of it. Both weekends and weekdays seemed pretty quiet in the pub (at lunch.) Boulder Creek is a wonderful sunny tree-filled enclave not far from the bustle of San Jose. I guess I'm one of the only ones who runs screaming from places like SJ.
(Addendum, 6/2003: have now been for a weekday dinner: families, women not wearing all their clothing, bikers, solo middle aged guys reading the paper all in eveidence. The hefeweizen was plenty good, the IPA was a flowery unfiltered model.)
The people who work there are really nice, treating you like a guest at their place, rather than a "customer." Got to chat with a brewer and view the tanks on the bar side (really, right behind the bar,) even though we sat in the restaurant side. Booths, tables, stools, dark or lit well, you've got pretty much every choice of seating.
And the beer? Good enough I'd say. Not great, but the brewing system is pretty tiny. I'm biased, but this is one of the better batchs of samples I've tried from such a small operation.
1,933 characters
Boulder Creek Brewing in Boulder Creek, CA
Brewery rating:
3.49
out of
5
with
22
ratings