Calcutta 420 India Pale Ale
| Coast Range Brewing Co.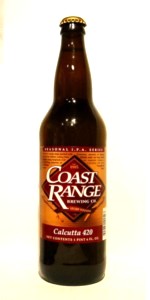 BEER INFO
Brewed by:
Coast Range Brewing Co.
California
,
United States
Style:
American IPA
Alcohol by volume (ABV):
not listed
Availability:
Fall
Notes / Commercial Description:
No notes at this time.
Added by BeerAdvocate on 09-18-2005
This beer is retired; no longer brewed.
Ratings: 8 | Reviews: 8
Reviews by audiojon:
3.11
/5
rDev
+14.8%
look: 4 | smell: 3 | taste: 3 | feel: 3.5 | overall: 3
A very average IPA, not something I could recommend when there is so much greatness out there. Features English hops, maybe that's why it's so tame. Too malty, but drinkable. Appearance is nice, tho. Great head, and some beautiful cascading upon the pour. I'll finish the bottle, but wouldn't buy this again.
308 characters
More User Reviews:
2.16
/5
rDev
-20.3%
look: 3 | smell: 2 | taste: 2 | feel: 3 | overall: 2
Cloudy orange/amber with a moderate off white head that melts to moderate lacing.
Aroma is sort of stale, wet hops. Smells more like it wants to be a california IPA rather than 'IS' a california IPA.
Taste is sort of sweet malt with sort of citrus hops....the elements are there for a fine IPA but something is lacking...like the ingredients are old or extracts or synthetics....I don't know...it just doesn't come together.
Aftertaste is drying citrus.
this works as an IPA, but doesn't work for me.
I won't finish the bomber...I've got too much better stuff in the fridge.
579 characters
2.91
/5
rDev
+7.4%
look: 4 | smell: 3 | taste: 3 | feel: 2.5 | overall: 2.5
Picked this up at Redlands BevMo for $2.99 (22 oz bomber) because I didn't know anything about it and was craving something hoppy. Pours a decent orange-amber with a nice head that quickly fades, but leaves lots of lacing behind. Pretty nice looking.
Aroma is a slightly sweet malt base with an herbal, grassy, slightly grapefruity nose- all that's fine, but it seems muddy and medicinal. One of those cases where the individual parts are OK, but as a whole it doesn't grab me. The flavor is much the same. I would say that this more English in its approach to being an IPA than American- it can't stand up to the boldness of American IPAs. If considered an English IPA, it is passible.
Overall, this one just doesn't excite me. It works, I can swallow it alright, but I am just as happy having the last 10 ounces sitting on the counter, while I'm way over here watching football and writing reviews- It doesn't call to me to come running.
945 characters
2.08
/5
rDev
-23.2%
look: 2.5 | smell: 2 | taste: 2 | feel: 2.5 | overall: 2
Appearance- Cloudy, orange. Looks like marmalade of all things. Beige head. Not much there tho, and what there is, dissappears fairly quickly. Does leave some decent lace however.
Aroma- Not impressive. Little hop aroma, little malt. Mostly smells of citris and bread.
Taste- Again, not real impressive. Doesn't taste real bad, but it don't taste like a good hoppy American IPA either. Some hop bitterness with peanuts in the fore-taste and almonds in the aft-taste. Something else in there I can't identify.
Mouthfeel- Medium body, yet kind of chewy. Weird for an IPA. Carbonation level is okay.
Drinkability- It's not real good. The mouthfeel is barely acceptable, the taste and aroma have all kinds of weird things going on.
739 characters

3.32
/5
rDev
+22.5%
look: 2.5 | smell: 3 | taste: 3.5 | feel: 3.5 | overall: 3.5
Pours a cloudy amber colored ale with no real head formation.
Smell is malt and toasted grains. Hop aromas of tea, wood and faint menthol. The scent of this reminds me of southern "Sweet Tea" like they serve down in the southern states.
Taste is mildly sweet with a good hop flavor at the beginning. Something in this one gives me a salty flavor on the tongue. Flavor profile of salt and then citrus ending with a woody slightly smoky finish.
Mouthfeel is OK.
Drinkability is better than I would have expected considering my past experiences with Coast Range Beers. This is not a really outstanding beer though. A drinkable IPA that isn't all that bad for what you would pay for it. However since I can get Stone IPA for $3 or less a Bomber at most mom and pop convenience stores in California I doubt I will be buying this too often.
846 characters
2.94
/5
rDev
+8.5%
look: 4.5 | smell: 3 | taste: 2.5 | feel: 3.5 | overall: 3
22oz bottle purchased at Bevmo....I went on a seasonal shopping spree. This one made its way into the cart. Poured into a tulip it formed a off white to light khaki head that sticks favorably to the glass all the way down. Nice medium copper and slight chill haze and fairly clear body. The look had me thinking this could be a gem.
light floral type smell...the mix was "off". Not skunky or spoiled by any stretch its very fresh. Just seemed like the ingredients weren't playing for the same team. Hoppy aroma is subtle.
Up front it was fairly balanced but missing an identity. Its all over the place. Light, perfume, dry, hoppy, finishing bitter to cleanse the confusion. Decent on the palate. Creamy quality in the middle was welcomed. Price was right. Decent.
769 characters
2.59
/5
rDev
-4.4%
look: 4 | smell: 2.5 | taste: 2.5 | feel: 2.5 | overall: 2.5
Presentation: 22 ounce bottle that I picked up from the local HB-BevMo this weekend for a little under $3. Standard brown glass Bomber comes with a simple brass colored crown cap. The main label has the words 'Coast Range Brewing Co. - Award Winning - Calcutta 420'. Established 1995, but no sign of any freshness date or even any strength listed.
The top of the label has this as a 'Seasonal I.P.A. Series', and describes it as 'Seasonal IPA Series This I.P.A. recalls ships stocked with beer for the military sailing from England along longitude 4 20 to the far-flung outposts of the British Empire. Generous amounts of imported British malts and hops provide an exquisite balance to Calcutta 420 while "Roundin' the Horn."
Appearance: Cloudy orange torso that looks like a Jar of home-made marmalade. Beige head is big and bubbly with some light spotty lacing on the sides. Settles with a rather traditional fresh hard-core IPA look.
Nose: Uuurgh, I was not a fan of the nose at all. Funky damp hops mixed in and amongst, what is that….faded hair lacquer?!?! Geez, what is in this stuff!? Should I drink this or put it on my hair and comb a 1970's hairstyle I wonder!?
Taste: Bitter start with some toasted malts supporting the central portion of this libation. Finish has a little toffee and a thin hop feel. Flavors feel broken and generally badly aligned, the finish is a little raw but not in a good way. Dis-jointed and rather Zzzz.
Mouthfeel: Low ball Mouthfeel, drinks like it looks, turbid but thin. Uninspiring and a very big let down.
Drinkability: I just didn't get this one, it dropped way short of what I even expect for an average IPA, let alone one that elevates itself with an "Award Winning" label, perhaps it won Plutonium at the Chernobyl Brewers Festival?!?
Overall: Rather disappointing given the self promotional blurb on the label. Hell if they sent this crap to Calcutta to the English Troops I think the British would have invaded the US again, just for spite.
PASS!!
2,030 characters
2.58
/5
rDev
-4.8%
look: 4.5 | smell: 4 | taste: 2 | feel: 1.5 | overall: 2
Appearance: 22 oz. bottle, served in a tulip glass. Very generous head with nice lacing, and a subtle amount of carbonation is seen against light. Color is a medium-deep amber orange which actually I'm very fond of in an IPA. Very nice.
Smell: Definitely get the typical hoppy nose, crisp citrus notes, though some of the flower hints seem deficient. I get a bit more of an earthy smell on this one compared to other IPA's.
Taste: I'm not too impressed with the taste here. Unfortunately, for this style beer I expect a hoppier taste, at least to match the nose, but it never really materialized to the level of my expectations. Instead, I got more of the malt end which actually was a bit overpowering. It covered up what good hops there may have been which came through in the smell.
Mouthfeel: Rather light body, much too near water. The carbonation, which looked good on appearance, was too emphatic, leaning towards fizzy. It could be linked to the fact that the body was deficient. If the brew had a thicker body, it would make up for the carbonation.
Drinkability: Due to the above mentioned factors, drinkability was low, I'm sad to say. I did not enjoy this brew as much as I was hoping. The name is in reference to the origins of the IPA, which to be fair, this beer could be modeled to be just like the IPA's of those days. It could be that the IPA's from today are the ones that I'm used to, and this one is true to the original IPA.
I had left around 6 oz. in the bottle to warm to room temperature, which is a good thing for some beers I've tried, but it just accentuates the forementioned unattractive characteristics. I truly did want this one to convince me, but it wasn't meant to be.
I have yet to read others reviews on this beer as to not taint my own review.
-xgabe
1,809 characters
Calcutta 420 India Pale Ale from Coast Range Brewing Co.
2.71
out of
5
based on
8
ratings.