Two Tractor Ale (Farmhouse Brewing)

Coast Range Brewing Co.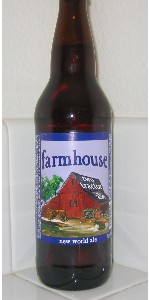 Write a Review
Beer Geek Stats:
Style:

ABV:

5.5%

Score:

Avg:

2.91

| pDev:

25.43%

Reviews:

8

Ratings:

From:

Avail:

Retired (no longer brewed)

Wants

Gots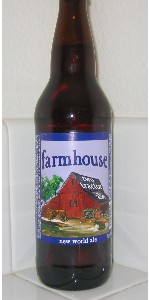 Notes: Checkout http://farmhousebrewing.com for more.
Reviews by TheLongBeachBum:
TheLongBeachBum from California
2.11
/5
rDev
-27.5%
look: 3.5 | smell: 2.5 | taste: 2 | feel: 2 | overall: 1.5
Presentation: 22ounce Bomber with a simple brass colored crown cap. Main label has a simple rustic look to it. Labeled as 'Farmhouse', one of the new brands from Coast Range Brewing it seems. The main label has a picture of an American style mid-west Barn with the words 'Two Tractor Ale' emblazoned across on its pitched roof with tow old style tractors facing each other. Listed as a 'new world ale' (whatever the f*** is). No declared strength.
Appearance: Shady amber with a clean filtered body. Soft off-white head builds quickly but soon fades to a thin broken soapy looking offering. Bespoke Belgian lacing style lacing is good but does not make up for the lack of a thin wirey head.
Nose: Familiar odors such as sliced white bread that pops out of the Toaster early mix with a soft delicate hop character. Pungent grain fills the back end with a first time home brew like room filling aroma. Hops are there but staid and cannot rescue this shitty mess.
Taste: Astringent grains and a sharp unbalanced bitterness ruin this completely. Much beyond this it is hard to focus anything constructive. Dominated by a bitter and twisted sour animosity towards the shockingly grainy malts this one is doomed from the offset.
Mouthfeel: Grainy texture reminded me of pulling out loose Tea leaves from the posh tea I drank at my Great Uncles many, many years ago. That tea was great and damn tasty, but unfortunately this is a piss-puddled mess of a brew.
Drinkability: Struggled with this one……I have to be honest and admit that I stuck the last third down the drain, that's about a Dollars worth of beer……unforgivable.
Overall: Listed as an English IPA……I stopped pissing myself at that moniker after about 5 minutes ago. Whilst I vehemently disagree with this style listing, funnily enough it seems rather appropriate because sadly it is *exactly* like most English IPA's - a laughable pass over beer that has nothing in tune with its heritage or future and is a shadowy mess of a nothing brew (read Greede King IPA). So my advice is to leave this 'Two Tractor Ale' for the Redneck John Deere fans, I'm sure they will love it.
Personally I found this to be messy, confused, disordered, jumbled and cluttered with a resultant perplexed and befuddled expression. Probably the worst of the five Farmhouse brews that I have tried to date.
Utter crap! Don't even let your inquisitive nature fool you into buying this one.
#A Big Miss#
Jul 21, 2006
More User Reviews:
Mark from California
2.49
/5
rDev
-14.4%
look: 3.5 | smell: 2 | taste: 2.5 | feel: 3 | overall: 2.5
After the appearance which was decent, lacing was not bad from the thick head, it was downhill. Funny aroma, almost skunked, though it was supposedly fresh and was not in a green or clear bottle. Very grainy malt and a lingering finish that was hard to identify. Hops seemed to take a backseat to the grainy malt. I have tried a few of the Farmhouse beers and until now all have been not spectacular but good nonetheless. I would not get this one again.
Sep 14, 2006

Zorro from California
2.4
/5
rDev
-17.5%
look: 3 | smell: 3 | taste: 2 | feel: 3 | overall: 2
This beer is in the glass the same orange tending towards amber colored ale that is more or less the official IPA color nowadays. Small tan head forms. Boring seen it 100 times.
Smell is sweet and perfumed with hop aromas. Tea and menthol are the first hop aromas I can clearly identify. A little pine and a little grapefruit, nothing special at all.
Taste is neutral and a little bitter at the beginning. A little sweetness and flowery hop appear and are quickly obliterated by bitterness. Not a lot to say about this, classic example of too much High alpha acid hops being used to cut costs.
Mouthfeel is OK.
Well yes I CAN drink this but I shall not be buying another one. A beer any first time home brewer can beat.
Oct 13, 2006
drpimento from Wisconsin
3.03
/5
rDev
+4.1%
look: 3.5 | smell: 3 | taste: 3 | feel: 3 | overall: 3
This beer was served with lots of foam, plenty of lace, and a color that's a shade darker than the brewery's Kolsch. It's a sufficiently hoppy american pale ale. Aroma is a spicy, hoppy, grapefruit. Flavor's the same but is also a tad warming and has some soapy notes. Good carbonation like their other beers. Malty body. The grapefruit thing is starting to get to be a bit old for me. Ok beer. Ok finish.
Jun 30, 2007

GClarkage from California
3.65
/5
rDev
+25.4%
look: 4 | smell: 4 | taste: 3.5 | feel: 3.5 | overall: 3.5
09/07/07- Purchased at Ledger's Liquors in Berkeley, CA.
Presentation- 12oz bottle with no visable freshness info. Poured into a standard pint glass.
Appearance- Amber in color. Full one inch plus thick and creamy head. Left behind decent lace streaks and minor patches.
Smell- Very reminescent of SNPA. A nice pine and grapefruit hop nose with a malty roasted backing.
Taste- Definite english style hop profile with some grapefruit and pine added in. Medium caramel malt flavor pairs well.
Mouthfeel- Fairly carbonated with a fair hop bitterness in the aftertaste.
Drinkability- All in all another good brew from Farmhouse. I've been pretty impressed with most that I have had. Sessionable for sure.
Sep 09, 2007
DogFood11 from California
1.93
/5
rDev
-33.7%
look: 2.5 | smell: 2 | taste: 2 | feel: 1 | overall: 2
Finishing off the line of Farmhouse beers from Coast range, which I've had some success with overall, especially the Pils. This pale ale produces a decent head with plenty of lacing.
Well it's not exactly a complete disaster but very close. Hops are way way over the top. I love hoppy beers but this is a cheap tasting hop profile that becomes medicinal, aspirin and chalky dry. Not exactly a thirst quenching experience.
Notes: This is one wicked offering and should be purchased at least once just to feel the destruction of your palate. All in all though its nice to see Coast Range trying something new.
Jun 07, 2006

Blybloke from Minnesota
3.93
/5
rDev
+35.1%
look: 4.5 | smell: 4 | taste: 4 | feel: 4 | overall: 3.5
Recently purchased a 6-pack of this one ($10.99) at Chicone's in Hudson.
Impressive beer, not groundbreaking, but one of my favorites of the style. American IPAs have surpassed the UKs in terms of flavor in my opinion, so this one was a nice surprise; it at least kept pace.
Pours beautifully into a pint glass. Big sweeps of hops in the nose, but the taste is maltier than I expected. The hops are present, but sitting quietly near the back of my palate. Mouthfeel is good.
I give drinkability slightly lower marks because there is a strong, malty, sticky aftertaste. The beer is very good though. Worth $10.99 a six pack? Yep, but maybe not more than once for this beer drinker.
Aug 25, 2007
rkuhnel from California
3.77
/5
rDev
+29.6%
look: 3.5 | smell: 4 | taste: 3.5 | feel: 4 | overall: 4
This is brewed in Gilroy and so I am willing to accept this is from Coast Range, but nowhere on the bottle does it list their name. I had heard somewhere they were going to try to change their name ,so maybe that is what is going on. It poured from a 22 oz bottle at cellar temperature a rich amber color with a very fat and long lasting head that left lots of lacing. While this is called by the brewer an American Pale Ale, to me it tasted richer and more aromatic than most APAs I have sampled. The mouthfeel was rich and clean and the malts and hops are well balanced. Favor is complex, with flowers, herbs, spices, and fruit. Good medium bitter finish, Very similar to Sierra Nevada PA and very easy to drink.
Sep 27, 2007
Two Tractor Ale (Farmhouse Brewing) from Coast Range Brewing Co.
Beer rating:
2.91
out of
5
with
8
ratings