Hayloft Pils (Farmhouse Brewing)
| Coast Range Brewing Co.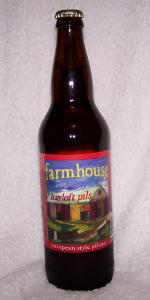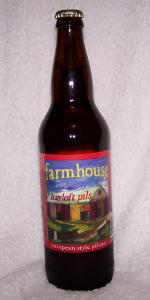 BEER INFO
Brewed by:
Coast Range Brewing Co.
California
,
United States
Style:
German Pilsener
Alcohol by volume (ABV):
not listed
Availability:
Year-round
Notes / Commercial Description:
Checkout http://farmhousebrewing.com for more.
Added by Bierman9 on 05-19-2006
This beer is retired; no longer brewed.
HISTOGRAM
Ratings: 9 | Reviews: 9
Reviews by marc77:

2.43
/5
rDev
-28.1%
look: 3 | smell: 2.5 | taste: 2 | feel: 2.5 | overall: 3
Clear dark straw. One fingered porcelain - white head leaves wisps of lace. Grassy hop and metallic tartness dominate the aroma. Hint of cooked - corn DMS. Bland, cracker - like malt upfront in flavor is followed by notes of dirty, old mowed grass and lemon peel bitterness. Becomes almost harshly metallic and astringent in biterness as the beer warms. Thin, vapid mouthfeel. Finishes cleaner than expected, with quickly fading hints of bready pilsner malt and sharp hop bitters. Both rough and weak. Entirely forgettable and certainly skippable.
547 characters
More User Reviews:

3.65
/5
rDev
+8%
look: 3.5 | smell: 3.5 | taste: 4 | feel: 3 | overall: 3.5
22 Oz Bomber from the Thousand Oaks BevMo.
Beer pours out to be an honest to god gold colored Pilsener in my glass. Head is definitely on the small side here which is unusual for the high carbonation level.
Smell is mildly sweet and quite well endowed with Nobel hop aromas. Scent is herbal mostly. Lesser scents of lemon, grass and bread.
Taste is neutral to barely sweet with a good solid Nobel hop zip at the beginning. Strongly herbal flavored the hops are much more than a finishing touch in this beer. Bitter grass and herbal all at the same time this is a GOOD beer for those that love Hallertau hops. Not a lot of subtle flavor here but this does have an excellent assertive flavor.
Mouthfeel is OK seems a little flat for some reason.
Well this is certainly not going to put Germany out of the beer business but it isn't half-bad. The German style Pilsener is a style we almost never see attempted; this is a fair try at it. Don't spend a lot of money for this but it is a decent Pilsener for those that like a rough and ready version of the style.
1,072 characters
3.86
/5
rDev
+14.2%
look: 4 | smell: 3 | taste: 4 | feel: 4 | overall: 4.5
Clear medium gold body was topped by a nice white head that left decent lace. Aroma was very faint but was inviting and clean smelling. nice malty rounded flavor was topped off by a nice hop finish that went very well with me. I'm not a big pils drinker anymore but I decided to try this beer due to the miserable heat wave that has been gripping my area the last 4 days. Very drinkable and one I will probably buy again. Scored a 22oz bomber at Whole Foods for only 2.49. Good beer.
483 characters
3.97
/5
rDev
+17.5%
look: 3.5 | smell: 4 | taste: 4 | feel: 4 | overall: 4
Edit 1 day later: I called the brewery and they said its 5.6%abv and is a mix between a czech and german pils.
The bottle says "European style Pilsner". Since there is no such category I got it down to two that I think would be close, German Pils, or Czech pils. I chose German because the hop presence is towards the high end. If' I'm wrong please let the local beerfly guide know, or Todd to change it. Regardless of this consideration the most important thing is was it good? In short YES!
I'm a huge fan of a good pilsner, one of my favorite beers when done with some attention to detail. This is one of those brews. Golden body, decent head forms and leaves sporadic lacing.
Hops come across much more in the taste and mouthfeel than anything I can pick up in the smell. They really snap in about halfway through and dry up the palate quickly before fading away and letting this beer finish crisp. Not the cleanest version as the malts tend to linger a bit, nothing that bothered me at all.
Notes: I'd love to see this in six pack form. For the right price I'd buy this by the unopened case. Farmhouse series by Coast Range is their best in my opinion, if they translate these efforts to the rest of the line this could be a bit of a sleeper brewer. Good local product.
1,288 characters
3.03
/5
rDev
-10.4%
look: 3.5 | smell: 3 | taste: 3 | feel: 3 | overall: 3
Presentation: 22ounce Bomber with a simple brass colored crown cap. Main label has a simple rustic look to it. Labeled as 'Farmhouse', one of the new brands from Coast Range Brewing it seems. The main label has a picture of an American style mid-west Barn with the words 'Hayloft Pils' emblazoned across on its pitched roof. Listed as a 'european style pilsner' (that is the second time that I note Coast Range have not used a capitalized letter when they should have – tut, tut). No declared strength.
Appearance: Light golden color with hints of rubbed brass. Soapy white head seems lazy but rises into a firm 2" deep mass. Slowly it settles and leaves some ring like lacing in and amongst the collapsed soapy surface.
Nose: Tinted corn syrup with some damp hay. Grain and malts fill the void. A bit sickly with a damp stodgy edge.
Taste: Bitter start with a lightly scorched malt base which have a metallic essence. Rubbed bronze and a brassy after taste. Corn like twang becomes a thorn in the side after half a bottle. Far from clean with a dirty ash-tray finish drags this one out.
Mouthfeel: Below average conditioning, once it settles it seems to exhale all its life rather too quickly and soon becomes a tad flat. The Mouthfeel is tinted with a corn and metallic backdrop.
Drinkability: OK, I didn't flinch at having to sink a Bomber of this one. But the aftertaste has an annoying twang that just seems to distract from the nice clean bitterness early on.
Overall: Just another "run-of-the-farmyard" brew that cost $2.99. Nothing special here at all. Try it if you are one of those people that are always curious about untried brews, like I am, but otherwise I would recommend leaving this one on the shelf. Far better Pils out there for the money.
1,792 characters

2.66
/5
rDev
-21.3%
look: 3.5 | smell: 2.5 | taste: 2.5 | feel: 2.5 | overall: 3
22oz bomber purchased at SF's City Beer Store in July 2007. No freshness date. Poured October 2007.
I had high hopes for this one, since I would love to find a locally made regular drinking pilsener. But no dice on the Hayloft Pils from Coast Range.
Pours a nice hazy light gold. Rich lacing that does stick around throughout. Downhill from there - faint nose, some barely detectable grains and possibly noble hops. Disappointing taste follows - hard to find anything going on, faint malt, even fainter hops. Nose and taste improve as it warms up, but still nothing special.
No crispness to the texture, nor any of the luscious richness you get in a Moonlight Reality Czech. No ABV on the label, no over the top alcohol detectable, but such a muted experience doesn't ask for another taste.
Bummer, but I'll continue the search for a great pilsener made west of the Mississippi.
883 characters

3.58
/5
rDev
+5.9%
look: 4 | smell: 3.5 | taste: 3.5 | feel: 4 | overall: 3.5
Pours with an initially two-finger thick, frothy, light tan colored head that sits atop an ever-so-lightly hazy, gold colored brew. The aroma is a mix of sweet malt, dried hay, grassy malt, dusty crushed malt, hints of apple and even some green grape notes.
Sweet malt notes, mingle with a herbal, grassy hop flavor and a finish of lightly astringent, bitterness. The beer has a solid bitterness from beginning to end that provides a much needed balance to the simple, sweet grain character. This is fairly clean, like a good Pils should be, but somehow lacks a crispness that I would like to see; I think that the malt is just a touch muddied or perhaps dusty is a better descriptor. The malt is not nearly as clean and bright as I would want in a Pils. The hop bitterness is a bit too green & astringent too; again this keeps the overall character of the beer from being clean and crisp. The malt sweetness accentuates a fruitiness that is reminiscent of golden raisins and hints of apples. It is nice and light and easily sipped on a hot summer's day.
This is a tasty Pils, it just is not quite integrated enough to be a great example. I am definitely happy to be drinking a 22oz bottle of this though.
1,211 characters
3.4
/5
rDev
+0.6%
look: 3 | smell: 3 | taste: 3.5 | feel: 3 | overall: 4
This isn't a bad beer all around. Got it as a sample from distributor. It poured with an off-white head, little lace, and a clear, golden yellow. There was decent carbonation. The aroma was bittersweet and a little yeasty, grassy, bready, a hint spicy, and some malt. The flavor was about the same, but more distinctly bitter. It's a very drinkable and satisfying brew. Nice finish.
382 characters
3.88
/5
rDev
+14.8%
look: 4 | smell: 3.5 | taste: 4 | feel: 4 | overall: 4
A 22oz bottle scored from a San Jose BevMo, and sampled 21JUN06 at my hotel in Mariposa, after a nice day of Yosemite sightseeing....
This Pils is a clear, medium-golden colored brew, with abundant carbo rapidly rising within. Has a frothy white head of fine bubbles, and steadies at 1/4" for the duraton, with nice stick left behind. Aroma is not too forthcoming, yet exhibits some bready notes with some grassy hops, along with a touch of sharpness. It is medium in body, creamy and smooth; rather light and fluffy on the tongue. Pleasant!
Flavor also gives up some breadiness, with accompanying light sweetness. Grassy hop action is also present, and it has a nice, spicy hop bite; a bit sharp, sort of like Saaz. A pleasing aftertaste remains, not long-lasting, though tasty all the same. Might have bumped up the drinkability a bit had I had another bottle...
Prosit!!
overall: 3.9
appearance: 4 | smell: 3.5 | taste: 4 | mouthfeel: 4 | drinkability: 4
913
966 characters
Hayloft Pils (Farmhouse Brewing) from Coast Range Brewing Co.
Beer rating:
3.38
out of
5
with
9
ratings