Golden Ale
| Tuatara Brewing Co.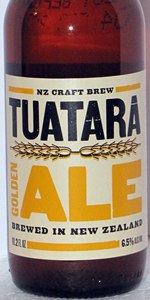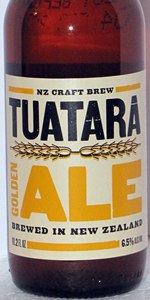 BEER INFO
Brewed by:
Tuatara Brewing Co.
New Zealand (Aotearoa)
tuatarabrewing.co.nz
Style:
Belgian Pale Ale
Alcohol by volume (ABV):
6.50%
Availability:
Year-round
Notes / Commercial Description:
No notes at this time.
Added by alkchrios on 12-21-2010
HISTOGRAM
Ratings: 8 | Reviews: 4
Reviews by rsdaugherty:
3.61
/5
rDev
+3.1%
look: 4.5 | smell: 3.5 | taste: 3.5 | feel: 4 | overall: 3.5
Bottle into pint glass
A – Fine nearly 2 finger white head left lots of lacing and subsided to a pillowy quite thick layer… world class retention. A very hazy (sediment) golden yellow color, a bit dusky with orange-brownish notes, robust carbonation. 4.5
S – A slightly bready orange scent dominates; mild grassy florals back it up 3.5
T – Overall a yeasty bitter flavor. Slightly sweet orange comes through, and finishes off with a yeasty spicy bitter finish 3.5
M – Hearty carbonation, which I liked, adds a lot to this brew. Light body with a thicker creamy mouth feel 4
O – Alcohol is well masked, lacing was outstanding for the whole glass, drinkability is moderate for me… liked it but I'm almost certain I would enjoy another of Tuatara's beers more than this. 3.5
789 characters
More User Reviews:

3.9
/5
rDev
+11.4%
look: 3.5 | smell: 3.5 | taste: 4 | feel: 4.5 | overall: 4
I found this single 330ml brown bottle at the grand opening of the new Binny's store in Bloomingdale, IL for the rather hefty price of $5.49 a bottle. I don't see too many NZ beers around Chicago so I decided to splurge and give this one a try. There is no freshness date on the bottle but there is a little information about the beer on the back label.
The beer poured a very cloudy and pale yellowy gold color and made a nice pillowy 1½ finger of white head that lasted awhile and left tons of lacing.
There's not a lot of smell to this, but what there was smelled like Belgian yeast and a touch of orange.
The first thing you notice here is an overwhelming orange flavor. It's not a typical bitter orange peel flavor but more like a ripe, juicy orange. Between the fruity orange and malt flavors it's plenty sweet enough, but this is by no means a sweet beer. The sweetness is balanced by a touch of bittering hops and a good dose of spiciness. Add to all that some funky Belgian yeast flavor and you have ... well, one interesting beer.
Between light and medium in body with only medium carbonation, so it's not too flat but not too spritzy either. I liked the mouthfeel.
The 6.5% abv is so well hidden it's not even noticeable. It's not the alcohol that is keeping me from trying another one - but the price is. At over $30 for a six of these they won't be my everyday beer, but I'm glad I tried it. It's a nice treat and I haven't had anything else quite like it.
1,475 characters
3.55
/5
rDev
+1.4%
look: 3.5 | smell: 3.5 | taste: 3.5 | feel: 3 | overall: 4
Someone may need to correct me on this one but this is a golden ale made with Belgian yeast. I wasnt able to select Golden Ale when putting this beer on the site so the closest thing I could do was Belgian pale because that, to me is what it most resembles. Pours a golden, brown hazy color. The brew looks rather unfiltered. The pour gave way to slim to no head and throughout the time of consumption there was zero lacing. However the taste was there. Starts off light with hints of orange and coriander, kind of has a fresh hop taste yet doesnt coat the pallet. This is a pretty good summer beer...and at 6.5 you could have a few of these and not even notice the alcohol.
674 characters

3.91
/5
rDev
+11.7%
look: 4.5 | smell: 3.5 | taste: 4 | feel: 4 | overall: 4
Picked this up at Whole Foods on Houston St. in New York City recently. I had never had a beer from New Zealand before and this looked like a decent crap shoot given the price and style of this. Although I don't have Belgian Pale Ales much, I enjoyed this and thought that this certainly deserved more ratings on here than the 3 that currently exist. This was a nice and full take on the style that nearly anyone could enjoy!
The pour to this was beautiful, to say the least. This had a nice golden hue, a wonderful cloudiness, and just enough head and lacing to complete the look. While this was not a Hefeweizen, it reminded me of it when I held it up to the light and took my first sip afterward. This had a bit more "funk" than that style and had more tang to it, with some tartness underneath. There was lots of wheat and coriander too that faded nicely into a bright orange aftertaste. Unlike some Belgian-styled beers, the sugar wasn't too overwhelming here but it was certainly present.
Although the alcohol is present here both in taste and feel, it wasn't strong enough to detract from the drinking experience that I had with this beer. There could have been a bit more of an aroma, but this was quite solid and a worthy buy for a single bottle. There's no doubt that this deserves more than four ratings on here as this matches up quite nicely with its European counterparts!
1,389 characters
Golden Ale from Tuatara Brewing Co.
Beer rating:
3.5
out of
5
with
8
ratings