Saranac Juggler•Naut
| Matt Brewing Company / Saranac Brewery
BA SCORE
81
good
14
Reviews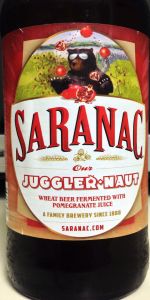 BEER INFO
Brewed by:
Matt Brewing Company / Saranac Brewery
New York
,
United States
saranac.com
Style:
American Pale Wheat Ale
Alcohol by volume (ABV):
4.80%
Availability:
Limited (brewed once)
Notes / Commercial Description:
No notes at this time.
Added by djrn2 on 03-29-2014
This beer is retired; no longer brewed.
Reviews: 14 | Ratings: 68

3.41
/5
rDev
-0.9%
look: 3.5 | smell: 3.75 | taste: 3.25 | feel: 3.5 | overall: 3.25
I picked this up recently at Country Garden 6-Pack, which is just up the street from my new place of work. It is always fun to see what they put out in terms of singles to go.
From the bottle: "This ain't a bear of a beer. It's an unfiltered ale that tastefully juggles wheat 'n' sweet, with a slightly tart finish. Sip after refreshing sip, it's wonderful on a hot summer's day."; "A Family Brewery Since 1888".
I Pop!ped the cap and began an aggro pour which created two fluffy fingers of eggshell-white head with limited retention. Color was a slightly hazy Amber (SRM = > 7, < 9). Nose was odd, slightly fruity, slightly sour/tart, fruity and with a slight pink bubble gum note running through all of it. Mouthfeel was medium. The taste was certainly unique! The wheat really gave it a fruity bubble flavor and the pomegranate lent the taste a slight astringency to keep things in balance. Finish was semi-dry, but the pomegranate juice accounted for a lot of its dryness. It worked well a a whole, but it was not really my speed. I might have enjoyed it more on a hot, humid summer's day, but I somehow doubt it.
1,121 characters

3.21
/5
rDev
-6.7%
look: 2.75 | smell: 3 | taste: 3.25 | feel: 3.75 | overall: 3.25
Pours a slightly hazy golden straw color with a short wispy white head that quickly settled into a light ring.
The aroma is grainy with a light pomegranate fruit note. Kind of perfumey.
The flavor is of a bready wheat malt and light pomegranate juice. Not really much else going on.
Solid mouthfeel with tingly carbonation. Lightly sweet on the palate. Drinks very easy.
Typical fruit flavored wheat beer. No off flavors.
430 characters

3.26
/5
rDev
-5.2%
look: 2.5 | smell: 3.25 | taste: 3.25 | feel: 3.75 | overall: 3.25
"This ain't a bear of a beer. It's an unfiltered ale that tastefully juggles wheat 'n' sweet, with a slightly tart finish. Sip after refreshing sip, it's wonderful on a hot summer's day." Brewed in the style of an American Pale What Ale, available in 12 oz. bottles. Brewed as part of the Saranac Summer Variety pack.
Poured from a 12 oz. bottle to a pint glass. Served above 54 degrees Fahrenheit.
(Appearance) Pours a fizzy crisp head of an ecru white over a golden amber body with moderate haziness and plenty of visible carbonation. Retention is low and there is very little lacing visible. 2.5
(Smell) Fruit juices and syrups and malted cereal wheat come together to form a borderline sweet-smelling body. The choice of pomegranate has aromatic qualities similar to cherry syrup or sugary plums with a light tartness. The aroma is clean and simple with little bitterness nor distinctive yeast character. 3.25
(Taste) The flavor is a bit more reserved in how much fruit sugar sweetness is allowed to creep through, but overall the beer is a bit too sweet and unbalanced. Largely sweet pomegranate juices with a very subtle edge of tartness meets a distinctive malt profile of sweetened wheat and pale malt syrups for a sweet, sticky malt profile. There are very little hop flavor nor bitterness to counter the imbalance. The mild tartness of the fruit doesn't do much to remedy the issue either. Drinkable, and even in some seasons, fairly enjoyable but I think Juggler-Naut would be more enjoyable all around with reservation and balance. 3.25
(Mouthfeel) The texture is lightly syrupy, smooth and mildly dry. Carbonation is moderate, generating a medium frothiness and a medium crispness. The body is medium+ for the style, medium overall. Balance is moderately sweet over bitter and tart. Alcohol presence is low and there are no notable off characters. 3.75
(Overall) Juggler-Naut is another forgettable ale in Saranac's extensive line of one-off and limited batch brews. While Pomegranates are not commonly enough used to accent wheat beers (although they pair quite nicely), there needs to be some balance, be it hop bitterness, earthy or peppery spice or even a striking tart funk to keep the sugary sweetness from reaching critical levels and dragging down drinkability. Sadly, this is nearly the case for this beer, which edges dangerously close to a syrupy sweet fruit beverage cooler without the balance that an ale of this caliber should be appreciated for. Approach with caution. 3.25
Matt Brewing Company's
Saranac Juggler-Naut
3.26/5.00
2,562 characters
4.53
/5
rDev
+31.7%
look: 4.5 | smell: 4.5 | taste: 4.5 | feel: 4.75 | overall: 4.5
Poured from a 12 OZ bottle into a pint glass. Aroma- Has a strong wheat smell with fruit. Appearance- Pours a murky orange color with a small white head. Taste- Has a nice wheat and malt flavor mixed with pomegranates, this is really good tasting beer. Palate- A medium bodied beer with moderate carbonation. Overall- A really good beer, I heard this beer was retired by Saranac. What a mistake in my opinion.
409 characters
3.28
/5
rDev
-4.7%
Part of the Saranac 12 Beers of Summer Variety Pack - $12.98 at Sherlock's in Marietta, Georgia.
Appearance: Appearance: Pours a hazy, orange-gold body topped with a fine ring of white bubbles.
Smell: Wheaty aroma that... HEY! This is their old Pomegranate Wheat -- the label features the same pomegranate-juggling bear.
Taste: Soft wheat malts are rushed by the juicy, sweet-tart pomegranate flavor which holds onto the tongue with a vice-like grip. Tangy finish. Part of me is pomegrateful it's over -- man, deja vu.
Mouthfeel: Medium-thin body. Medium carbonation.
Overall: Much like the bear on the label, this beer does an decent job at juggling the pomegranates, though maybe this beer would be better had I not drank it in the dead of winter.
754 characters

2.55
/5
rDev
-25.9%
Fresh 12 oz 2014 bottle.
Does indeed taste like a wheat beer with pomegranate juice and looks nice in the glass, but disappointing nonetheless. The body is a bit watery; the unappealing aroma (falsely, I believe) hints at some contamination, and flavors components don't play well together.
294 characters
3.5
/5
rDev
+1.7%
Pours a cloudy straw. 1/2" pale cream colored head. Retaining lacing in wheat beer glass. Nice light flavor of berry against a light plain type of beer. Refreshing summer brew like a shandy
190 characters
2.73
/5
rDev
-20.6%
look: 3 | smell: 2.5 | taste: 2.75 | feel: 3 | overall: 2.75
Pours a hazed orange color with a white-ish head. The aroma is full of bright pomegranate juice, some malt, kinda reminds me of those fruit tinged malt beverages that are mass produced.
In the taste, malty, with pomegranate juice on the finish and a hint of tang and bitterness. Fruity, somewhat malty but not really going anywhere.
Medium bodied, well carbonated brew and a bit sweet. Overall, this is not too great of a beer but if you really like malt and pomegranate it has at least that going on.
504 characters

3.72
/5
rDev
+8.1%
look: 3.25 | smell: 3.75 | taste: 3.75 | feel: 3.75 | overall: 3.75
From a twelve ounce bottle in the Saranac summer beer collection for 2014.
Aroma is a malted fruity scent. Pours a hazy orange body with no head or lacing. Taste is sharp, tart, tangy. Oddly, I can barely detect the Pomegranate juice it is supposed to be brewed with. Improves as it warms, but is a sort of funky weissbier. Not a drain pour, but, bordering on a Malternative in sweetness.
389 characters

3.84
/5
rDev
+11.6%
look: 3.75 | smell: 3.5 | taste: 4 | feel: 3.75 | overall: 4
Another from the twelvepack which included five other different ones, all dated 1/31/14 and bought a couple of weeks ago. IBUs is 18 and ABV 4.8 according to the bottle neck label.
Poured from the 12 oz. bottle into a Tree House tulip.
a; Hazy orange with a half finger thick white head which receded to patchy surface foam and hardly any lacing.
s: Ripe light fruit.
t: The operative word here is "tangy." Neither sour or bitter, but tangy. Like alcholic generic fruit juice. Brewed with pommegranate juice, so that would likely be why.
m: Light to moderate, good carbonation tingle adds to the tanginess.
o: Quite a different and good warm weather refresher. I don't usually like fruity beers, sour is not my thing, but this one is pleasant without being overbrearing, yet lets you know it's in your mouth.
814 characters

3.42
/5
rDev
-0.6%
look: 3.75 | smell: 3 | taste: 3.5 | feel: 3.75 | overall: 3.5
Best By Oct 31, 2014. Poured into pint glass
A- pours a hazy and cloudy golden-yellow color with a small fizzy white head that retains nicely after the pour
S- wheat with tart lemon peel, berry-like fruity aromas, crackery malt
T- crisp unfiltered wheat mixes with sweet berry flavors, assuming it's the pomegranate. Notes of lemon add a subtle tartness to the mid-palate, crisp toasted malt on a dry wheat finish
M- light-medium body with moderate carbonation leads to a foamy mouthfeel with a crisp and dry finish
O- nice mix of tart and sweet works well with the wheat, good summer beer
594 characters
3.47
/5
rDev
+0.9%
look: 4 | smell: 3.25 | taste: 3.5 | feel: 3.5 | overall: 3.5
Clouded pale wheat appearance, with a big off white head forming thick, body is glowing golden peach notes with a scent of pomegranate flowing forth. More from the aroma of this beer pale wheat and dry yeast notes, not much fruit going on as I continue to smell this brew. Flavor is like pomegranate puree' and juicy pith from that fruit slight acidity this combination works for a summer wheat beer. Mouthfeel is light to medium bodied even flowing carbonation going forth on each sip, I'm happy for gaining what it is from this beer. Overall nothing I could drink on a regular basis even though those fruit notes are quite original when compared with other fruit beers.
671 characters

3.3
/5
rDev
-4.1%
look: 3.25 | smell: 3.25 | taste: 3.25 | feel: 3.75 | overall: 3.25
Very hazy, pretty much cloudy. Without the yeast gunk, I'd imagine this to be a blonde color, but we're looking at mustardy gray-yellow to light amber. The head sits nicely, but doesn't want to lace much.
Some wheat and some pomegranate juice. Rather mild and light in the nose, but no disqualification for teeming off-notes. Just a very thin aroma with husky wheat grain and red seed juice, at a low level. Whispering sweet behind a drier than anticipated nose of grain and ale yeast. Pale malts with a near-whisper of bubblegum. Faint, but comes and goes.
Drinks like a pale wheat with a slightly soured pomegranate juice flavoring. Pronounced with hints of green strawberry, pear, and banana. A little sweeter than the nose conjured up for me, but not off-putting. Missing here are, at least, gentle hop notes that would elevate the flavor profile. I pick up a kiss of citrus pucker and some generic floral quality that comes off a tad perfumey. Gruff carbonation offers some backthroat burn and burp follow-up. The body is given a wooliness and texture because of it, even though we're talking about a mere light-medium viscocity.
Not-my-favorite brewery makes not-my-favorite style to less-than-agreeable results. I'm not going to have to sing this song again, but I won't come off like a miserable wretch. It's a half-hearted stab at a fruit wheat, but it's not terrible, folks. I'm not telling you to try one, just that it's easy fluff for the almost-macro craft beer mixer-twelve market. That's right. You're not going to cry after having one.
1,554 characters

3.94
/5
rDev
+14.5%
look: 3.75 | smell: 3.5 | taste: 4.25 | feel: 3.75 | overall: 4
Yellow deeply unfiltered color with moderate carbonation and moderate head. Very tart, fruity aroma. Smells like a pomegranate version of their blueberry blonde. Tastes like more pomegranate than beer. Almost like a wine or a saison. Could be very refreshing in the summer. Changes mid glass to balance better, and becomes more drinkable. Finishes the same.
357 characters
Saranac Juggler•Naut from Matt Brewing Company / Saranac Brewery
3.44
out of
5
based on
68
ratings.