Innis & Gunn Fired Oak Scotch Ale

Innis & Gunn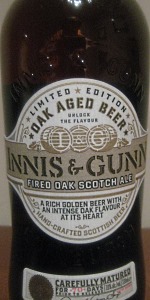 Write a Review
Beer Geek Stats:
| Print Shelf Talker
Style:

ABV:

7%

Score:

Avg:

3.7

| pDev:

14.59%

Reviews:

10

Ratings:

From:

Avail:

Rotating/Seasonal

Wants

Gots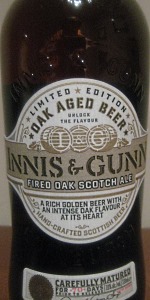 Notes:
Sammy from Canada
3.21
/5
rDev
-13.2%
look: 3.25 | smell: 3.5 | taste: 3 | feel: 3.25 | overall: 3.25
Overly sweet, with smoke in the finish. Marginally drinkable. Could have been a lot better based on the marketing. LCBO offering.Not hitting the mark, Like most of their offerings over recent years.
Apr 23, 2017
drmeto from Germany
2.88
/5
rDev
-22.2%
look: 4 | smell: 2.75 | taste: 2.75 | feel: 3.25 | overall: 2.75
L:
-pours a clear amber with a small to medium,foamy,offwhite head
-low to medium carbonation visible
S:
-plums,caramel,vanilla,woody,coconut coming on later
T:
-Follows the nose plus some slight nuttiness and a syrupy sweetness
-low bitterniss for the style
F:
-medium carbonation
-light to medium body
-no alcohol detectable
O:
This had a lot of Problems.Very much a one note Ale with not enough Body
Mar 29, 2017

JonCorbett from Canada
3.67
/5
rDev
-0.8%
look: 4 | smell: 3.75 | taste: 3.5 | feel: 3.75 | overall: 3.75
Appearance: Clear and golden amber, a good finger of pastel orange hued head. There is a little bit of lace at the start but eventually disappears altogether. It has that colour I REALLY like not matter what the liquid - it's warm yellow and crystal clear just psychologically promotes a flavour you hope is there.
Aromatics: A sweet malted scotch with charred oak and a hint of a floral vanilla and biscuit.
Taste: Ive had a lot of the Innis & Gunn offerings - I always appreciate their oak aged flavours, but this one is particularly nice in comparison. The scotch and oak uptake really provides a nice smooth profile that has a sweet and malty start then moves to a bit of the scotched flavour finishing clean with a hint of fired oak wood that really reaches all points on the palate. But that is really the extent of it - it's better than most of their other oak aged beers, but doesn't go over the top in trying to really push its oak, scotch or age.
Mouth: A soft and warming medium body. Touches of bitterness that keeps a good deal of carbonation from getting too rambunctious in the mouth. Just the slightest of boozyness at the tail end but the warmth really mutes that sensation away in short order.
Overall: Of all the I&G, I think this one is my favourite (so far). It has a great balance and the scotch does not come in too heavy, or over the top. But at the same time I was expecting it to wow me, and it really didn't, despite its tastiness, it was kind of anti-climactic.
Pairing: I think (as is the usual case with scotches and whiskeys) I want to coax out some additional flavours with a bit of spice and some "fattness". I recently made a garlic and harissa shrimp alfredo with angel hair pasta that this would go great with. The rich garlic sauce and harissa spice, which should open the palate to additional flavours in the brew.
Oct 24, 2016
patre_tim from Thailand
3.95
/5
rDev
+6.8%
look: 3.75 | smell: 4.25 | taste: 4 | feel: 3.5 | overall: 3.75
Copper and filtered with a little carbonation. A fizzy white head that dissipates fast.
Oak aged qualities come through, butter scotch, toasted whiskey and scotch.
Lightly sweet, oak aged qualities, a fair burn on the finish. Hints of scotch and butter scotch. Hard water.
Medium, slightly soda like body, little carbonation.
Great concept. Lots of nice qualities coming through, but its rather lacking in body and consistency. The soda like qualities in the mouth feel and overall carbonation, detract from it. Still, it is a good beer for the style. I got it in Toronto LCBO near Wilson, not far from Yorkdale Mall. Drank in Stouffville, Oct 16th, 2016.
Oct 17, 2016
Skaterdude97 from Canada
4.95
/5
rDev
+33.8%
look: 4.5 | smell: 5 | taste: 5 | feel: 4.75 | overall: 5
Look - 4.5 | slightly hazy amber color, almost no head with a violent pour
Smell - 5 | biscuits, caramel, bread, vanilla, plums, apples, rasins, pears
Taste - 5 | caramel, bread, biscuits, vanilla, apples, grapes, pears, prunes, honey
Feel - 4.75 | medium-plus body, chewy character, minimal carbonation
Overall - 5
Sep 10, 2016

taxandbeerguy from Canada
3.8
/5
rDev
+2.7%
look: 4 | smell: 4 | taste: 3.75 | feel: 3.5 | overall: 3.75
Shared a 330 ml bottle into a tulip. Purchased for $5.95 CDN.
Appearance - rich dark golden and copper hued beer. Some white head with good retention and sparse lacing. Very moderate carbonation.
Smell - the signature Innis and Gunn vanilla and oak combo. A touch of smoke. More oakey goodness that actually smells fire roasted.
Taste - like the nose. Smoke, a little peat. Vanilla with middling bitterness. Scorched wood. One of the better representations from this brewer.
Mouthfeel - smooth, lightly carbonated with a sufficiently light body. Slightly drying effects on the tongue.
Overall - one of the better Innis & Gunn representations in the style and one the whole. If it weren't for the price, this would be a repeat purchase.
Jul 25, 2016
ChrisCage from Canada
4.48
/5
rDev
+21.1%
look: 3.75 | smell: 4.5 | taste: 4.75 | feel: 4.25 | overall: 4.25
A- This one pours a very nice copper/bronze color that perhaps has tones of char, oak, orange and red hues. The head is virtually non existent but does leave a ring of white colored foam with thin wisps throughout the top of the liquid. The lacing is modest and provides a bubble like patchwork on the side of the glass. Overall I'd call this one slightly above average.
S- The aromas are beautiful on this one.....butterscotch, intense vanilla, fired oak, char, whisky, rummy notes, muted coffee bean, malt, burnt brown sugar, burnt nuttiness, light smoke....very nice overall! The finish is robust yet clean and has just a hint of hop to help balance things.
T- Intense butterscotch, vanilla, oak, whisky, with lesser notes of coffee, char and hints of smoke right at the finish....almost like a campfire essence! The finish provides a cleanliness that is just enough, yet the overall flavors stick to the palate afterwards...
M/O- Medium bodied and well carbonated, which allows the flavors to explode on the palate! This is one of the nicest Innis & Gunn brews that I've had and I think it compares to the Rum Finish in taste and quality! I will most definitely seek this one out again and highly recommend this to anyone!
Jul 07, 2016

DJ-Hophead from England
3.56
/5
rDev
-3.8%
look: 3.5 | smell: 3.75 | taste: 3.5 | feel: 3.5 | overall: 3.5
330 ml bottle, B and M stores, Bristol - Pours clear amber with a large white foamy head. Medium carbonation. Some lacing. Smell - light smoke, roasted malts, bread/yeasty notes. Taste - Very sweet, light roasted malts, light alcoholic feel at finish. Sweetness blocks any possible bold flavours. Hints to a Belgian feel but maybe better trying for a higher ABV to reduce sweetness as it doesn't stand up on its own.
May 28, 2016

EmperorBevis from England
2.93
/5
rDev
-20.8%
look: 3.25 | smell: 3.25 | taste: 2.75 | feel: 3 | overall: 2.75
Bottled
I'm not saying generic but most of these Innis and Gunn beers look 5he same brownish amber body spotty white head
Similar with aroma malty vanilla mush
Flavour again like nearly all I&G
Imagine a fairly decent oak aged ale
Then water it down to the point it's nearly more water than beer
Not angry just as usual disappointed
May 19, 2016
biboergosum from Canada
3.57
/5
rDev
-3.5%
look: 4 | smell: 3.75 | taste: 3.5 | feel: 3.75 | overall: 3.25
330ml bottle - THIS particular Innis & Gunn offering was 'created to celebrate oak maturation'? Haven't they all been?
This beer pours a clear, medium copper amber colour, with three fat fingers of puffy, loosely foamy, and somewhat creamy off-white head, which leaves some spooky swirling mist lace around the glass as it evenly subsides.
It smells of slightly biscuity caramel malt, gently buttered brown bread, fairly vanilla-heavy toasted oak, muddled dark fruity notes, and a further wispy smokiness. The taste is sweet, grainy caramel malt, buttery toffee, some fairly tame, but still vanilla-riddled woodiness, ethereal black fruit, very weak earthy and leafy hop bitters, and more of that weird ephemeral and wafting smoky character.
The carbonation is quite active in its thorough, if kind of thinly-rendered frothiness, the body a solid middleweight, and mostly smooth, the supposedly smoked wood maybe adding a hint of clamminess to the proceedings. It finishes on a sweetness bender, hell bent on rotting both my teeth and my better senses.
Yup, another clusterfuck from this Big Oak-obsessed contract brewer - here, the claims of using toasted oak 'taken to the point of catching fire' (hence the name) are generally unsubstantiated. This is sweet 'n malty all the way, which, for the style isn't that big of a deal-breaker - it's the bare-bones simplicity, man.
May 16, 2016
Innis & Gunn Fired Oak Scotch Ale from Innis & Gunn
Beer rating:
85
out of
100
with
22
ratings