Innis & Gunn Scottish Pale Ale

Innis & Gunn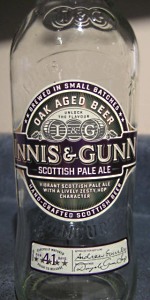 Write a Review
Beer Geek Stats:
| Print Shelf Talker
Style:

ABV:

7%

Score:

Avg:

3.47

| pDev:

14.7%

Reviews:

7

Ratings:

From:

Avail:

Year-round

Wants

Gots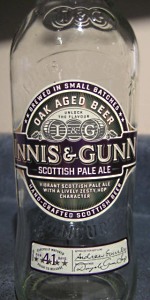 Notes:

SmashPants from Australia
3.26
/5
rDev
-6.1%
look: 3 | smell: 3.25 | taste: 3.25 | feel: 3.5 | overall: 3.25
Bottle: embossed 330mL clear bottle with the standard Innis & Gunn label.
Appearance: poured into my Innis & Gunn tulip glass - a crystal clear light amber hue with fine carbonation across the entire profile. The head is quite dissapointing - a small, fluffing white head pops up and entirely vanishes almost immediately.
Aroma: pale malts, lemon citrus, vanilla and some sugars. Fairly light, which is nice since it is also quite sweet.
Taste: quite sweet to taste - almost a bit cloying. A sweet malt backbone with the vanilla and sugar flavours taking a back seat.
Aftertaste: some hop bitterness and citrus tartness comes through in the finish.
Mouth feel: fairly heavy in the mouth with moderate carbonation.
Overall: a decent pale ale, but nothing to write home about. Not as good as the usual Innis & Gunn offering. Certainly not worth the price of AU$110+ a case of 24 x 330mL case (2014).
Mar 17, 2014

jazzyjeff13 from England
3.27
/5
rDev
-5.8%
look: 3.5 | smell: 3.25 | taste: 3.25 | feel: 3.25 | overall: 3.25
A 330ml clear glass bottle with a BB of Feb 2014. Picked up a little while back from a B&M store. Described as an oak-aged pale ale hopped with Super Styrian, East Kent Goldings and Styrian Goldings.
Poured into a straight pint glass. A clear golden-amber hue with good carbonation. Yields a large head of creamy white foam that lasts for a few minutes before reducing to a patchy surface layer. Some lacing. Aroma of light malt with hints of sugar, vanilla, oak, stewed leaves and faint fruity yeast. No obvious hops to speak of. Surprisingly sweet - not far off cloying.
Tastes of woody malt with a sweet character and a dry finish. Notes of oak, vanilla, sugar, light malt, stewed leaves and fruity yeast esters. Somewhat sweet; verging on cloying for a beer. Seemingly well-attenuated, followed by a subtle, lingering bitterness upon swallowing. Mouthfeel is smooth, tingly and dry, with prickly carbonation and a pretty insubstantial body. Quite astringent, accompanied by an aftertaste of sweet oaky malt, stewed leaves and a twinge of vanilla.
Hmmm - not a resounding success. Looks alright, while the aroma and flavour have a distinctly sweet, woody quality that dominates the character. Little in the way of hop notes. Lacklustre body; surprisingly thin given the strength. Overall this is similar to I&Gs Blonde ale with an overdone oakiness and a sweetness that I presume is extracted from the wood. While aging on oak could work with strong, dark brews, the flavour just doesn't sit well with paler malts. I'm loath to condemn it completely but it's not a winner. No need to seek it out.
Feb 04, 2014

TerryW from Canada
2.78
/5
rDev
-19.9%
look: 3.25 | smell: 3.25 | taste: 2.5 | feel: 2.5 | overall: 2.75
Too sweet to be really enjoyable. Doughy as well. Just doesn't work for me on the flavour side.
Clear golden brew under a moderate head that settles to a cap. Only a bit of lace. Average looking beer.
Nose is vanilla and oak, not as interesting as some of I&Gs other offerings. Soft, sweet nose. Very sweet to taste. Vanilla and oak, slight hint of hoppy bitterness to finish, but too much like drinking a glass of sugared water. Thin bodied.
Not one of the brewery's better offerings.
Aug 30, 2013

thehyperduck from Canada
3.59
/5
rDev
+3.5%
look: 4.25 | smell: 3.25 | taste: 3.75 | feel: 3.5 | overall: 3.5
330 mL bottle picked up at the LCBO, served slightly chilled. As much as I generally like Innis & Gunn offerings, I really wish they'd lay off using these goofy clear glass bottles. The move to start canning their flagship oaked ale is certainly a move in the right direction... but I digress.
Pours a bright, clear golden-amber colour, topped with a half centimeter of dense, creamy white head. It's small put persistent, with the thin cap remaining present at the surface for nearly the entirety of the drink, and lacing the glass nicely with each sip. The aroma is, unsurprisingly, somewhat skunky, but otherwise enjoyable - much of the usual malty I&G bouquet is present, including oak, toffee and a hint of vanilla, along with some apricot, wet hay and a slight citrusy zest.
The taste offers nothing particularly out of the ordinary for an I&G product, with lots of the expected big, sweet, malty flavours - though the hop profile is somewhat bolder than I tend to expect from this brewery. Vanilla comes through at first with some force, alongside some toffee and honey sweetness. Oak and bourbon notes intermingle pleasantly with some apricot and raisin fruitiness, followed by a finish of grassy, leafy, English-style hoppage. The aftertaste is somewhat bittersweet, with the oak and leafy hops lingering longer than the caramel/toffee malt sweetness. Medium-bodied, with a slick, somewhat syrupy feel on the palate, and mild carbonation to help facilitate this. Fairly drinkable, although more appropriate for slow, deliberate sipping.
Final Grade: 3.59, an acceptable B grade. Like the majority of their offerings, Innis & Gunn's Scottish Pale Ale doesn't stray very far from the original recipe to which they owe much of their success. This particular brew does come across as more balanced, due primarily to the firmer hop presence - but rest assured, there is just as much oak and vanilla as you'd expect. If you're already a fan of I&G (as I am), you'll probably like this stuff, but if you've been underwhelmed by their offerings on previous tastings then I doubt this is going to convert you. A good beer, but not something to seek out; I can see myself getting this again in the fall/winter months, though I can't come up with any convincing reasons to select this over their original oaked ale, or the rum cask for that matter.
Jul 22, 2013
biboergosum from Canada
3.25
/5
rDev
-6.3%
look: 3.5 | smell: 3.5 | taste: 3 | feel: 3 | overall: 3.5
330ml clear bottle, as ever was.
This beer pours a clear, medium golden amber hue, with two fingers of tightly foamy off-white head, which leaves nothing more than a low meniscus of lace around the glass as it readily recedes.
It smells of sweet, doughy malt, some acrid woody vanilla, dusty toffee, a bit of fleshy orchard fruit, and subtle leafy hops amidst a hovering whisky booziness. The taste is quite sweet caramel malt and oakey wood notes (vanilla, caramel, vanilla, toffee, vanilla, you know the drill), over a surprisingly perceptible bready, somewhat doughy maltiness, and gamey earthy, leafy hops.
The bubbles are rather sedate, yet somewhat pliable, the body a hefty medium weight, and a bit too sickly forward in its smoothness. It finishes off-dry, at the very least, as the oak influence doesn't really take any prisoners to the end.
I am happy that I could discern some of the base titular characteristics of this beer beyond the expected heavy-handed oak treatment, but they are little too beyond the pale (sorry, clumsy, I know, but I can't help myself) to have any real effect on the overall flavour. There's house flavour, and then there's I&G - I get why this is a gateway beer, but it's just too unbalanced, in the wrong direction, at that, to make me want to revisit it any further.
Aug 05, 2012

Evil_Pidde from Sweden
2.55
/5
rDev
-26.5%
look: 2.5 | smell: 2.5 | taste: 2.5 | feel: 3 | overall: 2.5
A: The color is clear amber and the small white head leaves almost no lacings.
S: Sweet malt and rich peaty smoked notes. Vanilla and oak. Honey.
T: Honey-like sweetness to the malt. Vanilla and rich oak. Some fruit behind the vanilla, but faint.
M: Aftertaste is bitter but even more sweet.Body is sticky like syrup, but medium. Carbonation is medium strong.
O: Again - Innis & Gunn overdoes the vanilla/oak. If it's nice in Whisky doesn't automaticly mean it,'s nice in beer.
Jul 30, 2012
rarbring from Sweden
2.43
/5
rDev
-30%
look: 3 | smell: 2.5 | taste: 2.5 | feel: 2.5 | overall: 2
A clear pale amber brew, an off-white head that settles quickly leaving no lacing and having small curtains.
Smelling of unlit matches, cork and wood. Some syrup.
Starting very sweet molasses and syrup, then oak notes, cloud-berries and some pear peel.
Medium carbonation, small bubbles, slightly sticky, medium body, very little dryness.
Nope, the cask dominance do not work on me, the beer gets to stifled.
Jun 26, 2012
Innis & Gunn Scottish Pale Ale from Innis & Gunn
Beer rating:
80
out of
100
with
30
ratings