Malty
| Israel Beer Breweries Ltd.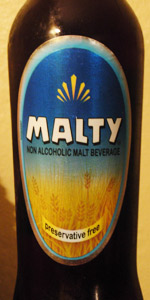 BEER INFO
Brewed by:
Israel Beer Breweries Ltd.
Israel
carlsberg.co.il
Style:
Kvass
Alcohol by volume (ABV):
0.50%
Availability:
Year-round
Notes / Commercial Description:
No notes at this time.
Added by emerge077 on 07-15-2010
Reviews: 3 | Ratings: 5
2.91
/5
rDev
-15.7%
look: 3.5 | smell: 2.5 | taste: 3 | feel: 3 | overall: 3
I brought this beast back from Israel without knowing what it was. The bottle was only in Hebrew so I had no idea this is essentially a NA beer. As I drank I tried to adjust my expectations...
The beer is decently dark, a nice brown color at least. The lacing is weak and more or less off-white/tan.
As for smell and taste, my first reaction was horror! (than I realized it was a NA beer... all things considered, its not too bad) The smell pretty dull, basically dark malt, maybe a slight bit of cold coffee. The taste is very reminiscent to cola, but a bit more natural tasting. Too sugary for my taste and no real bitterness to speak of. Not sure if anyone knows what Carob tastes like, but the beer has a decent amount carob flavor as well.
The carbonation is nice, big fat bubbles come off of your tongue. The mouth-feel is a bit light but I suppose that is to be expected.
Overall, I think it is a decent drink to try if you are into NA beers... At least it is different flavor than you would normally get, maybe it appeals...
★
1,038 characters
3.87
/5
rDev
+12.2%
look: 3.5 | smell: 4 | taste: 4 | feel: 3 | overall: 4
Malty
International Beer Brewery LTD dba Carlsberg (Ashkelon, Israel)
Best before: APR/05/12
Malty is not a kvass, but rather, a traditional Malta. It's a non-alcoholic beverage that's more commonly found in Latin American than Israel. It's basically unfermented wort. Traditionally it would have been made from 100% barley, although adjuncts are becoming much more common now. This one lists sugar as its second ingredient, behind water, and before barley malt. Interestingly enough, it also contains hops. An 11.2 oz. bottle contains 30 grams of sugar and 122 calories.
It's quite dark in the glass with a deep mahogany brown body that's around 40 SRM. The creamy tan head dissipates quickly.
In the nose it's surprisingly roasty. It smells, not surprisingly, like roasted barley being mashed. It's grainy, roasty, and just slightly chocolaty.
In the mouth it's quite smooth with a medium-light body and very minimal carbonation.
The flavor reflects what the aroma suggests. It's grainy, cereal-like, and roasty like coffee. There's a bit of sweet cocoa flavor to it as well. It's got some nice flavors to it, but it's not really complex, finishing pretty much as it started. The sweetness fades fairly quickly without sticking in the mouth, and it's actually quite refreshing.
Overall, this is probably the best malta I've tasted. The roasted and cocoa flavors are nicely balanced, as is the sweetness; and it's remarkably clean tasting. Very nice.
★
1,457 characters
3.53
/5
rDev
+2.3%
look: 3.5 | smell: 3 | taste: 3.5 | feel: 3 | overall: 4.5
Described to me at Three Sisters Russian deli as "Kvass from Israel".
Dark caramel cola appearance, two fingers of tan sudsy foam, with arcs of lacing all around the glass. Sweet unmistakable barley aroma, slightly toasted and husky. Lightly sweet and raisiny, some clean malt flavors in the middle, with a drying finish. Thin and fizzy. This isn't sickly sweet like other Kvass, thankfully. It's more like a malt forward root beer. Easy to gulp down or sip, there's not much to contemplate, but it's refreshing.
Commercial description:
"Malty is a nonalcoholic malt beer which undergoes unique brewing different from other types of beer. The difference lies in the fermentation process, shorter and without alcohol (below 0.5% alcohol by volume). Malty's dark color stems from the black roasted malt that also contributes to Malty's unique roasted flavor."
http://www.malty.co.il/english.asp?cc=010204
★
907 characters
Malty from Israel Beer Breweries Ltd.
3.45
out of
5
based on
5
ratings.