Noire De St-Antoine
| La Tour A Bières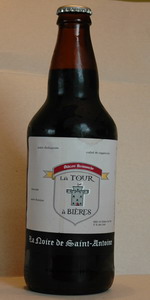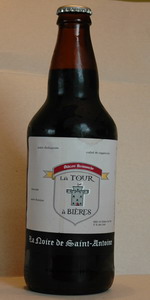 BEER INFO
Brewed by:
La Tour A Bières
Quebec
,
Canada
latourabieres.com
Style:
American Stout
Alcohol by volume (ABV):
4.70%
Availability:
Year-round
Notes / Commercial Description:
No notes at this time.
Added by Goldorak on 08-31-2005
Ratings: 11 | Reviews: 8
Reviews by Molson2000:
More User Reviews:
3.68
/5
rDev
+32.4%
look: 4 | smell: 3.5 | taste: 3.75 | feel: 3.5 | overall: 3.75
2.78
/5
rDev 0%
look: 3.5 | smell: 3 | taste: 2.5 | feel: 2.5 | overall: 3
Some stout taste held back. Liek licorice, agree with Goldenrak that's its better classified as a shwartzbeer. A home brew club try. Good water. Finishable.Overcarbonated.Thin, watery, fizzy, weak stout. I have had few bad stouts or porters, but this would come close.
268 characters
2.99
/5
rDev
+7.6%
look: 3 | smell: 4 | taste: 2.5 | feel: 3.5 | overall: 2.5
One more review for this brewery. Not expecting much.
Found this 660ml bottle in the fridge office. Left it in there for about a month while I asked everyone who's it was but nobody knew. I'm the only one of them who really drinks craft beer. Moreover this is me and my partner's office and only a couple freelance workers come in a week. So I'm calling good beer karma or... It's mine and I just forgot I put it in there.
A- Great nice looking big brown head is gone real quick. The liquid is very dark. An opaque black with just the slightest brown at the bottom and narrowest part of the glass. Looks good.
S- Rich mocha. Smells like a great coffee flavored chocolate treat.A bit of maraschino cherry. This surprised me. Second pour let out some faint hops and adjunct aroma. Warming up let out some whiskey.
T- Whoa. Might be the lightest tasting stout I've ever had. Take any good stout and mix in a third of water. C02 and metallic water all the way. Some smokiness, anise and caramel. Also something reminding me of adjunct macro lagers. A slightly nasty, cheap taste. I get really good flavors mixed with terrible ones. Good after-taste of chocolate and coffee mixed with dirty macro chemical-ness.
M- Smooth and dry. Medium presence in mouth. Not considering the style, this is a pretty good mouthfeel.
D- A lot easier to drink than most stouts because it's so light. But actually less drinkable than most because it's so unappealing. If you don't want more... Then it's not very drinkable right?
Started off good: Looked good smelled ordinary but good. Ended up pretty bad: A taste almost as sickening as lots of dirty macros.
Tastes like Molson decided to make a stout.
This brewery is so weird. It's like a craft brewery trying to make macro's. Maybe it'll work and they'll make millions but man... I keep trying their beers and being surprised at how much they taste like micro-macro hybrids. Better than macros... but terrible.
My curiosity will force me to try all of them once but that will be it.
2,024 characters
2.38
/5
rDev
-14.4%
look: 3 | smell: 2.5 | taste: 2.5 | feel: 2 | overall: 2
Appearance: Decent dark robe, but really not much head retention, and lacked the slickness that I enjoy in this style.
Smell: Smoky, definately plenty of roasted malt in the nose, nevertheless it also had an oxidized "wet penny" smell.
Taste: The body on this Beer reminds me more of a Schwartzbier (sp?) than a stout. Yeah, roasted malt, but way too light, and the oxidization made it taste like licking a spoon, especially through the bottom half of my sample.
468 characters
3
/5
rDev
+7.9%
look: 3 | smell: 3 | taste: 3 | feel: 3 | overall: 3
Bottle: Poured a deep black color stout with a large foamy head with OK retention and some good lacing. Aroma of light black chocolate and some medium coffee. Taste is also dominated by average notes of black chocolate and some dry coffee notes. Body is too light for style with good carbonation. I guess this is OK thought it does lack some character.
352 characters

2.73
/5
rDev
-1.8%
look: 3 | smell: 2.5 | taste: 3 | feel: 2.5 | overall: 2.5
Black color beer. Light black. Brown head. Aroma is chocolate and coffee. Chocolate taste too. A little bit thin for a stout. The bitterness is low. There is something missing here. Texture is off for a stout. Not a bad beer, but rather simple. I wouldn't recommend this one. More work is needed.
296 characters
2.57
/5
rDev
-7.6%
look: 4 | smell: 2 | taste: 3 | feel: 2.5 | overall: 2
bouteille brune de 660ml.
très beau noir, l'effervecence est mirobolante, trop, le col monte plus vite qu'il ne descend. la mousse est compacte, le tout et visuellement très beau, petit nez aigre désagréable, pomme verte. goût de pomme verte, la longueur n'y est pas.c'est un début.
289 characters
2.42
/5
rDev
-12.9%
look: 3 | smell: 3.5 | taste: 2 | feel: 2 | overall: 2
660 mL brown bottle. Indicates 5% abv.
Pitch black brew with a short-lived head.
Chocolate aroma with some smoky charcoal notes.
Very watery, with faint dark chocolate and roasted malt. Slight acidity towards the end. No hops to speak of. Thin body with low carbonation.
Overall, pretty disappointing.
305 characters
2.26
/5
rDev
-18.7%
look: 3 | smell: 2 | taste: 2 | feel: 2 | overall: 3
This stout fared no better than the other three beers I tasted from La Tour À Bières. Once again, one dimentional, thin and uninspired. The site here states that the beer is at 4.7% but the bottle label quotes 5%?
Deep dark brown bordering on black pour with initially voluminous head that dwindles to a minimalist ring, leaving no lace.
Aromas are faintly sweet and lightly charred up front but do not develop any further as the brew warms up. No traces of hops, cocoa, or faint fruitiness reminescent of field berries. This is pretty barren.
Flavours are in step with the aromas. No complexity, depth, or intensity. A faintly sweet malt up front fall off quickly as it makes way for the mild roastedness of torrefied malt that is required in a stout. The mouthfeel is thin and watery and lingers unpleasantly.
A three was given for drinkability because it is as drinkable as tap water but by no means instires one to crave another one unless one is parched... then opt for H2O
992 characters
Noire De St-Antoine from La Tour A Bières
Beer rating:
9.1%
out of
100
with
11
ratings