Flying Monkeys Alpha Fornication
| Flying Monkeys Craft Brewery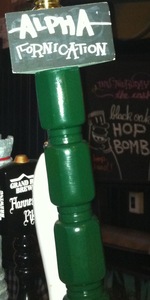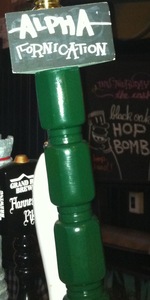 BEER INFO
Brewed by:
Flying Monkeys Craft Brewery
Ontario
,
Canada
theflyingmonkeys.ca
Style:
American Double / Imperial IPA
Alcohol by volume (ABV):
13.30%
Availability:
Limited (brewed once)
Notes / Commercial Description:
No notes at this time.
Added by mrmanning on 06-23-2011
This beer is retired; no longer brewed.
HISTOGRAM
Ratings: 5 | Reviews: 5
Reviews by mrmanning:
3.29
/5
rDev
+4.4%
look: 3 | smell: 4 | taste: 3 | feel: 2.5 | overall: 3.5
Tap at Gambrinus Bistro- Probably one of the murkiest beers I have seen. Like a pea soup, a completely cloudy brindle with a one finger head of white froth, and loads of floaties. Surprisingly fruity nose is the dominant feature. Loads of nectarine, pear, mango, and lychee with little in the way of pine or citrus, and a mild resiny/floral hop character. The flavour on the other is just plain bitter hops with medium sweetness and a slight tartness towards the end, reminiscent of an aged cheddar. It really is the bitterest thing I've ever had. Imagine drinking a hop shake, or hop juice and you're in the ballpark. Soft carbonation,absolutely full bodied, oily, thick, sticky, completely mouth coating. Not really all that drinkable, but I am judging this beer, not based on session beer standards, but as a sipper. The finish does not go away for at least 30 minutes, and even then you've still got the hop burps for some time. 2-3 Oz is likely all you'll need, though I finished my full sample. Could work as a whisky replacement in the winter time. A neat experiment. Kudos to the Monkeys!
1,104 characters
More User Reviews:
3.39
/5
rDev
+7.6%
look: 2.5 | smell: 3.5 | taste: 3.5 | feel: 3 | overall: 3.5
Bottle from brewery. Their new unique shape that looks like "barrel of monkeys" toy sold in your dollar stores and toy stores. Completely opaque, yes pea soup murky waters, aspirin chopped down sediment. Smells hoppy, very much hop pellets that have been melted down.
The beer:
Very bitter, a melange of hops, likely a C-hop for flavour in there, a tad of fruit, very tangy.
The sediment: concentrated even further, pure bitterness.
A must try experience.
456 characters

2.56
/5
rDev
-18.7%
look: 2 | smell: 3.5 | taste: 2.5 | feel: 2 | overall: 2
Bottle shared by Steve, straight from the brewery. One of only 6 bottles ever produced. Rated at a theoretical 2600IBUs. Nice custom FM bottles (maybe a sign that they'll start to release their bigger beers in these cool bottles?). Regardless, poured into a snifter. Thanks a ton Steve.
Pours a murky pear juice/pea sou;p colour, with minimal carbonation (only visible when swirling this up a bit). Loads of sediment and almost thick and pulpy. Nose has some pear juice (actually confirmed as Steve had some pear reduction in his fridge that we smelled this side-by-side with), earthy and fruity notes with some strong pine needle notes as well. Nothing off here and more intriguing than anything. Taste takes a turn for the worse. Notes inidicate that I recorded 'WTF' in next to taste for this one, and that was an understatement. Pine, pineapple, black licorice, and pure, unfettered hops and raw grains. Immensely bitter and offputting. Thick, pulpy and chewy mouthfeel - this stuff was the consistency of pea soup. Only a couple mouthfuls of this was all I needed before I 'disposed' of the rest. However offputting this was, it's nice to see something like this done. I recognize this was only an experiment, but this was borderline offensive at times.
Low-light of the night: pouring out the dregs of the bottle into a separate snifter and passing that around for some sips. Maybe the low-light of my beer drinking career in retrospect...
1,448 characters
3.42
/5
rDev
+8.6%
look: 3 | smell: 3.5 | taste: 3.5 | feel: 3 | overall: 3.5
A- Murky, opaque swamp water pour. No head, no carbonation. No lacing. Alcohol clings to the glass. I left the sediment in the bottle.
S- Alcohol and hops. Citrus and pine and pure hop cones.
T- Pure hops, hop cones, liquid hops. It's bitter and dry and slightly sweet. Alcohol is present but the hops overpower everything else.
M- Medium to thin bodied. Carbonation is minimal. Dry start to finish with slight alcohol burn. Long lasting bitter aftertaste.
O- For what it is it's pretty good. This was more about pushing limits than appealing to the masses and they accomplished that.
588 characters

3.09
/5
rDev
-1.9%
look: 2.5 | smell: 3.5 | taste: 3 | feel: 3 | overall: 3
Bottle from the brewery
Puke greenish/brown colour, fairly ugly looking, no head and no lace but thats to be expected, lots of floaties hang around in this one. Smell is out of this world hoppy, pine, pear, pineapple, citrus, lots of fruit but this one smells like a bowl of hops more than anything else. To say this is a hop bomb is an understatement its packed with pine and citrus fruit, black liquorice, pear and honey, raw hops, fairly fruity. Mouthfeel is syrupy, virtually no carbonation, very dry and warming, the first sip of this made my tongue tingle and go numb for a bit. Not the most drinkable of beers really, but it is extremely hoppy and completely different from anything I have ever tried and I think thats what they were going for here so I guess it was a success in that aspect.
801 characters
Flying Monkeys Alpha Fornication from Flying Monkeys Craft Brewery
Beer rating:
3.15
out of
5
with
5
ratings